The Secret to DaVinci Resolve's Global Collaboration Tools
Photo Moment - October 10, 2023
About a year ago, I embarked on a mission to create the perfect DaVinci Resolve editing system and workflow — one that transcends the limitations of platforms and geographic locations. Today, I believe I've come pretty close to achieving that goal with what I call my Global Collaborative Workflow. This editing system enables seamless collaboration with editors worldwide, regardless of their location or the devices they use.
Products Mentioned
Objectives of the Perfect DaVinci Resolve Global Collaborative Editing System
Global Accessibility: My primary goal was to allow editors, including myself, to access projects and media from anywhere in the world with minimal effort. The result? A system that is entirely platform-agnostic, be it Mac or

PC

, desktop, or laptop.
Local Performance: Working with high-resolution footage, I couldn't compromise on local performance. The system had to handle multicam 4K ProRes and 6K

RAW

footage efficiently.
Automated and Fast Backup: An automated and swift backup system was crucial. Waiting for media to back up the day after a shoot was not an option. And, the backup needed to be both on-site and off-site.
File Accessibility: I wanted access to all my files, including originals, from anywhere in the world. No more scenarios where a needed file is sitting on a distant hard drive with no immediate access.
The Global Collaborative Workflow
Blackmagic Cloud Project Server
With the release of DaVinci Resolve 18, Blackmagic introduced the Cloud Project Server. This cloud-based project server allows access to projects from anywhere with an internet connection. No server setup is needed—just create an account, log in, and start collaborating. The cost is a mere $5 per month for a project library, accommodating multiple projects and collaborators without additional charges.
However, there's room for improvement. Project-level restrictions and automated backups are areas that need attention. The absence of an offline mode can be limiting for those without constant internet access.
Blackmagic Cloud Store
Media is efficiently managed by the Blackmagic Cloud Store, acting as a 10 gigabit NAS. Despite being able to use any fast NAS, the Cloud Store offers unique conveniences, such as syncing proxy video only, plus all types of non-proxy-able media (audio, graphics, etc.) to Dropbox or Google Drive.
Various Cloud Store models are available, with the Cloud Pod being a cost-effective, BYO storage solution. The Cloud Store Mini, which I use, boasts eight terabytes of NVME storage and a ten gigabit network connection. For larger-scale needs, there's a model configurable up to 320 terabytes.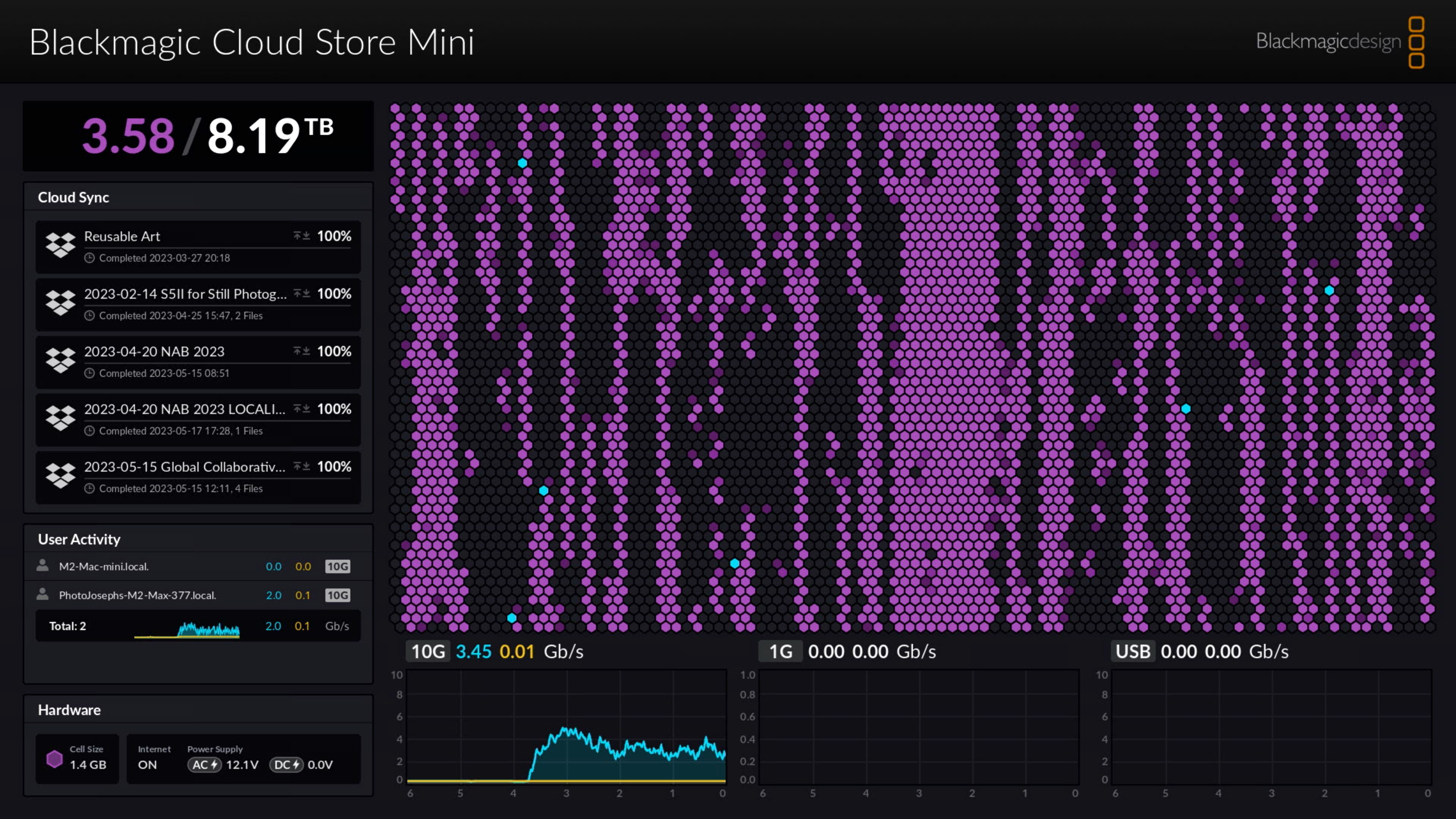 Synology
NAS

for Comprehensive Backup

To complete the backup puzzle, I use a Synology NAS RS1221+ with a ten gigabit card installed. Configured in RAID 6 with eight 16-terabyte drives, it offers high-speed storage and robust data protection. A Netgear XS505M 10Gbps network switch brings everything together at maximum performance.

The Synology NAS provides a nightly backup of the Cloud Store, manages overflow media, and serves as a local backup. For a comprehensive backup strategy, Synology Drive ShareSync or Cloud Sync can be employed to synchronize data to another NAS or a cloud service like Dropbox.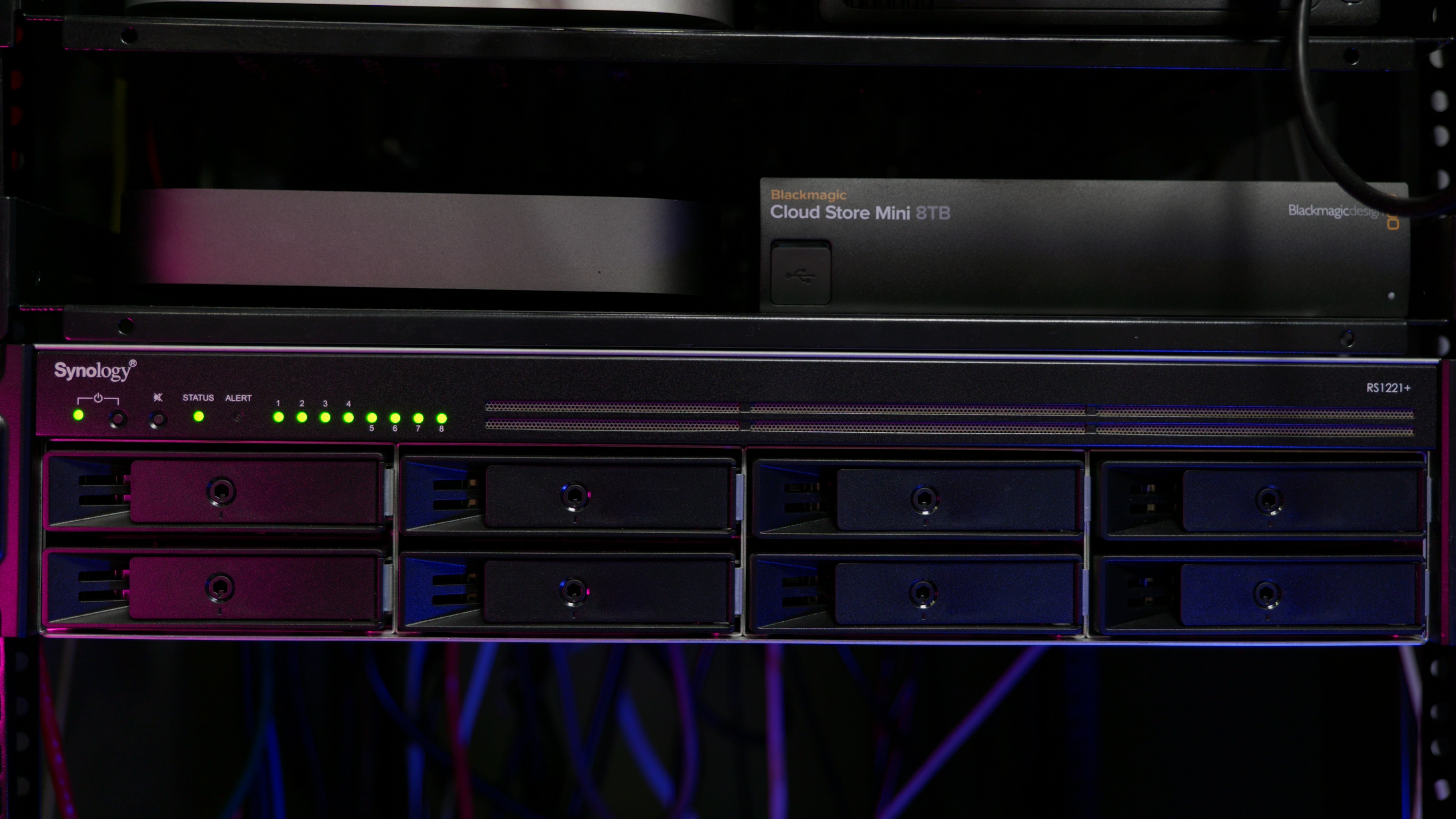 Achieving Persistent File Access
The final piece of the puzzle is persistent file access. Logging into the Synology from anywhere in the world allows browsing and downloading of files. Additionally, Dropbox ensures selective sync, enabling access to files on-demand directly on my computer.
In conclusion, this Global Collaborative Workflow has transformed my editing process. Collaborating seamlessly with editors worldwide, maintaining high local performance, and ensuring robust backup and file access, it's a system that comes close to perfection.
While there are areas for improvement, the overall functionality and efficiency make it a nearly perfect solution for my editing needs.
🎧 Music in this Video
The music is from MusicBed! Get your first month free when you purchase an annual subscription by using my coupon code PHOTOJOSEPH at checkout! https://geni.us/MusicBed
🔗 More links you seek
📄 Full Video Transcript