India 2023 Photography Tour with PhotoJoseph
Featuring the Pushkar Camel Fair, the Taj Mahal, and so much more — November 2023
Join me for an impossibly colorful photo-education adventure through India, featuring the Pushkar Camel Fair, one of the most photogenic experiences of a lifetime, and visits to the Taj Mahal, New Delhi, Jaipur, Jodhpur and Jaisalmer.
Nov 17 to Nov 30, 2023 — (13 nights!)
Summary
This photography tour is sure to be one of the most incredible travel and photo experiences you've ever had, or likely will! A very small, exclusive group of just SEVEN GUESTS MAXIMUM (most India photo tours are for nine to 12 guests!) for 13 days and nights will join me for an adventurous photography (and culinary!) tour of vibrant, colorful India on a journey that includes the "seventh wonder of the world", the Taj Mahal, and includes the Pushkar Camel Fair, India's world-famous livestock "mela" (also known as the Kartik Mela or Pushkar ka Mela). We will sleep in many Havelis, or "heritage hotels", which are luxury, historical destinations in themselves — and stay in a luxury camp at the Camel Fair, and even spend a night under the stars!
The adventure begins in New Delhi, where on the first full day we'll take a tour of Old Delhi, one of the most mind-blowingly chaotic markets on earth (yes it's a little trial-by-fire introduction to India!), and end the day in a quiet discussion of photography, to ensure everyone gets the most from their time in India. We then travel to Agra to see the Taj Mahal at sunset and then sunrise, along with the Agra Fort, followed by a visit to Jaipur, the "pink city" and home to some of the friendliest people I've encountered. From Jaipur we head to Pushkar, home of the Pushkar Camel Fair where we will sleep in a luxury tent camp and spend two days exploring opportunities to photograph people from all around the country in the vibrant chaos that is the fair, in a city over 2,000 years old, and one of the most important religious hubs in India. Jodhpur, the "blue city" is next on the agenda, famous for their colorful dyeing techniques, brilliant displays of freshly colored saris, spice markets to make your head spin, and the Mehrangarh Fort, perched high on the hilltop. From there we head to Jaisalmer, a desert city where you'll photograph temples on Lake Gadissar at sunrise and ride camels in sand dunes at sunset, and spend our last adventure night sleeping in the dessert under the stars! Of course throughout the tour you'll also see many temples and shrines, explore the streets of ancient cities, and all the while, enjoy incredible food.
This is not a "point your camera here" tour. Your host, PhotoJoseph (that's me!) will provide ongoing photo education throughout the trip. From a pre-trip private consultation and the opening evening's photo chat, to regular photo review sessions, and constant guidance and encouragement to try something new, you're assured to come home with epic photos you'll be proud to print in a book, hang on your wall, and share with your friends and family.
Accommodations are four-star and heritage hotels, with the exception of Pushkar (for the Camel Fair) which will put us in a luxury tent camp, and one night under the stars! All meals, guide gratuity and internal flights are included.
Pricing
Full details are below. The short version; this ALL-INCLUSIVE tour (hotels, internal ground and air transportation, meals, and even gratuities for our guides are built into the price) for just SEVEN GUESTS maximum is priced at USD$7,995, or with an early-bird 12.5% $1,000 discount if paid in full by end of June, 2023 making it USD$6,995.
Can't join us for this one but want to know about future workshops?
Sign up for the newsletter
and be sure to check the "workshops" box!
---
LOTS

and lots of info below

Here's a table of contents…
FAQ
Q: Is this a photography workshop… or a tour?
It's both! You will "learn by doing" throughout the tour, and you will be "doing" at some pretty epic locations. Education is a constant, and we will always be learning. I'll take some time to direct as a group, but a lot of the education will come in private moments as we experience new things together. We will have access to places regular tourists would not, and will have photographic opportunities provided to very few.
Q: Is there any classroom time?
Yes! The second evening in Delhi includes a few hours of dedicated photo discussion. I want to ensure that everyone has a solid, basic understanding of photography fundamentals. Even if you know that you know what you need to know, I still encourage you to attend. After all, you never know what you don't know ;-) Also, each guest will have an hour-long pre-trip video chat with me to answer any questions you might have, and access to a Discord server for open discussions among the group.
Q: How about photo reviews?
Same as above — we will do reviews as we go, as we like. Some guests will want to have their images critiqued often, while others won't want it at all. We will accommodate everyone as much as reasonably possible! I've found that a quiet evening in the hotel bar is a good place to flip through photos.
Q: On to travel… is India dangerous?
We won't be traveling anywhere that is unsafe. On my 2019 tour, we had zero safety or security issues, and I've traveled to every location we'll be going to except the camel fair, however in 2019 we visited the Khumb Mela, which is the single largest gathering of human beings on the planet, and again had zero safety or security issues. Naturally, as with anywhere in the world, we will want to take smart precautions and be aware of our surroundings, but India in general is a very safe place for tourists.
Q: What if I get sick or hurt?
Personal health is always a priority when traveling, especially when away from our home countries. "Delhi belly" is a real thing, and something we're very aware of when dining. All restaurants are carefully selected as known to use clean water, and we will only eat street food where unfiltered water isn't used. Additionally, you are required to provide proof of insurance that will provide foreign medical aid, most easily acquired through a travel insurance company like World Nomads. There are more details on this below, under "Travel Insurance".
Q: What about COVID?
This tour was originally planned for 2020… and we all know what happened there! As of this writing, India is fully open to international tourists with no specific requirements other than a negative PCR test if traveling from certain Asian countries. This could of course change at any time, and we will be on top of this! For our group, at the time of this writing, I would ask that everyone be vaccinated and consider testing themselves daily. We'll see as we get closer if this changes.
Q: I have more questions!
Then click on this thing here and ask away!
Detailed Itinerary (November 2023)*
*all details subject to change depending on availability, weather, or any other unpredictable encounters
Friday, 17 November | Arrival in Delhi, India
​Location: Delhi
Travel: arrival day
Accommodations: Jaypee Siddharth Hotel (5 Star Hotel)
This is just an arrival day. Depending on your routing, you may arrive early or late. You will be greeted at the airport by our driver and escorted to the hotel to settle in and get a good night's rest, and hopefully meet the rest of your fellow travelers. The excitement begins in the morning! (If you prefer to arrive earlier, you certainly can — details on that below).
Overnight in Delhi
Saturday, 18 November | Old Delhi Markets and Bazaars, a Sikh Shrine and 10,000 Meals, and a Group Photo Discussion
​Location: Delhi
Travel: none
Accommodations: Jaypee Siddhartha Hotel (5 Star Hotel)
The adventure begins with a photo tour of Old Delhi. In the 17th century, the Mughal emperor, Shah Jahan, made his capital in the area that broadly covers present-day Old Delhi—he called it Shahjahanabad. Today, it is one of the city's most crowded, chaotic and captivating areas, with a bamboozling orchestra of sights, smells, and sounds, including a stop at the renowned Jalebiwala, a century-old sweet shop on the corner of Chandni Chowk and Dariba Kalan Road, where we will pause to fuel up on delicious sticky jalebis (deep-fried syrupy "squiggles").
We'll have an opportunity to do a spot of shopping at the bazaar along Dariba Kalan Road, which has a focus on jewelry — mainly silver, but also some gold and costume jewelry, before heading to the Kinari Bazaar. This bubbly bazaar specializes in wedding paraphernalia, such as glittering tinsel decorations and ornate bridal accessories. Next, we'll move to Paratha Wali Gali, an area devoted to little eateries specializing in parathas (Indian-style flat bread). The aloo (potato) paratha is a traditional favourite, but for something a little different, we can try the paratha stuffed with crushed almonds.
After lunch, we'll have a photo opportunity at Humayun Tomb. Humayun's tomb is the tomb of the Mughal Emperor Humayun in Delhi, India. The tomb was commissioned by Humayun's first wife Bega Begum in 1569-70, and designed by Mirak Mirza Ghiyas, a Persian architect chosen by Bega Begum. And finally, we will visit the community kitchen at Bangla Sahib Gurudwara. At Bangla Sahib Gurdwara, an historic Sikh shrine in central Delhi, everybody is welcome to a meal, and nearly everybody comes. We'll experience the extremely busy 'langar' (free kitchen), and meet the people who prepare and eat the 10,000 meals served here every day.
To end the day, we'll spend a few hours together in the hotel having a photo education session. We'll talk about what to expect on this trip photographically, and how to approach different elements of what we'll see. We'll have a technical discussion on photography (think of it like a Photography 101 crash course), and also on photo editing. We will already have had some discussions prior to this in our private one-on-one's, but this is an opportunity to make sure everyone is on the same page and that any questions you might have about photography can be answered.
Overnight in Delhi
Sunday, 19 November | The Journey to Agra, Forts and Temples, and the Taj Mahal at Sunset
​Location: Delhi and Agra
Travel: Drive from Delhi to Agra (210 km / 130 mi @ 4 hours)
Accommodations: Crystal Sarovar Premiere (4 Star Hotel)
In the morning, we will drive to Agra, the home of the Taj Mahal. Agra, the city of Mughals, offers us an opportunity to explore massive monuments, majestic buildings, and popular arts and crafts. The architectural splendor of the mausoleums, the fort and the palaces is a vivid reminder of the capital in the 16th and early 17th centuries.
Upon arrival, we will explore the ancient market of Kinari Bazaar. The narrow streets behind Jama Masjid are a crazy maze of overcrowded lanes bursting with colourful markets. There are a number of different bazaars here, each specialising in different wares, but the area is generally known as Kinari Bazaar as many of the lanes fan out from Kinari Bazaar. Our day will also include a visit to the Dayal Bagh temple, which has some of the most intricate marble carvings found on the globe, and the beautiful Shah Burj. Agra has various masterpieces of architecture, which make for wonderful backgrounds for portraits of the locals, as well as detailed shots of the buildings themselves.
We'll spend the evening enjoying a sunset view of the Taj Mahal from Mehatabh Bagh, the "Moonlight Garden" that is behind the Taj Mahal. This garden is exactly square in shape, and was built by Moghul Emperor Babur. It was also meant to be the location of the mirror-image Black Taj Mahal that was never built, the foundation of which is there to this day.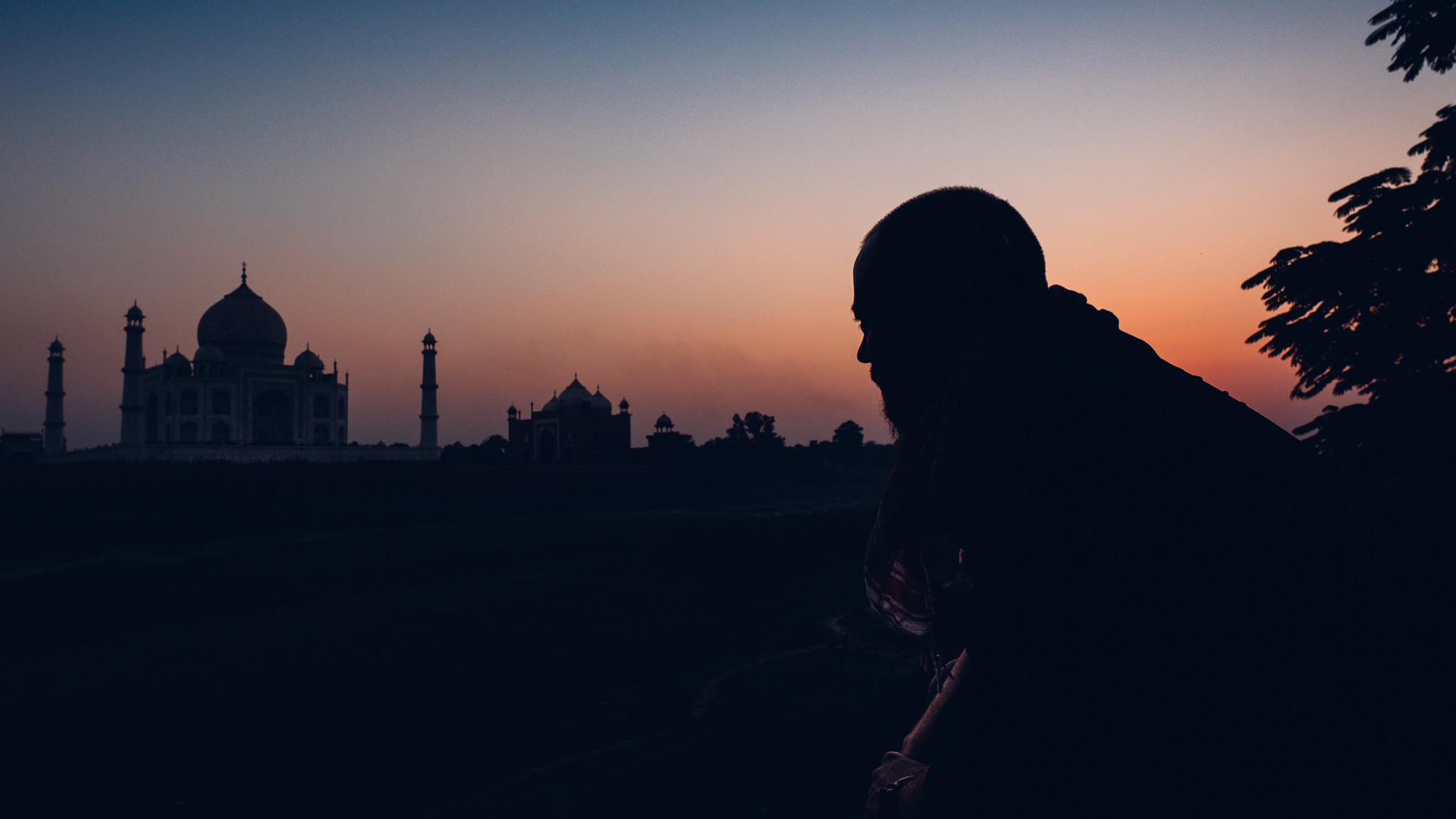 Monday, 20 November | Taj Mahal, the Agra Fort, and the Journey to Jaipur
Location: Agra and Jaipur
Travel: Drive from Agra to Jaipur (240 km / 150 mi @ 5 hours)
Accommodations: Alsisar Haveli (Heritage Hotel)
We'll start very early in the morning for a breathtaking sunrise at the Taj Mahal. We'll have hours to explore and enter the Taj Mahal itself if you like, or just explore the outside. We'll then return to the hotel for breakfast.
After breakfast, we'll visit the Agra Fort (the term "fort" means both a military fort and a palace), which is rich Mughal architecture and is situated on the West Bank of the river Jamuna.
Then mid-day we will drive to Jaipur. Jaipur was established by Maharaja Jai Singh II (1693-1743), and painted pink by Maharaja Man Singh II when Prince of Wales, later Edward VII, visited Jaipur in 1876. The Royal heritage of Jaipur lives in its architecture and culture. The city in pink is symbolic of the hospitality that reigned in the Rajput culture.
Overnight in Jaipur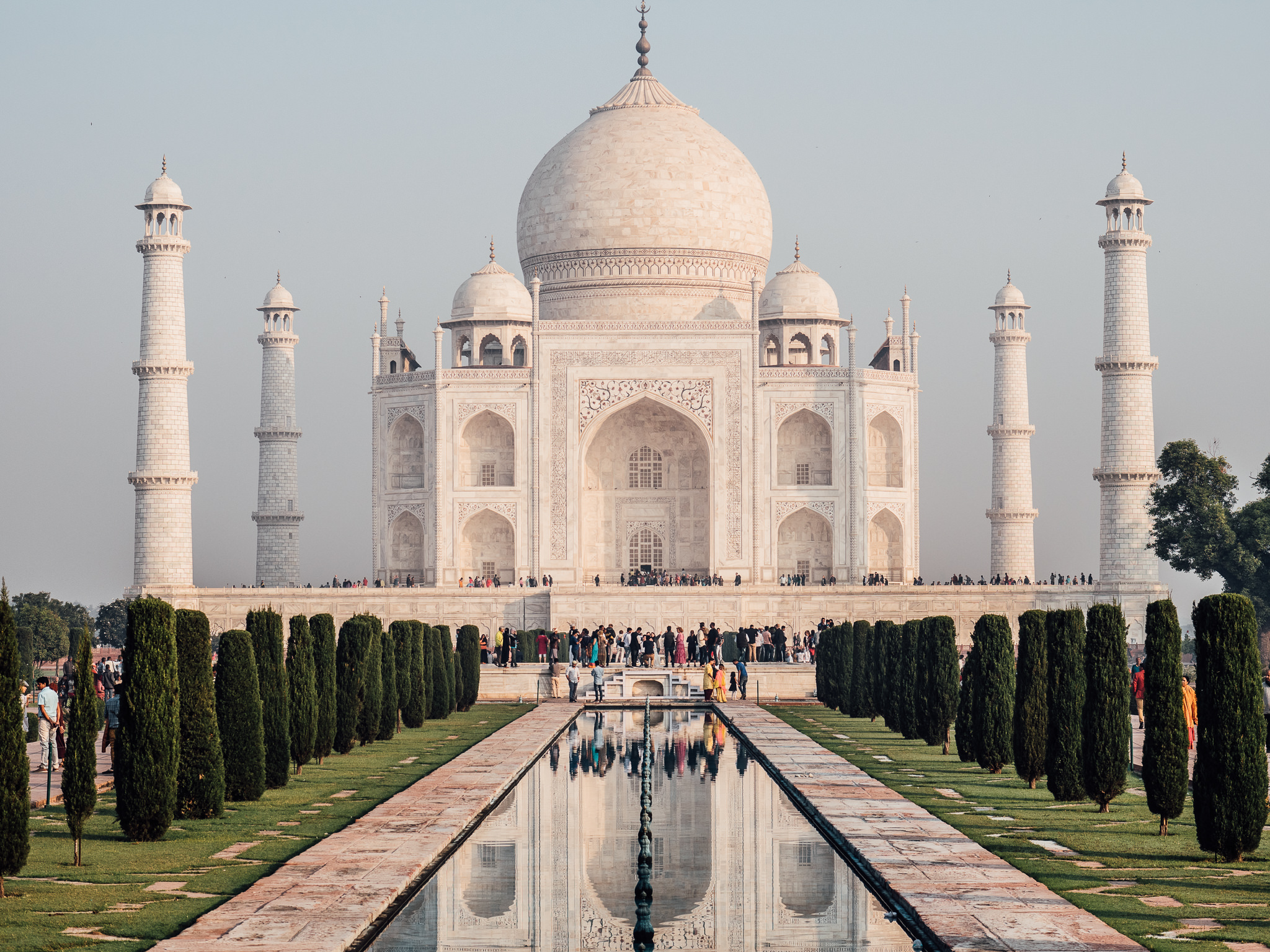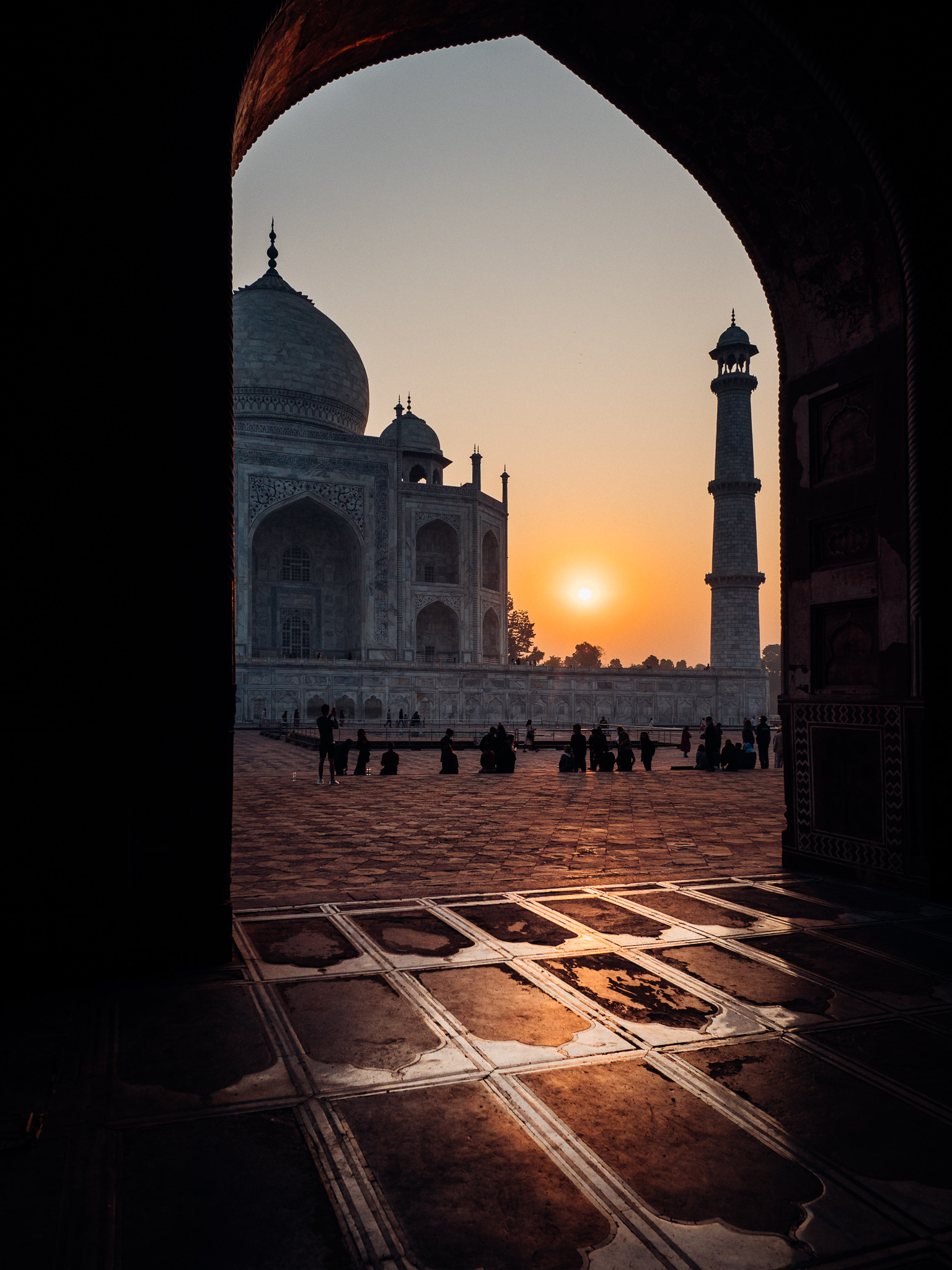 Tuesday, 21 November | Street Photography, a City Palace, a World Heritage Site, the Bizarre and a Bazar
Location: Jaipur
Travel: none
Accommodations: Alsisar Haveli (Heritage Hotel)
In the morning we focus on street photography, environmental portraits and architecture in Jaipur. We'll visit the impressive City Palace which is located right in the centre of the Old City. A complex of courtyards, gardens and buildings, the outer wall was built by Jai Singh, but within it the palace has been enlarged and adapted over the centuries. There are palace buildings from different eras, some dating from the early 20th century. Despite the gradual development, the whole complex is a striking blend of Rajasthani and Mughal architecture.
Adjacent to the City Palace is Jantar Mantar, an observatory begun by Jai Singh in 1728, which resembles a collection of bizarre sculptures. The name is derived from the Sanskrit Yanta Mantr meaning 'instrument of calculation', and in 2010 it was added to India's list of World Heritage Sites.
Papu Bazar is a famous market in Jaipur and there are other markets located nearby: Indira Market, Nehru Market & Sanjay Market have a unique format where all the shops are the same size and style. The whole market is very symmetrical and a particular street is known for a specific item.
​Overnight in Jaipur
Wednesday, 22 November | Arrival at the Pushkar Camel Fair
Location: Jaipur and Pushkar
Travel: Drive from Jaipur to Pushkar (150 km / 95 mi @ 3 hours)
Accommodations: Aagman Camp (Luxury Campsite)
After our hotel checkout, we depart for Pushkar, one of the highlights of our itinerary. Pushkar has a magnetism all of its own, and is quite unlike anywhere else in Rajasthan. It's a prominent Hindu pilgrimage town and devout Hindus should visit at least once in their lifetime. The town curls around a holy lake, said to have appeared when Brahma dropped a lotus flower. It also has one of the world's few Brahma temples. With 52 bathing ghats and 400 milky-blue temples, the town literally hums with regular pujas (prayers) generating an episodic soundtrack of chanting, drums, gongs, and devotional songs. Pushkar is world famous for its spectacular camel fair, which takes place here in the Hindu lunar month of Kartika (October/November) — which of course is what we're visiting for! During this period the town is jam-packed with tribal people from all over Rajasthan and pilgrims from all over India. For the first day in Pushkar, we will relax and wander around at our own pace.
​Overnight in Pushkar
Thursday
&

Friday, 23

&

24 November | Pushkar Camel Fair

Location: Pushkar
Travel: none
Accommodations: Aagman Camp (Luxury Campsite)

These two days, we spend mornings and evenings at the Pushkar Fair, exploring new, innovative ways of making pictures, finding stillness amidst the vibrant chaos. The core focus of the tour is on witnessing and capturing the grandiose affair of the Pushkar Camel Fair or Pushkar ka mela. These will be interspersed with insightful sessions on photography with "the Skipper", a local guide who has extensive knowledge of the fair, and will provide insider access for photographing people, vendors, and tribes. The evening will be followed by a delicious dinner, before we retire for the night with dreams of vibrance.

Thousands of villagers flock to the ancient temple town of Pushkar, to bathe in the holy waters of the lake there at this time. The town comes alive with men and women dressed in their traditional colorful best, buying and selling brilliantly adorned camels, while street magicians, performers, storytellers and soothsayers vend their wares and services. If ever there was an opportunity to experience – and photograph – a traditional, authentic Indian festival and fair, this is it.
Saturday, 25 November | Drive to Jodhpur and a Day to Relax
Location: Pushkar and Jodhpur
Travel: Drive from Pushkar to Jodhpur (220 km / 135 mi @ 4 hours)
Accommodations: Pal Haveli (Heritage Hotel)
After breakfast we have a long drove to Jodhpur. Upon arrival, the rest of the day is for relaxation. Coming off the excitement of the Pushkar Fair, a down-day will be most welcome.
Jodhpur is the second largest city in the Indian state of Rajasthan. It was formerly the seat of a princely state of the same name, it was the capital of the kingdom known as Marwar. Jodhpur is a popular tourist destination, featuring many palaces, forts and temples, set in the stark landscape of the Thar desert.
The city is known as the Sun City for the bright, sunny weather it enjoys all year. It is also referred to as the Blue City due to the indigo tinge of the whitewashed houses around the Mehrangarh Fort. Jodhpur lies near the geographic centre of Rajasthan state, which makes it a convenient base for travel in a region much frequented by tourists. The old city of Jodhpur is surrounded by a thick stone wall.
​Overnight in Jodhpur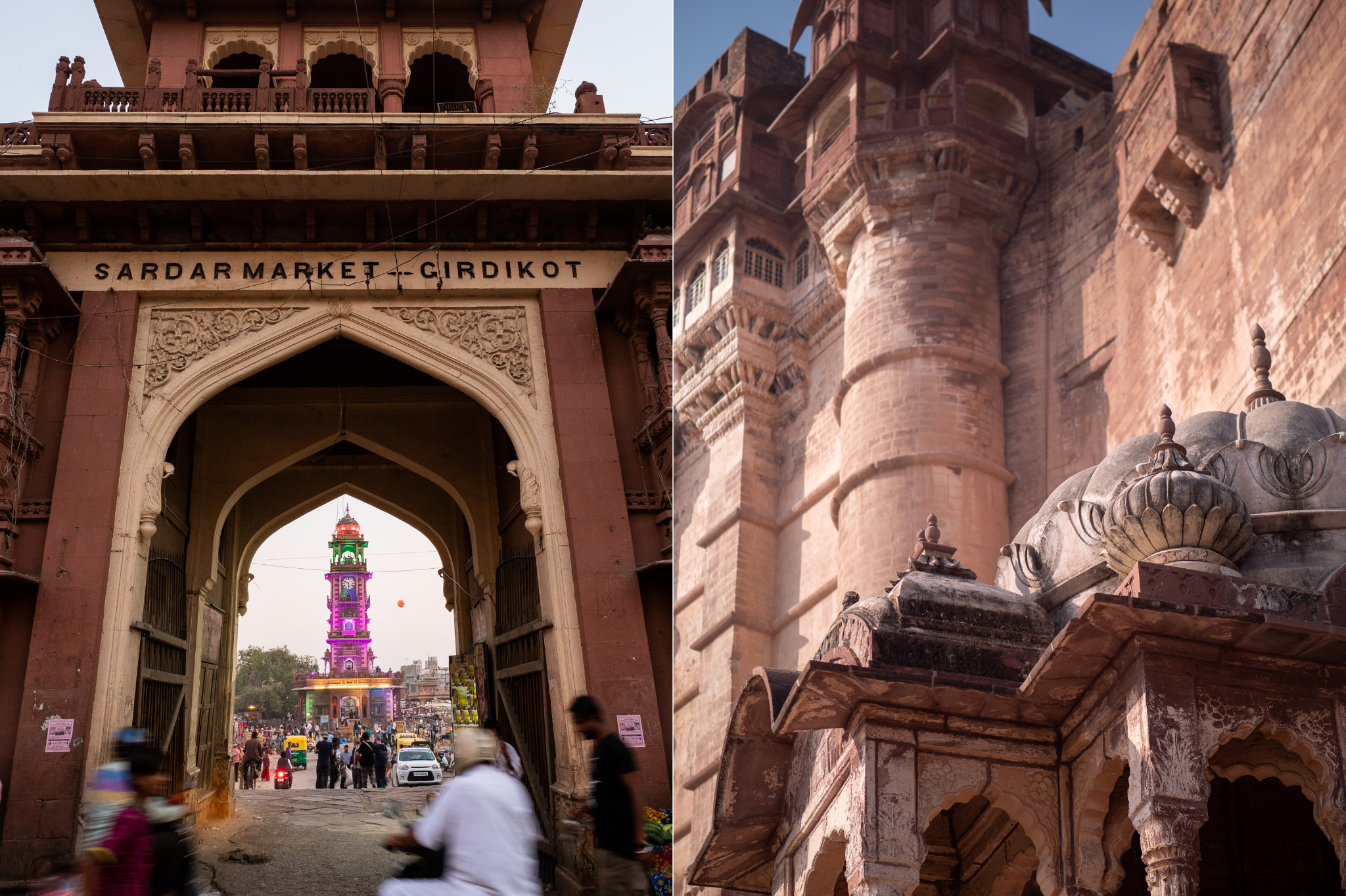 Sunday, 26 November | Tie Dye, Tobacco, Silver and Gold, Spice and Perfume
Location: Jodhpur
Travel: none
Accommodations: Pal Haveli (Heritage Hotel)
This will be one of the most colorful and the most fragrant stops of the journey! We'll begin with a pre-sunrise walk through the Jodhpur's Old Town, aka the "Blue City", pushing away from the market places in the new town, and into the older quarters of Jodhpur. Here, under the centuries-old protection of Meherangarh Fort, whose foundations were laid on the orders of the city's founder Rao Jodha in 1459, many of the houses are blue in color.
One next stop is Chhipawadi, a place inside Jalori Gate which is famous for colorful people whose days start and end with color. These artisans are engaged in the profession of applying colors to any type of cloth in "tie and dye" businesses that are generations old. Chhipa means "to print" and so the place is now called Chhipawadi, and people are known as Rangraze. They are so skilled in their work that it takes them only a few minutes to finish any type of assignment. From there we will proceed to Sarafa Bazar, featuring Gold and Silver ornaments, then continue walking to the Tobacco Bazar, where you will smell the beautiful fragrance of all types of local perfumes and scents.
After lunch we'll visit the Mehrangarh Fort, the most magnificent fort in Jodhpur, situated on a 150 meter (500 ft) high hill, constructed in 1459 by Rao Jodha, the then-chief of Rathore clan. There are a number of attractions within the fort such as several palaces, galleries, a museum, and temples.
From the top of Meherangarh Fort, we'll have an incredible view over Jodhpur and the blue houses of the old town. A winding lane leads up the long hill, upon which the ancient fortress is built. The walls are 36 meters (120 ft) high in places, providing additional elevation to appreciate just how many of the houses in Jodhpur are blue. Not all cities deserve their sobriquets, but anyone looking out over the flat roofs of Jodhpur, from the perspective of the Meherangarh will realize that the term "the blue city" is indeed apt, whatever the true reason behind the prevalence of that color.
​Overnight in Jodhpur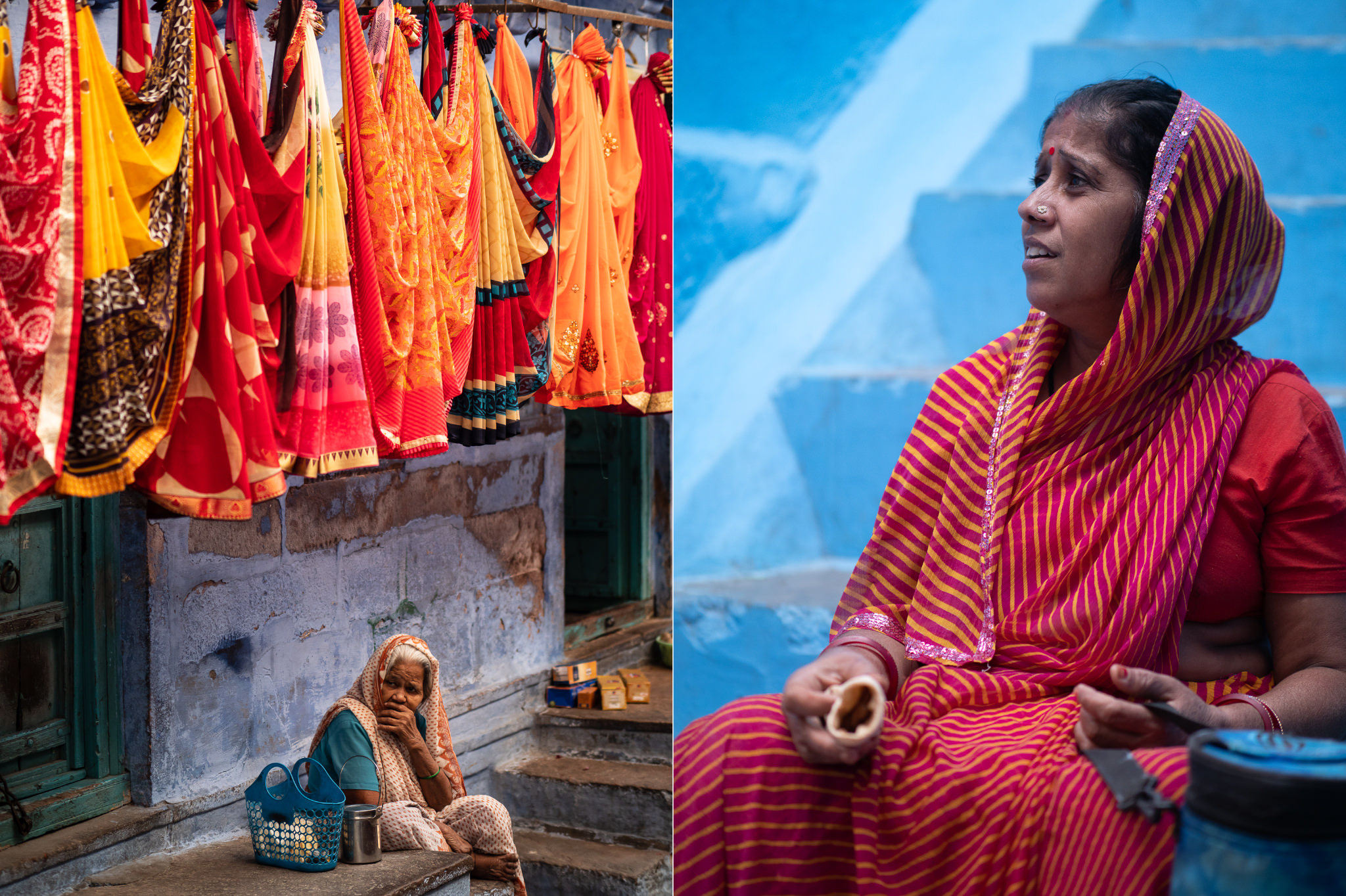 Monday, 27 November | Journey to Jaisalmer, Sunset at Jaisalmer Fort
Location: Jodhpur and Jaisalmer
Travel: Drive from Jodhpur to Jaisalmer (290 km / 180 mi @ 5 hours)
Accommodations: Nachna Haveli (Heritage Hotel)
We have a long drive to Jaisalmer, arriving at another glorious heritage hotel, and will photograph Jaisalmer Fort at sunset.
Tuesday, 28 November | Sunrise on a Lake in the Desert, a Mega Structure Rising from the Sand, a Camel Ride on the Dunes at Sunset… and an Overnight Under the Stars!
Location: Jaisalmer and the Desert Sand Dunes
Travel: to the Sand Dunes
Accommodations: The Bordi Resort (True Desert Camping!)
Today begins with a sunrise shoot over beautiful Gadissar Lake — a lake in the middle of the desert! The little pavilions forming tiny islands offer a beautiful foreground against the pink sky reflecting in the water. Afterwards we'll return to the hotel for breakfast.
After breakfast we'll explore the narrow streets of the dominating Jaisalmer Fort. Locally known as Sonar Quila – "rising from the sand" – this mega-structure merges with the golden hues of the desert ambiance. It's simply magical; the bastions envelops a whole township that consist of a palace complex, various security sources, and the havelis of rich merchants carved with an incredibly light touch.
Later in the afternoon, we'll head out to the Sand Dunes, where we'll go for a most incredible desert experience — a camel or jeep safari! Mind you, riding a camel is not exactly as pleasant as riding a bike — the "ship of the desert" is more like being on a ship in the sea on a stormy day. But it helps you go deeper into the desert and enjoy a whole new experience in an ancient means of transport. We'll enjoy the sunset in the dunes, and create a stunning silhouetted-camel image together.
And then… we'll sleep in tents in the desert! We will enjoy a truly unique experience for one of our last nights of this adventure together, eating and sleeping under the stars (weather permitting, of course).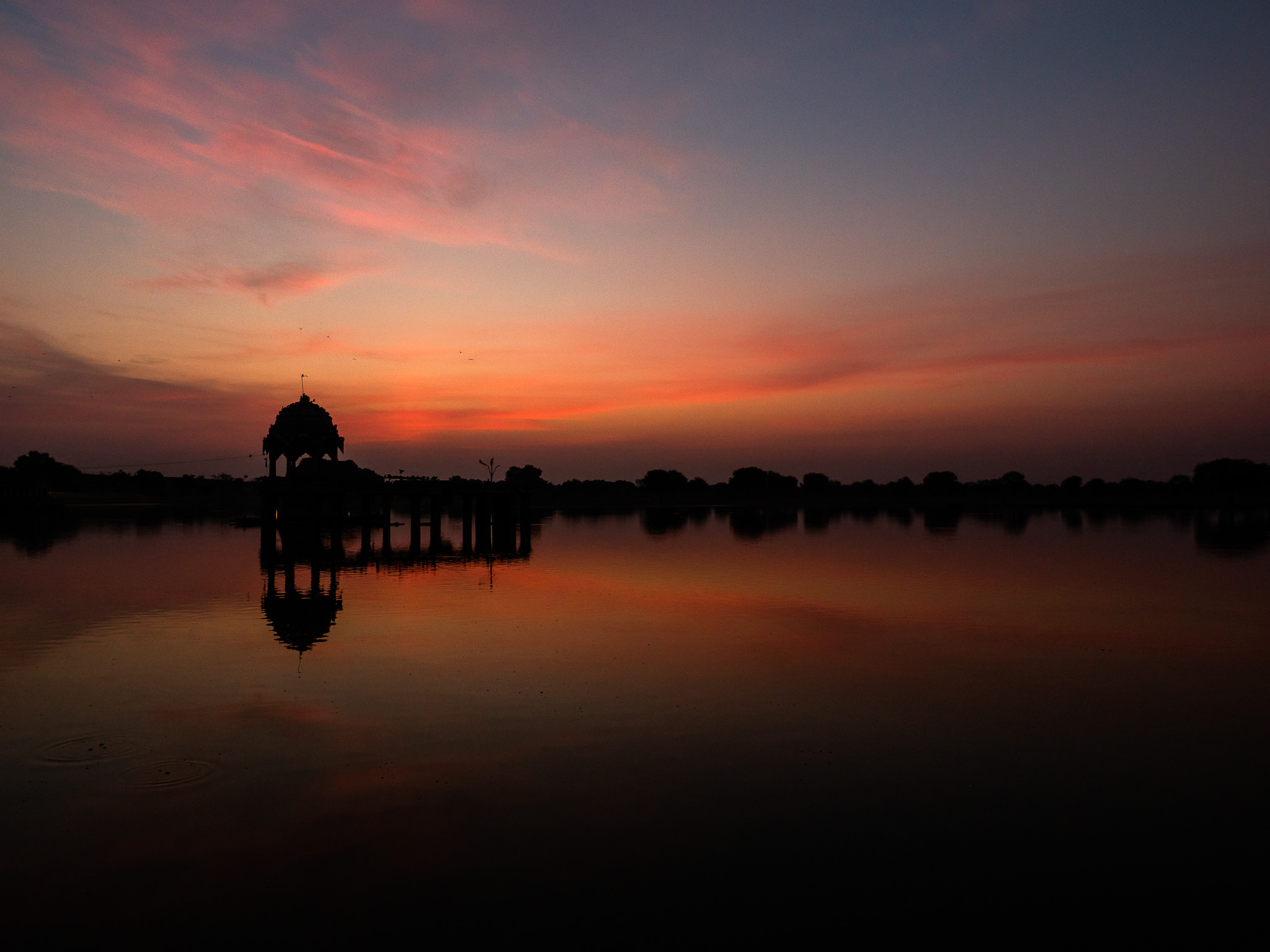 Wednesday, 29 November | Jaisalmer to Delhi (by air)
Location: Jaisalmer and Delhi
Travel: Fly from Jaisalmer to Delhi by air
Accommodations: Jaypee Vasant Continental (5 Star Hotel)
And we begin the long journey home, with a (relatively!) short drive to Jaisalmer, then a flight to Delhi. Once in Delhi we'll enjoy a special final meal together, celebrating our journey, sharing photos and saying our goodbyes. Everyone will have a hotel room, even if you are leaving late that same night (many international flights from Delhi depart in the early morning hours).
Overnight in Delhi
Thursday, 30 November | Time to Go Home
Location: Delhi to home
Travel: Time to fly home, my new friends!
You will have a private (or shared with our other guests) car to the New Delhi airport for your departure home. For anyone wanting to stay on in India, you are of course most welcome, and we can help arrange any further adventure you may seek!
Map
This is a simple map of the cities we are traveling to, so you can see where we'll be from an eagle-eye view.
Pricing
A deposit is required to hold your seat. Please be sure to read the cancellation policy below.
(all prices in USD$)
Full price —

USD

$7,995
12.5% / $1,000 discounted price if paid in full by end of June, 2023 —

USD

$6,995

(An additional 2% discount will be applied to the total price anyone paying by bank transfer or check, to avoid those pesky credit card fees)
Deposit required to secure your seat —

USD

$1,000

Single Supplement (solo travelers will be paired with another guest. If you prefer your own room, you can choose to pay the "single supplement") — USD$1,200
Payment Policy
A

USD

$1,000 deposit (at minimum) is required to hold your seat
Full balance is due three months prior to departure (that's August 17, 2023). Late payments will incur late fees of

USD

$250 per week. If final payment is not received within 60 days of departure, your seat will be considered canceled and a partial refund per the cancellation policy below will be issued.
Cancellation (Refund) Policy
If the trip is cancelled by PhotoJoseph Studios, a full refund will be issued
If you cancel your trip for any reason but are able to find a replacement guest, you will receive a full refund minus a

USD

$150 administration fee (once that guest has paid in full)
If you cancel your trip for any reason but are not able to find a replacement, a partial refund will be provided on the following schedule:

Cancelled 91 or more days before trip start: Refunded minus

USD

$250 administration fee
61-90 days – 75% of tour fee refunded
31-60 days – 50% of tour fee refunded
30 days or less – no refund

No partial refunds are possib

le for any unused portion of your trip

PhotoJoseph Studios will not be liable for any incidental expenses that you may have incurred as a result of your booking such as vaccinations, visas, non-refundable flights or loss of enjoyment, etc.

Please consider purchasing travel insurance which may reduce or eliminate the cancellation and interruption fees outlined above. Travel medical insurance is required.
Package Price Includes
Pre-departure private photography consultation — More on that below!
All accommodations — Rooms are based on sharing double / twin room / luxury tent / soft sand. Single room supplement is available for guests desiring private accommodations.
All meals — Naturally you're welcome to dine wherever you like, but every meal is accounted for. Some are in our nice hotels, and many are in local restaurants, to best experience India in all of her glory! All restaurants are carefully vetted to ensure they follow western safety standards, but if you know me at all, you know that I enjoy my food — we will have some excellent food while there!!
Internal flight — Jaisalmer to Delhi
All internal ground transportation — Delhi to Agra to Jaipur to Pushkar to Jodhpur to Jaisalmer, and all journeys from hotels to locations that aren't on foot, and internal airport transfers — all in air-conditioned vehicles
Entrance fees — Some scenic spots on the itinerary charge for entry; that's covered
Local English-speaking guide — We will have one to two local guides accompanying us every step of the way
Gratuities — I find it somewhat annoying to be collecting or asking for gratuities for drivers, guides, etc., so I've had the tour company build that into the price and ensure that each guide receives an appropriate and generous gratuity.
Arrival/departure airport transfers — Every guest (or group of guests for similarly timed flights) will be met by a greeter and escorted by private car to the hotel, and brought to the airport for their final departure
Private group discussion "workspace" on Discord — You will be invited to a private server on Discord. This is how all communication will be handled leading up to the trip, allowing group and private conversations in one place, accessible on any computer, phone or tablet.
Not included…
Airfare to and from India — see details on where to book flights to and from, and when, below under "Travel

&

Visa"
Travel insurance — It is required that you book your own travel medical insurance for medical emergencies. You may also choose to purchase airfare insurance, but that's up to you.
Additional flights, accommodation or sightseeing — basically anything not listed in the itinerary
Shopping! — I mean, obviously, but I figured I'd list it here
Visa Fee — India Visa is required for most visitors, and must be obtained before your arrival, as well as sufficient blank pages in your passport. Don't leave this to the last minute!! that can get expensive.
Personal expenses — Room service, internet charge (although all hotels should have free wifi), laundry, alcoholic drinks, fax (people use that still?!), telephone calls, local

SIM

card, etc.
Travel
&

Visa

It is your responsibility to book airfare to arrive on time and depart after the tour. DO NOT BOOK TRAVEL until the trip is CONFIRMED. Once you place a deposit, you will be added to the Discord channel to keep you updated on the trip's progress. The trip requires a minimum of four guests. Until four guests are confirmed, no one should book airfare!

I highly recommend using Google Flights to explore airfare options. Not only is it extremely fast and easy to compare flights, but if you have multiple options to fly from, you can enter them all at once to compare (i.e. "SJC, SFO, OAK" to "DEL").
ARRIVAL

: You should arrive in Delhi (

DEL

) on November 17, 2023. If you want to arrive earlier, we can help with accommodations, including booking additional nights in the same hotel.

DEPARTURE

: We will depart from Delhi (

DEL

) on November 30, 2023. If you want to stay on in Delhi, we can assist with accommodations and/or extend your stay in the Delhi hotel.
A travel visa is required for most visitors. Please check the requirements for your nationality. This is your responsibility and guests arriving with incomplete visas will likely be denied entry, and no refund will be issued.
Travel Insurance
Private travel insurance (medical, evacuation, cancellation, etc.) is required. Check out World Nomads which offers different plans at excellent prices with very specific coverage, for example including the camel riding we will be doing.
Photography Experience / Level
The great thing about a worksop like this is that it's open to ALL levels of photographer! If you've only ever shot with a smartphone, you'll learn a ton and I'm more than happy to help you with the basics. Whether this is your first or fiftieth workshop, I'll do everything in my power to make sure you feel comfortable all along the way, are never over your head or waiting for others to catch up (photographically speaking). If you've been shooting for decades and are just looking for the next great experience, you can't go wrong here. And even if you're a working pro, looking for a photography "vacation" with like-minded folks, I promise you'll have a wonderful time, create amazing images, and have epic stories to tell!
Pre-departure Private PhotoJoseph Consultation
Each guest can schedule an included private video-chat consultation with me to discuss specifics of the trip and ask any questions you like, including about photography and gear. Guests to workshops like these often buy new gear before the trip, and I'm happy to help advise where I can.
Before You Book — Some Important Considerations!
I saw a sign in a hotel in Thailand once that read "Bangkok is not for beginners". I would say that the same applies to India. That has nothing to do with photography (I'm more than happy to have any level of photo enthusiast join us!), but for the traveler. If you've never been on an international trip, or have never traveled outside of the "western" world, please consider this voyage carefully. Compared to western standards, India can be crowded, loud and dirty. It will be intense, especially in cities like Delhi and in the Pushkar Fair (although for those who joined me for the Kumbh Mela last year, this will be a picnic!!). That said, I've been to India several times, and every visit I feel more and more at home, quickly finding my zen in the chaos. It's kind of a weird experience, to be honest, but it happens. Anyway, that brings us to…
India is a busy, crowded place, with over over 1.3 billion inhabitants. And hundreds of thousands of them will be in Pushkar when we're there (but a mere fraction of the millions that were in Allahabad with us last year!). That's still a lot of people. Definitely not for the agoraphobic.
We will be walking a lot, especially in Pushkar. I don't have a gauge on how many miles we'll walk while there, but we will be on foot quite a bit. If you're not comfortable walking several miles, this may not be a great workshop for you. I'd hate to have someone sitting out the adventure because they're not up to the walking.
The itinerary includes all meals, many of which will be in local restaurants where we can enjoy local food. If you prefer to eat only western food, that may be largely possible (at least while in hotels), however those meals are not included and may be relatively expensive (

USD

$20 to $30 per person per meal) — and we offer no guarantee that you'll find the food you want. This trip is tailored so we may experience the full force of India; it is not a trip for those who prefer to view a country through a tinted car window. Granted we are staying in four and five star and heritage hotels, as well as luxury tents in Pushkar, but outside of the hotels, make no mistake — we will be in the real India.
Pollution is a sad reality in India. Delhi can be downright awful. The good news is though that once we're out of Delhi, most places we'll go have much cleaner air (as evident from the photos above, taken at the same time of year in 2018), although if you're used to fresh mountain air every day, even an

AQI

of 100 to 200 can be taxing. For a healthy adult it should be no worse than any major city, but if you have respiratory issues and are used to very clean air, then you should consider this trip carefully.
Other questions?
If you have any questions at all about this trip, please feel free to reach out to me directly and I will respond as quickly as possible!
I can't wait to see you in India! ;-)