iPhone + iOS5 + Aperture + Photo Stream Users = Rejoice! Aperture 3.2.2 Update Released to Address Disappearing "Over 1,000 Photos" Issue
December 9, 2011 - 6:52am
I can neither confirm nor deny whether the ApertureExpert users who first reported and then confirmed this issue get credit for initially finding the bug, but I'm pleased to report that in near record time, Apple has released an update to the (disastrous serious actually not as bad as it seemed but still scary) issue where photos over the 1,000 Photo Stream limit would dissappear from Aperture — that is, the ones that were already automatically imported into Aperture would dissapear! It turned out that the photos weren't being deleted, but simply hidden from view. Obviously not good, but not horrible either. No photos were lost.
This update primarily addresses that issue, and also adds in a few more polishing touches, including enhanced gestures support, and fixes bugs where a possible color profile mismatch on externally edited images could appear, and a possible crash when using brushes could rear it's ugly head.
I am very curius for those who have encountered this 1,000 image issues — does installing this update make your older, "lost" photos reappear? Please let us know in the comments!
Here's the official word…
"This update resolves an issue that could prevent auto-imported Photo Stream images from being displayed in the library after your Photo Stream hits 1,000 images."
For more information about this update see http://support.apple.com/kb/TS4144
Included in Aperture 3.2.2
Addresses compatibility with iCloud and iOS 5
Resolves an issue that could cause the "Loading" indicator to reappear in the Viewer when cropping a photo
Aperture now automatically relaunches into Full Screen mode if the application was in Full Screen mode when last quit
Pinch-to-zoom gesture now automatically activates Zoom mode in the Viewer
Left and right swipe gestures can now be used to navigate between photos in the Viewer
Microsoft Outlook can now be chosen in Preferences as the application used by Aperture for emailing photos
Fixes a problem that could cause Aperture, running on

OS

X Lion, to quit unexpectedly when using brushes to apply adjustments
Loupe now correctly displays magnification levels between 50-100%
Fixes an issue that could cause Aperture, running on

OS

X Lion, to display the incorrect color profile on externally edited images
Import window now includes an option to delete photos from iPhone and iPad after they have been imported into Aperture
The Lift

&

Stamp tool now displays the correct cursor icons when being used in Split View and Viewer only modes
As always, if you spot anything that isn't addressed that claims to be, or see any new issues, report 'em here!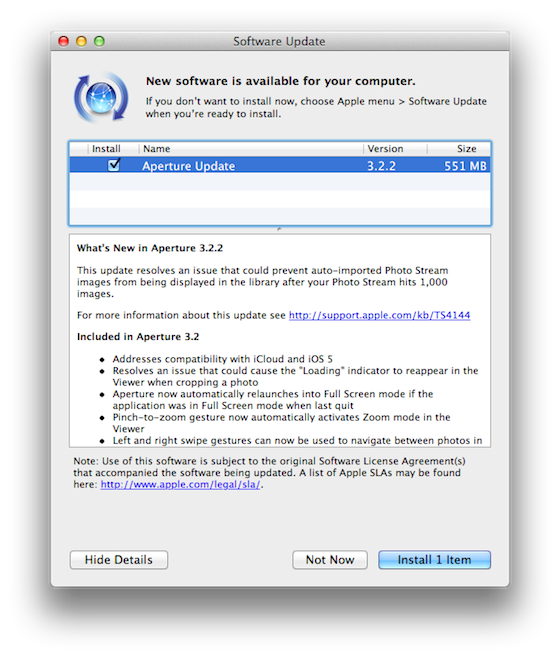 You'll need to repair the database (hold down command-option at launch) to recover files lost to this 1,000 image limit bug. Thanks David for pointing that out!
App:

Platform:

Author: