Afterlight for iOS; a Quick Look
December 17, 2014 - 12:00pm
More and more photo editing apps are starting to come out with "Extensions" capability, which means that you're able to edit your photo directly from the iOS Photos app, without having to open your image in another app, then save it back, resulting in duplicates (not to mention time spent digging around for different apps, finding the photo again, etc. etc.).
The latest one I've played with is called Afterlight, a 99¢ app from the App Store with additional in-app purchases for more "film" and "wallpaper" packs. Not only is this app Extensions compatible, it's also optimized for iPhone 6 and iPhone 6 Plus.
(all screenshots on iOS 8.1.2 on an iPhone 6 Plus)
Here's the original photo I wanted to edit in Afterlight. As you can see, it's not great… this is an iPhone 5 photo, and it's quite washed out.
As usual, to edit the image, tap on the Edit button in the top right corner, then choose your app. If you don't see the app you're looking for, tap the (…) More button.
One problem I've noticed many times (so I believe it's an iOS issue, not an app issue, since I've seen this on many apps and on multiple devices), is where the Extension never loads, or even crashes shortly after loading. Usually though you just see the spinner indefinitely. If you see this, force quit the Photos app and try again. To force quit, double-tap on the home button, then swipe up on the Photos app.
Once in, the app features quite a few controls.
Inside the app
It includes all the basics like exposure, contrast, sharpness, grain, vignette, and so-on.

Then as you keep digging, there are more advanced and quite impressive controls. For example, you can selectively adjust the tint in shadows, mids and highlights.

But it's not just about corrective controls. There are also some fun creative ones, such as these "seasons" looks. Not only do they apply a default look, but you can scale it back with a simple slider if it's a bit too intense for your taste.

One thing worth mentioning is that when you click the check box, the affect is applied to the image, and not stored as a setting. This means you can't go back into the same slider and change it, but it also means you can apply multiple effects. For example, from the presets above, you could apply "sailor" and dial it back to 20%, then apply "antler" at 50%, and finish it with "reef" at 12%. Try that with Instagram!
If that sounds like a negative feature, remember that while the individual effect may be "permanent", you can always cancel out or at any time revert your photo to the original. You just can't readjust the individual steps once you hit that check mark.
Finally there are also a series of "light leaks", which can be flipped, colored, and faded back.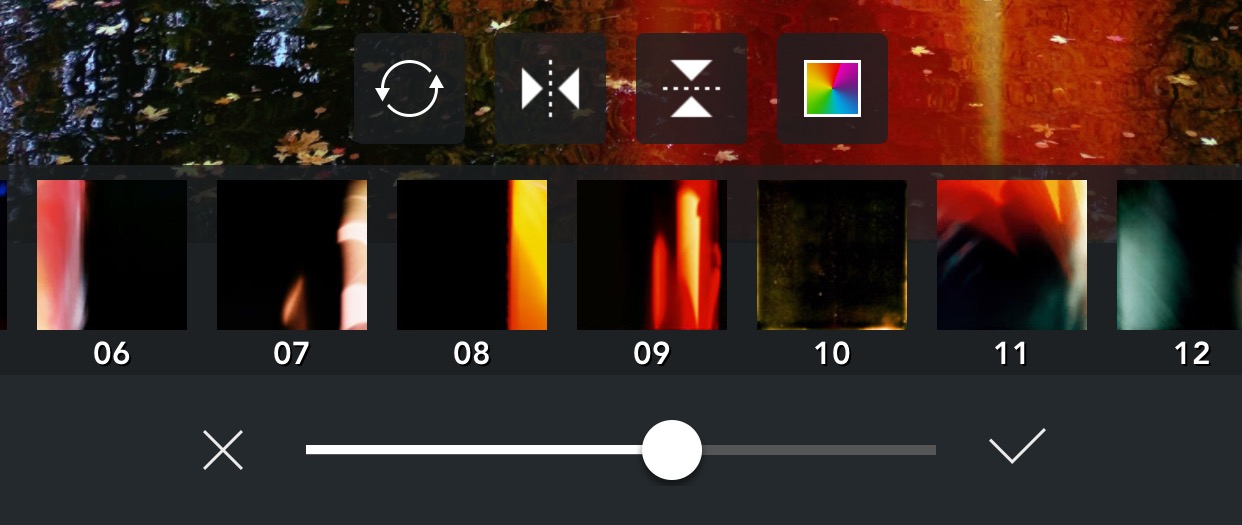 This is an impressive amount of features for this little app, and they seem to work quite well and look good. It also features masks (hearts, diamonds, individual letters) that you can apply over your photos.
Here's a finished image from a few minutes of playing…
Check it out on the app store. For just 99¢, Afterlight is a great deal.
Level:

App:

Platform:

Author: