One of the most common first-try solutions to fixing any oddities in your Library is to Repair or Rebuild your Aperture Library, and also to Repair Permissions.
This is very easy to do. When launching Aperture, simply hold down the Command and Option keys until you are presented with this dialog: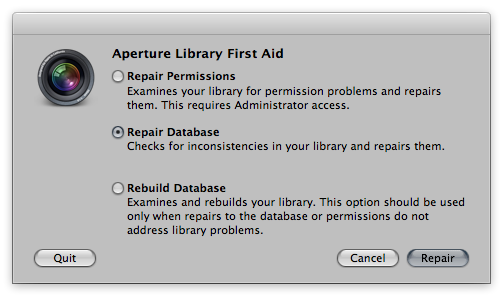 Notice there are three options; Repair Permissions, Repair Database, and Rebuild Database. Each has a basic explanation underneath it, but here's a little more to go on.
Repair Permissions
If your library isn't accessing images that you know are there and that you know are connected, or even if your library simply won't open, this could be the fix you're looking for. File permissions (basically defined as who or what app has the right to read or write to certain files) can sometimes be incorrectly defined, and this will correct that. 
Repair Database
Any other problem you're having with the library is addressed here. I realize that's a big open statement, but essentially, if you have any oddities in your Aperture library, this is the first thing to try. If you called tech support—this is the first thing they'd tell you to do. Think of it like rebooting your computer. Sometimes you just need to.
Rebuild Database
If the Repair doesn't do the job, then try a full Rebuild. This will take considerably more time, so don't try this first. But if the Repair doesn't fix it, try a Rebuild.
Reappearing Keywords
It appears that doing a repair or rebuild may cause deleted keywors to reappear in your Keyword list. To prevent this, you can delete your Aperture preferences file prior to a repair or rebuild. To learn how to trash preferences, read this. To learn more about the reappearing keywors, read this.
The next level
If this doesn't fix the problem, consider the import your library into a new library trick.