Wireless HDMI System Hollyland Mars 300
Photo Moment - April 03, 2019
Wireless HDMI is a great technology with many uses. You can add a wireless camera to a live studio broadcast system, use it on a shoot for a director to monitor the shots from a distance (even if the camera is on a gimbal), or use it in a still photo shoot where you want a client to monitor the action but not be looking over your shoulder. 
If you've been thinking about adding a wireless HDMI system to your live broadcast studio or field shooting rig, but were put off by the high cost, then you'll want to check out the Hollyland Mars 300 Wireless HDMI System, a great bargain in the market at only $500. From the video above and the accompanying text below, first I explored the hardware, covering all the ports and buttons, discussing automatic pairing, mounting options, the dual HDMI outputs and how it all connects. In the second part, I tested the wireless performance by first taking you on a short tour of a studio setup, then I headed outdoors to see how it handled range and interference.
NOTE

: Hollyland Tech supplied this unit to me free of charge for the purpose of this review. I have not been otherwise compensated for this review, and have no allegiance or bias towards or against the company or product.
Products Used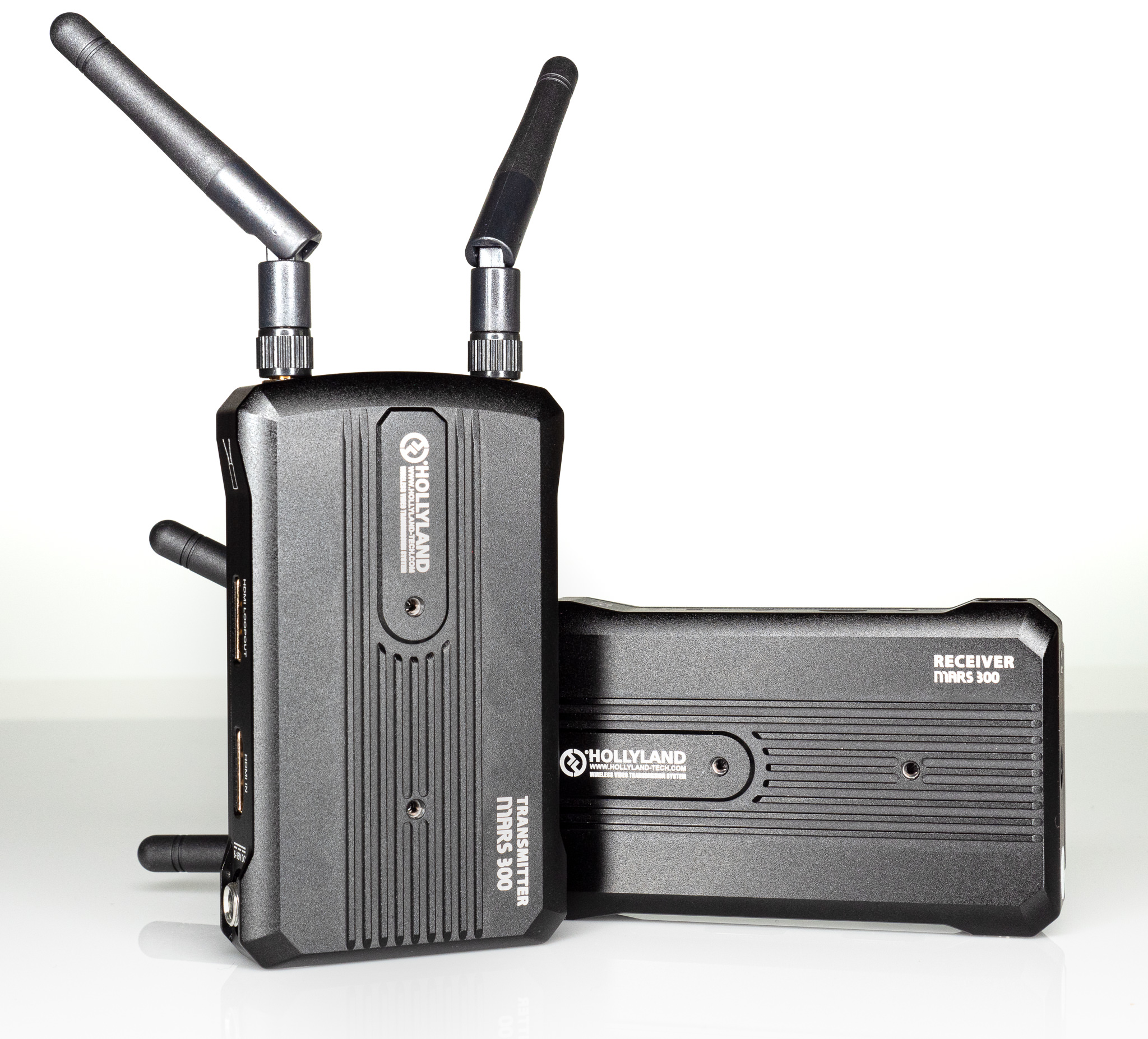 Layout of the Hollyland Mars 300
HDMI

Wireless System

The system consists of a transmitter and a receiver. The kit includes five antennas that unscrew off and fold away nicely (one is a backup in case you lose or break one). The antennas bend and rotate into any position.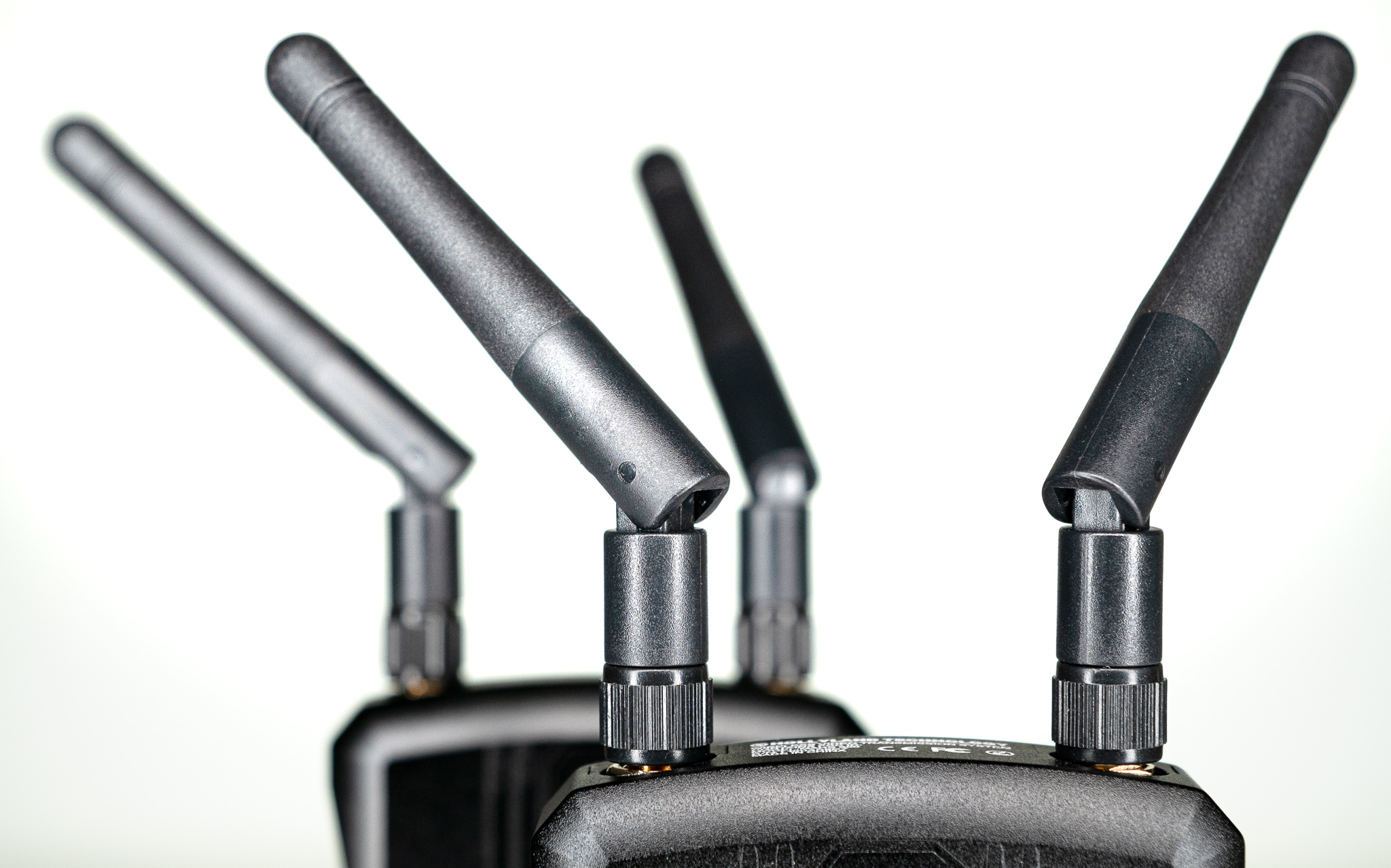 When you first turn both the transmitter and receiver on, they automatically pair, which is great. But if you ever need to, you can easily re-pair them.
There's also a channel cycle button for cycling through channels if you pick up any interference. Simply push one button on either the transmitter or the receiver; the signal will blank out, then quickly find and reconnect on a new channel. If you have a display connected, you'll see the status.
Hollyland Mars 300 Transmitter Layout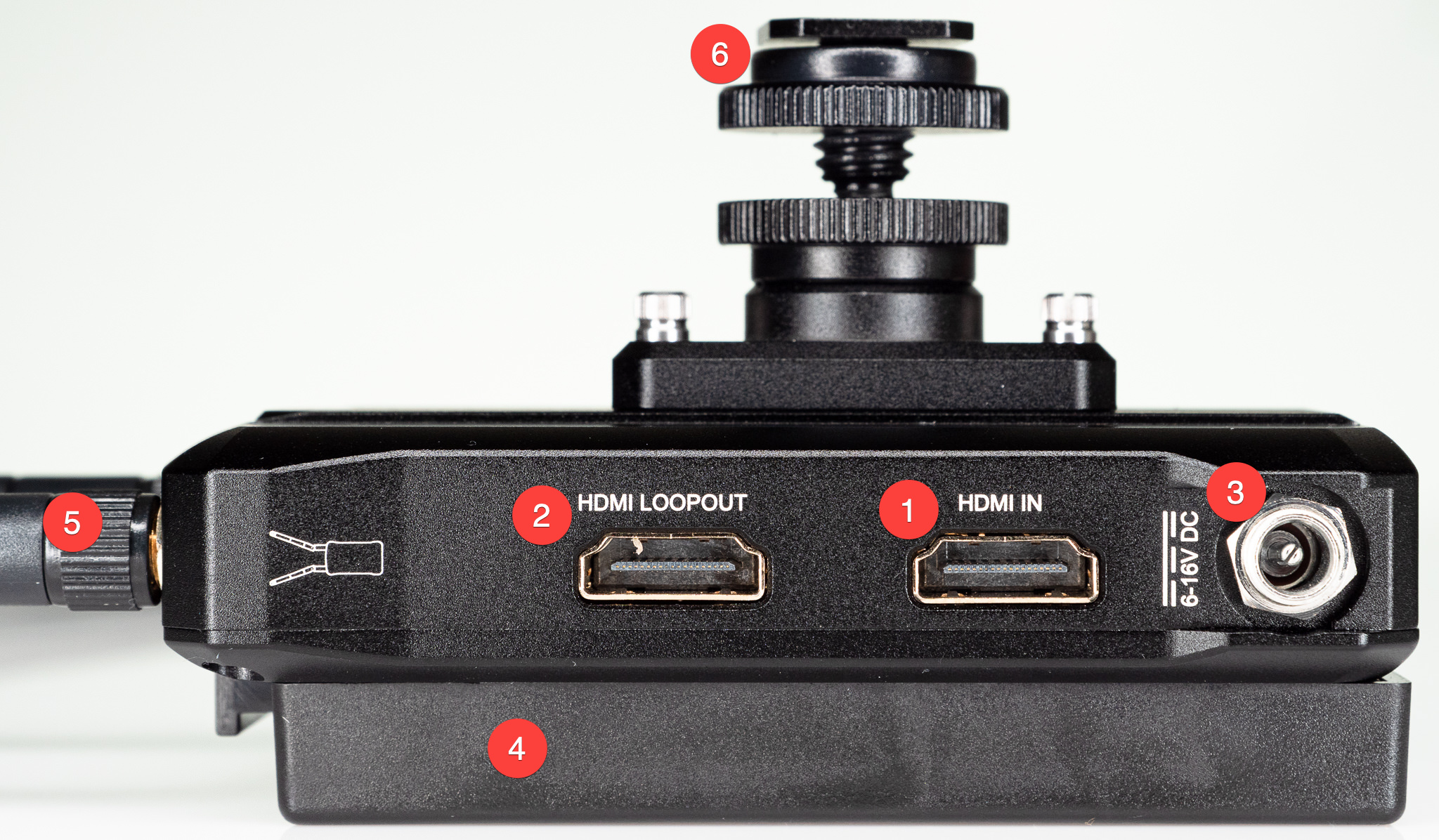 HDMI

IN

— for the

HDMI

video signal coming from the camera

HDMI

LOOPUT

— for connecting an external monitor
6–16V

DC

—

DC

power input ideal for a studio environment, although at that point you're no longer wireless, so this won't be commonly used on the transmitter. In fact the kit only comes with a single

AC

power supply, so it's pretty much expected you'd only use that on the receiver.
Sony

NP

Battery Mount — Both the transmitter and receiver use standard Sony

NP

batteries. There's no battery level indicator on the unit, so you may want to purchase

NP

batteries with a built-in battery level display. However, a commenter on YouTube said that another reviewer got over five hours of life on a small

NP

battery, so apparently these are quite low power!
Antennas — two of them
Cold shoe mount — this can be attached to the bottom or front of the unit, and there's also a ¼-20 mount on the bottom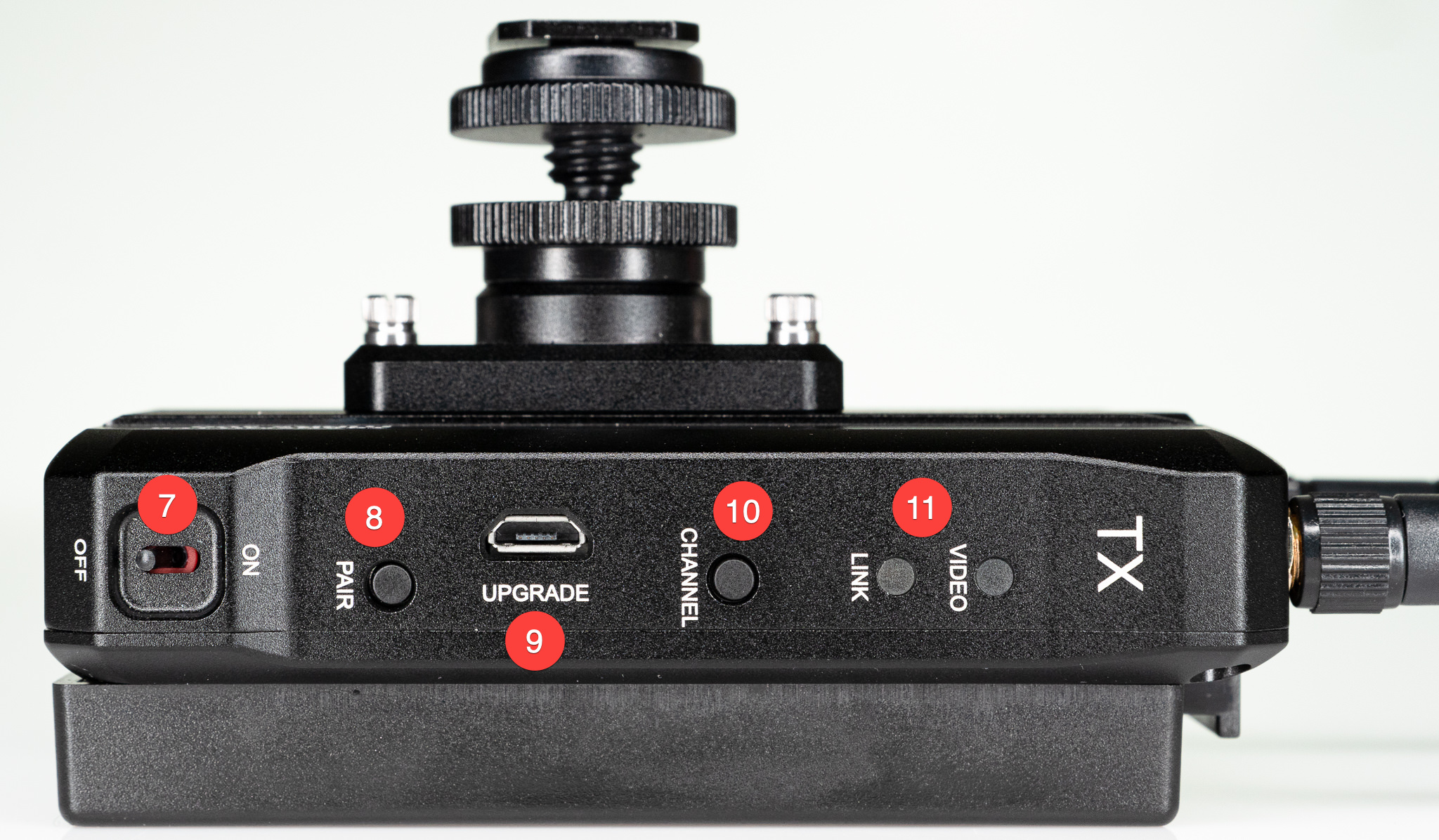 ON

/

OFF

— power Switch

PAIR

 — press on both units to enter a seek-and-pair mode

UPGRADE

—

USB

port for system upgrades

CHANNEL

— for manually cycling through available channels

VIDEO

and

LINK

status lights — indicating if a link is in progress or established, and if video is detected or not. A complete guide to different light patterns is included in the manual.
Hollyland Mars 300 Receiver Layout

HDMI

OUT1

&

HDMI

OUT2

— dual

HDMI

outputs, for connecting to monitors, recorders, or whatever you like
6–16V

DC

—

DC

power input
Sony

NP

 Battery Mount

ON

/

OFF

— power switch

PAIR

 — press on both units to enter a seek-and-pair mode

UPGRADE

—

USB

port for system upgrades

CHANNEL

/

OSD

— for manually cycling through available channels, and for enabling the On Screen Display, which displays unit status and information about the signal its receiving, including dropped frames, on the connected

HDMI

 monitor

VIDEO

and

LINK

status lights — indicating if a link is in progress or established, and if video is detected or not
Connecting the Hollyland Mars 300 System
Connecting is very straightforward; all you're doing is taking the HDMI out from your camera, and connecting it to the transmitter. Depending on your camera, you may have control over the HDMI output signal, such as automatic or manual downscaling. If you're not seeing an image coming through right away, I'd recommend checking out your HDMI output settings on the camera. 
If you watch the video above, you'll see that I put together a pretty ridiculous franken-rig to hold the GH5 and 12mm lens, a Feelworld monitor and the Mars 300 on one cage. It's ugly and off-balance, but I put it together quickly for the show. Without a doubt you'd want to be a little more careful with your rigging! The Mars 300 isn't heavy at all though, and with reports that even the smallest NP batteries last for hours, you can keep it light weight, too.
Another thing I discovered is that the HDMI pass through on the Transmitter does introduce a delay even to the connected monitor; it's about half of the delay to the receiver (more on that below). But it does mean that if you're holding the camera and transmitter on a rig and using the monitor to, well, monitor, then you'll be seeing things on about a ¼ second delay. If you wanted to avoid that, you could route the signal from the camera into the monitor first, and then pass it through to the Mars 300 (assuming your monitor has a pass-through, of course).
Delay in the Hollyland Mars 300
An important point of using this in a live production environment is the delay. Very high-end wireless HDMI systems have virtually zero delay (although I can't attest to if the ones that say zero delay are actually zero delay… ), the Mars 300 is most definitely not zero delay. It is however only about half a second, which in my opinion is pretty great for a system of this cost.
What this means on a practical sense though is that if you're using it in a live production environment, you have to be very aware of your audio and video sync. In live production, your audio is likely to be handled separately, going through a mixer and merging with other video sources. The audio will be realtime, and the video may or may not be realtime, depending on the hardware. For example on my own live studio, I use BlackMagic Studio cameras for the live show which have SDI connections and are truly realtime into the mixer. I also use a few older GH4 cameras (the close-up and top-down cameras) which are HDMI-out and are not realtime. To my knowledge, no HDMI system is ever realtime from the camera. As I understand it, there is processing involved in the HDMI stack that takes time. It's minimal; in my system it's about 3 or 4 frames on a 24p broadcast, so only ⅙ to ⅛ of a second, but that's enough of a delay where the audio and video aren't in sync if you're pointing the camera at a talking head (which is why in my studio, the real-time Blackmagic cameras are the ones that point at me, while the GH4 cameras are the ones reserved for close-ups where you don't see my mouth).
In the case of the Mars 300, with a roughly half-second delay, this is extremely noticeable and has to be solved. This can be addressed in one of two ways; either the audio can be delayed in the mixer so it matches the delayed video, or the audio can be routed through the camera connected to the Mars 300, so the audio and video begin in sync, and are delayed together at the source. 
Or, just don't point the camera at a talking head ;-) 
Performance and Range of the Hollyland Mars 300
I never did a line-of-site range test, although the company claims 300 feet. I did something much harder, and took the rig outside of my steel and concrete warehouse studio, with the metal door closed. I got about 100 feet away before the link light started to flash, and the audio started to drop. Interestingly the video was perfectly fine throughout that, so the link light flashing is a good indicator that you're near the end of the video range, and while you may be losing audio the video should still be fine. If your audio is being handled separately or isn't being used, then that shouldn't be a problem. 
The video quality held beautifully throughout the range test. Watch the video below to see it, as it was recorded live!
Conclusion
Overall, the Hollyland Mars 300 Wireless HDMI System has great automatic pairing, flexible antennas, a good set of easy to understand buttons, an acceptable image delay, and the least expensive price in the market.
Live Range Test
Today's
Q&A

and Unedited Live Show

See what you missed in the full, unedited LIVE show (this starts with the Q&A; back up if you want to see the whole live show)
Other Videos Mentioned in This Video
Full Video Transcript
This transcript has been automatically generated so it's not 100% accurate. But, if you're looking for a particular portion of the show, this is a pretty a good way to find it!