New MobileMe Gallery iPhone App; Great for Aperture Users!

January 14, 2010 - 7:11pm
Apple released a new iPhone/iPod Touch app this morning called "MobileMe Gallery" [iTunes link], which allows you to view not only your own MobileMe Gallery on your iPhone, but also those of friends and family by simply adding them as contacts. I'd say Apple's a little late to the game with image sharing using iPhone apps, but as is expected from Apple it's a really nice implementation. It might even get me to start using my MobileMe account for photos again!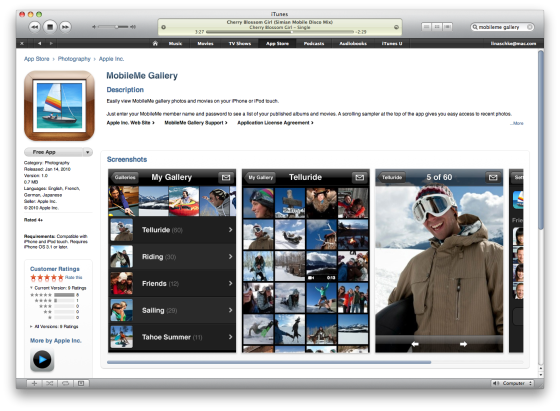 So why is this of interest to Aperture users? One of the great things about carrying an iPhone or iPod Touch as a photographer is it's an easy way to show off your photos to others—friends and family, or more importantly, to potential clients. I've always advised keeping a reasonably sized collection of images in a "portfolio" album in Aperture, and syncing that to your iPhone so you can always have an up-to-date portfolio in your pocket. But the fact remains that to update your portfolio on your iPhone, you have to physically sync your iPhone to your computer to do it. Since the introduction of over-the-air syncing for contacts and calendars quite some time ago, I'd wager that most people don't physically connect their iPhone to their computer all that often anymore—leaving that portfolio potentially woefully out of date. Further, for a lot of pros (myself included), the iTunes computer may not be the same computer that Aperture is on. Which means not only do you have to physically connect your iPhone to your iTunes computer to sync, but you also have to manually copy files from your Aperture system to your iTunes system. Way too many steps, which leaves yourself open to having an out-of-date portfolio in your pocket.
Enter MobileMe and the new Gallery app. It's really easy to add photos to MobileMe from Aperture. From the New button in the toolbar, create a new MobileMe Album. If you have any photos selected when you create the Album, they will automatically be added to it.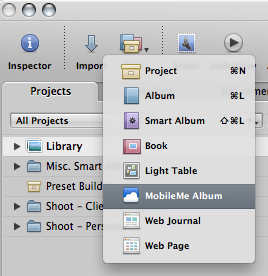 Name it and set the permissions. If you want this gallery to not be visible on your main MobileMe gallery page, then set it to viewable by: Only me (um, you, not… me.)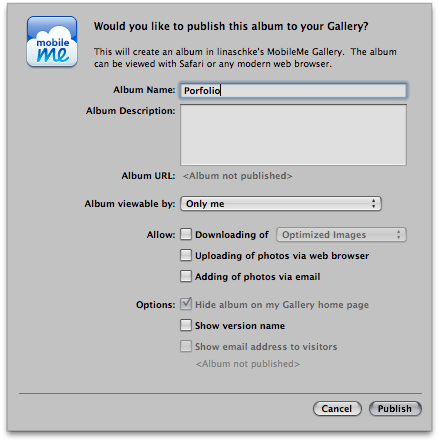 Now all you need to do is drag any photos you want to show up in your iPhone portfolio, into this MobileMe Album. It doesn't matter which Project the photos are in, as nothing is actually moved around by doing this. Just drag-and-drop and fill up that portfolio (be reasonable though… I'd say no more than 20 images is a good size collection).
Note: If you have images stacked, only the top image on the stack (the "stack pick") will be uploaded to MobileMe. In other words, it works as it's supposed to.
Here's a really cool bonus on keeping a porftolio this way—even if you have multiple Aperture libraries (maybe one for personal and one for clients, or one for a special client, whatever), you can still utilize this method. Switch Libraries, and when you do, the MobileMe Album will automatically appear and populate with the photos online. In the Aperture preferences, you can determine how often this gallery is checked. The first time you open a new Library, it might be a good idea to open the prefs and click "check now", just to trigger a download.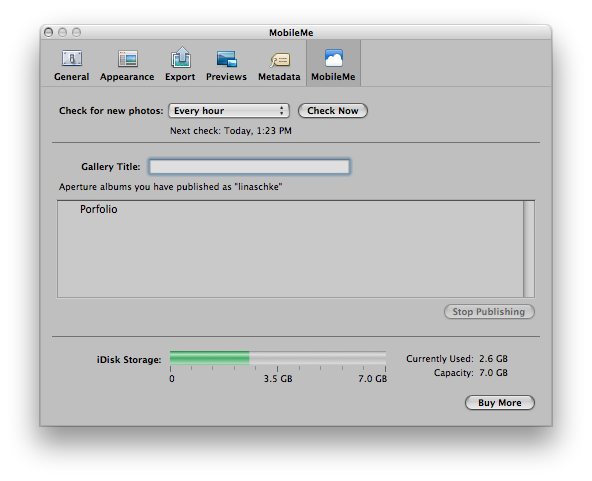 Then you can drag more photos in there from your other Libraries. Cool.
OK so now that's done, and again once this is set up, it's just a drag-and-drop to add more photos to your Portfolio. I've noticed that you may have to click the little update icon next to the MobileMe Gallery in Aperture to get it to refresh if you have it set to check automatically. You can always check to see what's actually been uploaded to MobileMe by viewing the gallery itself online. To do that, select Visit Gallery… from the MobileMe Gallery menu in the bottom right of the screen (when viewing the MobileMe Album).

Now, go get that MobileMe Gallery app on your iPhone and log in. You'll see something like this…
Tap that Portfolio gallery, and it will show all the contents of your portfolio.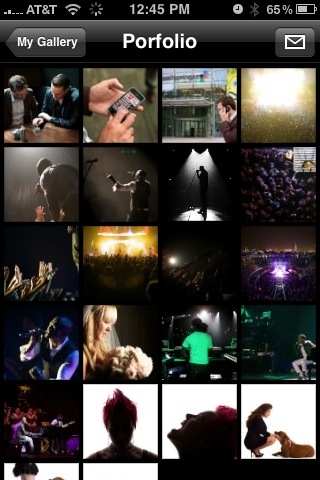 According to Apple, once you've browsed these images, they are cached for local viewing even if you're not connected to the internet (extra-great for iPod Touch users).
Finally, the order of these photos is determined by the order of them in the Album in Aperture. So you can arrange them however you like in Aperture, and that order will sync to MobileMe, and back to your phone.
Now get out there and show off your portfolio!
App:

Platform:

Author: