iPhone GPS + Your Pictures = Places Sweetness

February 10, 2010 - 8:47pm
A very quick note here as I'm about to start shooting a series of Aperture training videos with Sara France, but I wanted to share my experience with integrating the iPhone's GPS capability and photos off my Canon (with no GPS capability) in Aperture 3's awesome new Places feature.
Minimal screenshots for now, sorry… I just don't have time.
I drove down the coast from San Luis Obispo to Los Angeles yesterday. I knew that there was some kind of iPhone GPS integration for Places, but I wasn't sure how it worked. So along the way I stopped a few times, and shot photos with either my Canon and my iPhone in the same place, or shot just with the Canon (to see if Aperture would figure out the in-between).
When I imported the Canon photos into Aperture, I launched Places and quickly found the "Import GPS from iPhone Photos" command. With my iPhone plugged in, I clicked that button and Aperture automatically found the photos from the same time-range as my shots and presented them for use. That was VERY cool to see. It didn't even need to import the photos from the iPhone to do this!
It then dropped waypoints on the map of where each iPhone photo was taken. From there, all I had to do was drag the photos shot at the same location onto those waypoints, and they were immediately pinned to that spot.
As for the Canon photos where I didn't shoot an iPhone picture to match, there's no interpolation of placement. You do need to manually place those. So then if you want to do this accurately, you'll need to shoot an iPhone photo at each location you want to tag. Not a big deal, but good to know. Oh and I had one way-off GPS placement from the iPhone, so it's probably a good idea to ensure that the phone has locked-on to your location before snapping that critical photo (launch Maps first, wait for it to find you, then switch to the Camera and shoot your photo.)
If you have a GPS device that records your tracking points, it's a whole different (and exceptionally cool) integration. I actually have an old Sony device that I'll dust off and see if it works. Next time.
Places was one of the features I was most hoping to see, and it looks amazing in here!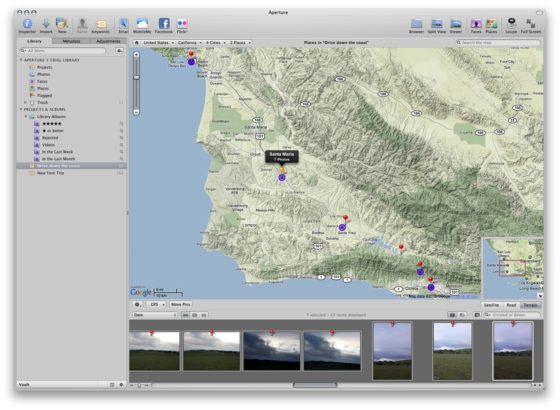 Click to open full-size image. Places is awesome in Aperture 3… I'm in heaven! (actually I'm in California, but that's close!)
Someone just pointed out to me that there are GPS tracking apps for the iPhone, meaning you can get the same waypoint data that you'd get from a dedicated GPS reciever, without buying new hardware.
The limitation would be that the iPhone app would have to be running full time, but I'd imagine (and I'm guessing here) that there are apps that will "fill in" missing data if you have to turn off the app for a few minutes (say, to answer a call or check your mail). If there isn't, there should be!
Anyone with any experience with an app like this, post something in the comments please! Sounds like a great way to go.
App:

Platform:

Author: