Smugmug Aperture 3 Export Plug-in Available in 64-bit (And More on 64-bit)
February 25, 2010 - 3:40am
Aperture 3 is a 64-bit app, but many of the plug-ins aren't yet updated to run in 64-bit. However, lucky lucky me, the SmugMug plug-in by David Holmes is! In fact it appears it was done 10 days ago. Thanks David!
Why does this matter? (More on 64-bit itself towards the end.)
Without a 64-bit updated plug-in, you'll see the dreaded (32-bit) notice…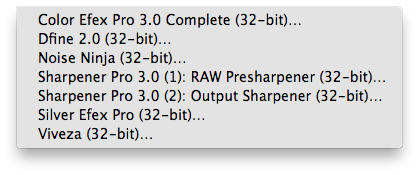 …which when selected, will give you this warning.

Which, let's be honest, Apple's made it dead easy to reopen in 32-bit mode. Just click the Reopen button, and Aperture will quit and reopen in 32-bit mode for you. It'll even open the plug-in you just tried to launch automatically!
You'll know you're in 32-bit mode because at the top of the Aperture menu, you'll see this.
And even more interesting, next time you launch Aperture, it automatically comes back in 64-bit mode. Nice!
You can also manually open Aperture in 32-bit mode, by selecting Get Info… on the Aperture icon in the Applications folder, and enabling 32-bit mode there.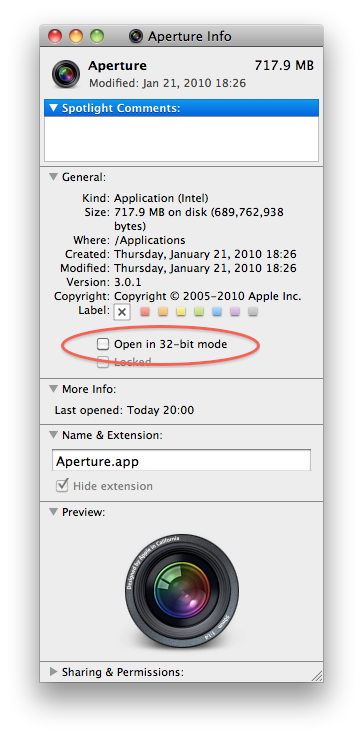 Check that and the app will always open in 32-bit. But I think it's safe to say Apple's made it easy enough so we don't have to. Very cool indeed.
So what is this 64-bit thing, anyway?
I'm no engineer so I'm not about to even pretend to explain 64-bit addressing. All you need to know is that a) it's faster than 32-bit, but b) not all apps can take advantage of it. If you want to know more, check out Apple's page on it here, and then go to this site, A Hat Full of Sky where you can also download the 32- or 64-bit Kernel Startup Mode Selector app.
You can also boot your Mac into 64-bit mode by holding down the 6 and 4 keys on startup. You know if you're running in full 64-bit mode by checking out the System Profiler and looking at Software > 64-bit Kernel and Extensions: Yes or No.
So here's the funny thing I learned while writing up this blog post. For one, the Mac doesn't remember that you booted into 64-bit the next time you restart. So unless you remember to hold down the 6 and 4 keys, you'll be back to 32-bit next time you reboot.
But in reading the article on A Hat Full of Sky I'm of the understanding now that it doesn't really matter. I'm interested now to know if anyone out there is running in full 64-bit mode (which I presume would mean the above "reopen" procedure would NOT work for you), and if there's any difference to Aperture. As I see it, Aperture runs in 64-bit mode even though the Kernel is running 32-bit.
I'm quite possibly more confused now than I was when I started this post… damn, hate it when that happens.
At least I don't have to relaunch to use the SmugMug plug-in anymore ;-)
App:

Platform:

Author: