A Little Tip for when You Want to Leave Pictures on the Card Between Imports

Usually when I import the photos off a card, I'll recycle the card right away. That's assuming that I've imported and backed up immediately, or imported to the Drobo at a minimum. But sometimes if I'm on the road and I'm just not shooting that much, I may want to import pictures long before the card is full—and would like to leave the existing photos on the card as an extra backup, at least until I'm back home.
Aperture has a nice "Do not import duplicates" feature in the Import dialog, but as you may have noticed, if you rename Masters on import, then this feature no longer works. It relies on matching file names to detect duplicates—so once you've renamed your Masters, there's no name to match.
In the past, this has left me scrutinizing photos in the import dialog, looking for the last shot I already brought in. Which can be a bit of a pain, if you ask me.
As you may know, I'm currently driving cross-country, shooting all along the way. I'm importing pretty much every evening and morning, and even though I'm backing up on import, I still like the idea of leaving the photos on the CF cards until I have everything backed up safely on the Drobo at home. And why not; I have loads of cards and am not shooting anywhere near enough to require emptying them off. But then of course I run into the "problem" mentioned above.
So now what I do is just before I eject the card from the camera to import, I fire off a frame with the lens cap on, placing a black frame at the end of that collection. Then next time I shoot and import, I'll fire off another black frame before importing, and so I simply have to look for the photos between the black frames. (Naturally this would work the same if the first frame you fired was with the cap on as well, but I find it easier to remember to do it just before importing).
Import dialog would look something like this… easy to spot!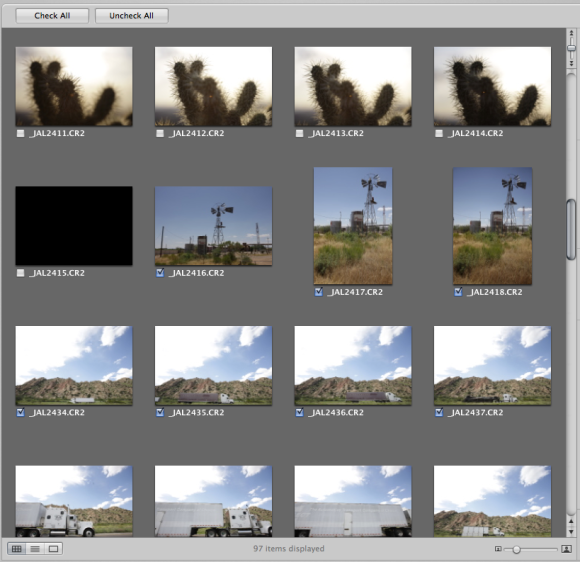 When the Import dialog pops open, just click Uncheck All, and then click the first image in your to-be-imported collection, scroll down and shift-click on the last image, selecting all the images in-between. Then click any one of the selected photos' checkboxes, and voilà, all to-be-imported images are checked and ready for import.
App:

Platform:

Author: