MacBook Pro with Retina Display; the ApertureExpert Review (part 3 of 3)
November 18, 2012 - 4:00pm
Part 3 of 3 [part 1] [part 2]
A joint first-hand, hands-on review of the 15-inch MacBook Pro with Retina Display
by photographers and ApertureExperts Thomas Boyd & Joseph Linaschke
Aperture plug-ins and other non-Retina apps
There's something else to mention, and that's the problem with non-Retina photography-centric applications. I knew that my favorite plugins from Nik Software were not yet Retina. Which is a bummer, but hey, it's just the interface, so it's not a big deal, right? Wrong. It is a big deal, because it's not just the interface. As far as I can tell, this goes for any non-Retina photo-centric app. Even Photoshop is rubbish on the Retina Mac. Here's why.
It's not just that your sliders and buttons are pixel-doubled. Your photos are pixel-doubled. I found it virtually impossible to do any accurate pixel-peeping adjustments in Nik plugins, and everything looked so awful in Photoshop that I just stopped using it entirely. I had to do some text layout in Illustrator on the road, and my eyes bled. But back to my favorite plug-in, I didn't do any B&W conversions on the road because it just wasn't enjoyable making adjustments to a blocky image, then having to render that back to Aperture to see what it really looked like. Remember non-Retina iPhone apps on your new iPhone 4? Yeah, it's that problem all over again.
Here's a few screenshots to illustrate the problem. These screenshots and photos were gracefully provided by Paul Fletcher paulfeltcher.me and are of the Lou Ruvo Center for Brain Health in Las Vegas, NV. Thanks Paul!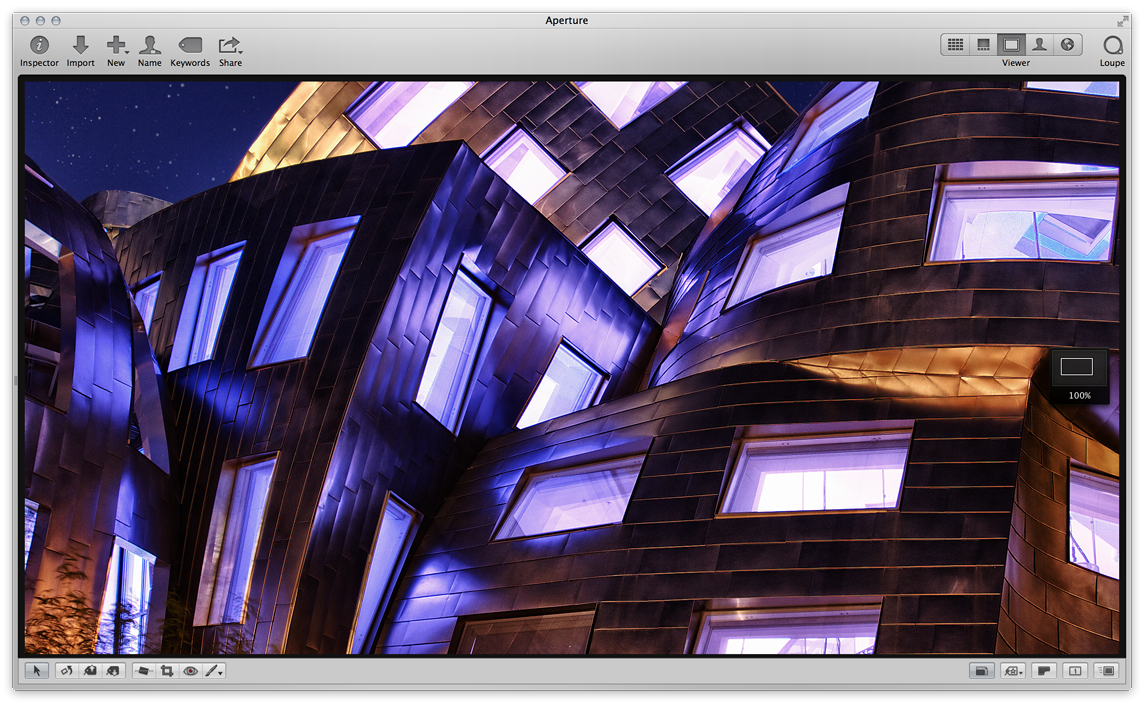 Aperture for Retina — open for 100% view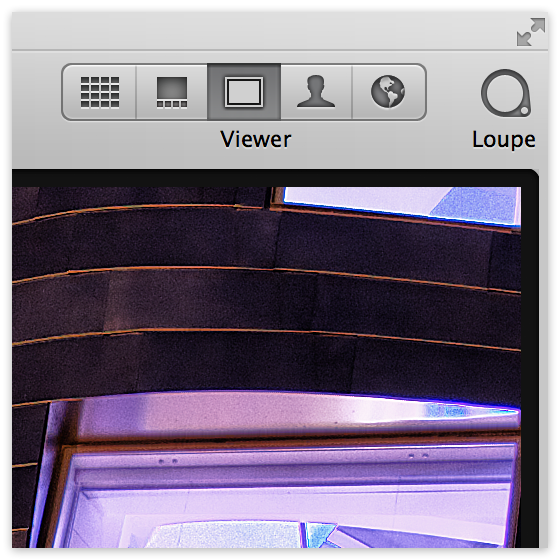 Close-up of Aperture for Retina
Photoshop (non-Retina) on Retina screen — open for 100% view.
Close-up of Photoshop UI (non-Retina) on Retina display — notice all elements are pixel-doubled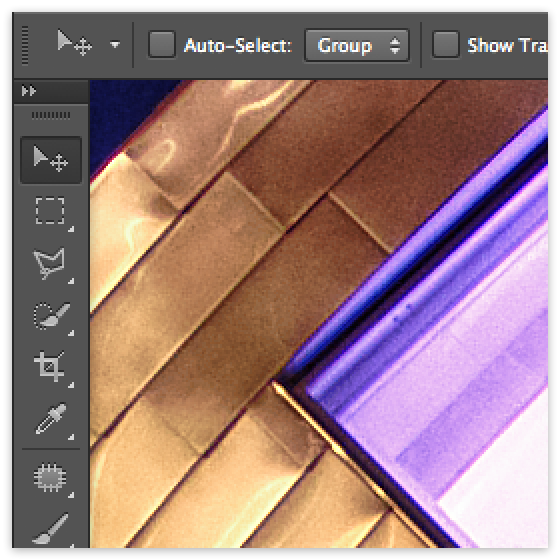 Close-up of Photoshop (non-Retina) on Retina display — notice the photo itself is pixel-doubled
Clearly these software companies are going to have to catch up. I asked over at Nik, and they had no time-table. Of course they were just acquired by Google, so who knows. Adobe blogs appear to hint at "fall" for Retina updates, but our leaves have fallen and there's snow on the mountains, yet still no Photoshop update. 
The bottom line
[TB] If you are a serious photographer and are in the market for a new laptop you should, without question, cough up the extra $400 and get the Retina display.
If you are a serious photographer and have thousands invested in an archive system running on FW800 and don't necessarily immediately need a new laptop, you should feel good about delaying the purchase until your peripherals catch up. That's where I'm at.
[JL] I'll take a slightly more aggressive "buy" approach on this. If you are happy with what you have, then don't upgrade quite yet. There will be future iterations (obviously) and those will only get better (obviously), so if you don't need a new portable Mac, and/or you're not in the market yet, then just wait until it's time. Don't upgrade for the sake of upgrading (unless you can really truly afford it, in which case, just get it — it's awesome!). But for working pros without oodles of spare cash, don't upgrade just for the sake of the screen.
That said… if you are in the market for a new laptop, I think you'd be foolish to not get the Retina display. By gaining Retina, you are giving up the optical drive, Ethernet port, Firewire 800 port, and dedicated audio line-in jack. The trade-off in ports is dual Thunderbolt and the HDMI port, and of course it's thinner and lighter. I'd recommend spending the extra money now, even thought it may mean spending more on adapters, because there's no question that Retina is the future. Even if don't care about photography (although if you're reading this, chances are you do!), then just the increased screen quality for reading email and browsing the web should not be underestimated. Plus, if you do any kind of web design work, keep in mind that you want Retina graphics these days if you want your site to look good on the vast number of Retina iPads, iPods and iPhones out there, and it takes a Retina screen to see what that really looks like (I loved re-reading my own Retina discussion from when the iPad 3 first came out on the 15-inch Retina screen).
Finally, another argument against, and that's the other non-Retina apps. If you absolutely rely on apps like Nik plugins or Photoshop, then you will want to either wait until they update their software (don't buy a non-Retina Mac though), or accept that you'll need to plug into a non-Retina display to use them effectively.
I don't know exactly what my next MacBook will be, but I can guarantee one thing: it will be Retina.
Did you read the entire review? If not, be sure to go back to part 1!
App:

Platform:

Author: