WWDC 2014 and the future of Aperture, iPhoto and Photos

The WWDC 2014 keynote is over (watch it here), and there were several references to the world of photography, but unfortunately nothing about Aperture directly (or iPhoto, for what that's worth). If you want to watch the photos section, skip to 73:25 to get started. And if you want to see the comments already made on the live-blog of the keynote, head here.
So, what did we learn?
"Every photo you take. On all your devices."
The major takeaway was that through Mac OS X Yosemite and iOS 8, we will see a new iCloud photo storage feature, allowing us to access and edit far more photos than we can see on a single iOS device today—up to 1TB of them. You can see the pricing tiers (at least up to 200GB) in the screenshot below.
1TB is a lot of storage, but it's not enough for everyone. I have around 3.5 or 4TB of data between my Aperture library and all the originals. How excessive data will be handled wasn't mentioned, although one presumes that you could just pay for what storage you wanted, and somehow tag projects or time spans that should be available in iCloud. 
The editing controls shown were not only non-destructive, and syncing via iCloud, but also much more advanced than anything we've seen in iOS before. The basic "Light" slider is actually made up of brightness, contrast, exposure, highlights and shadows—adjustments we all know and love, here controlled intelligently with a single "Light" slider, and also accessible individually. It's admittedly very nice.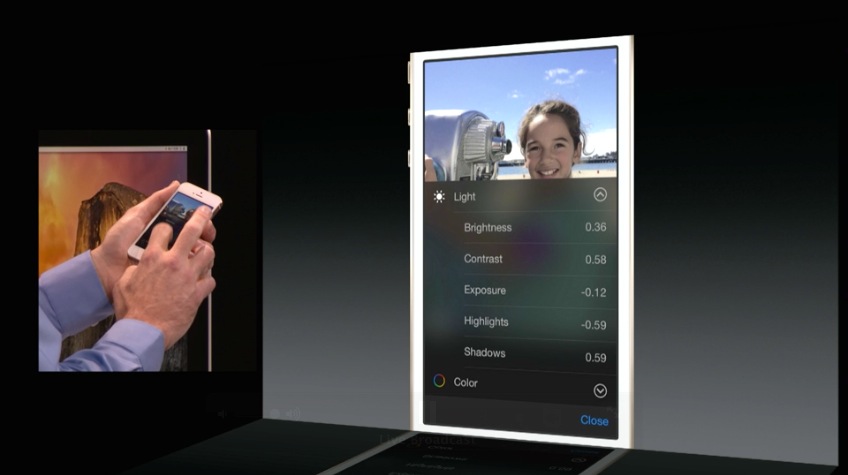 Other than a cool search demo, and showing an image crop synchronizing from an iPad to an iPhone, there wasn't much else on display. 
Then finally, the only real mention of what's coming in the future was this reference…
"We are working on a new grounds-up photo solution for the Mac built with iCloud in mind" […] "…shipping early next year"
That sentence sums up what we now know about the future of photo apps on the Mac. The demo that proceeded that statement didn't look  like an iPhoto or Aperture app, but basically just a clone of the iOS Photos app, running on OS X. Maybe that's the future of iPhoto, although I'm sure things like cards and calendars and books will still be there. I believe what we saw running on OS X Yosemite today was just a technology demo, simply to show iCloud syncing, and not any indicator of what iPhoto or Aperture will look like.
EDIT: Maybe not; I missed this screenshot before. This makes it look much more robust, so perhaps this is the future of iPhoto/Aperture:
There's no place for Photos and iPhoto on OS X (or iOS for that matter, if you're going to put this much capability into Photos), so either Photos is the new iPhoto, or it'll be rebranded before launch. 
We also saw what looks to be a very nice new plug-in type architecture for iOS called "Extensibility" where developers can make their app accessible from the Photos app. The screenshot below from a demo that starts around 88:25 shows a "photo filter" accessing the apps VSCOCam and Waterlogue.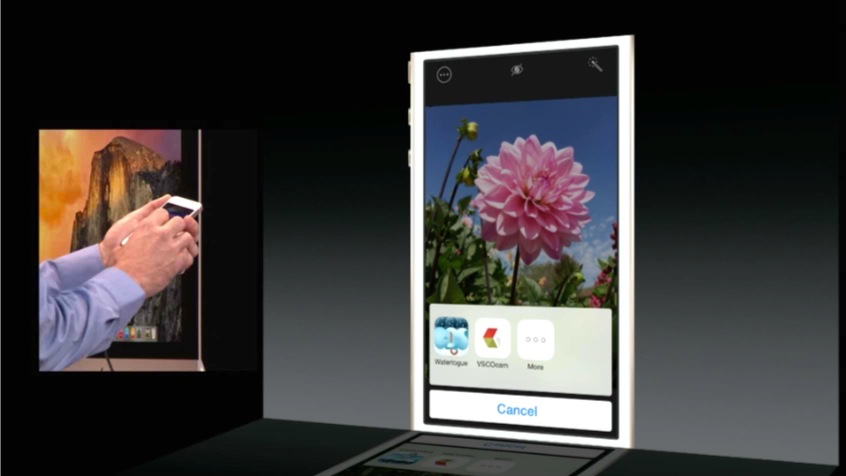 There are two huge questions here though that weren't addressed. First, is this non-destrucive? If so, like with the built-in adjustments, we could presumably open that photo and re-edit it later. That seems logical since there was no save or export step in the demo, and there's no way Apple would just overwrite your original photo. There could be a "revert" feature, but hopefully the adjustments are stored non-destrucively, and can be re-edited later on, on this or another device. And the second point is OS X functionality. If this "Extensibility" is, er, extended to OS X, then we're talking about a whole new plug-in architecture for the future photo app ecosystem.
2015
So what about that date? "Early next year" is 2015. Are we going to see a new Aperture before then, giving us the features we've been gagging for for years now? Will we see an iPhoto and iPhoto Pro type of workflow? What about our existing libraries; you can't make a future version of Aperture that just throws away the last decade of work (Aperture 1.0 was released in 2005), so even if the simplified iOS-type workflow is the future, our existing photos can't be left behind.
Level:

App:

Platform:

Author: