Photo Extensions Coming to OS X El Capitan

You had to be quick to see it. Craig Federighi had just finished a summary of the new features in OS X 10.11 just under 20 minutes into Apple's WWDC 2015. Before turning to performance aspects of El Capitan (as the latest incarnation of OS X is called), we were given a glimpse of other features in a summary keynote slide, with seven of these given the bold font treatment. One of those seven was "Photos editing extensions". 
This is the core feature many of us on this site had been holding out for and its non-appearance in Photos 1.0 had significant ramifications for the remaining Aperture user base, and indeed the overall direction of Joseph's site. It is therefore a welcome sight to see its appearance linked to the next iteration of OS X, underlying the fact that Photos is intrinsically linked to the OS itself and is perhaps an indication of future significant updates being tied to OS updates. Can Photos still rise up to be a pro level editing tool? With the teaser appearance of Photos editing extension this becomes a whole lot more palpable. Will Photos become a pro level DAM? For now that remains as uncertain as before.
I initially posted on the Photos forum my observation, and a fellow poster Pete also pointed to the Apple Developer website where a snippet of further information was given:
The link to Documentation currently refers to the earlier documentation from last year's developer conference with Photos extensions only in the context of iOS. Hopefully this will be updated soon for some further insights into how extensions will behave in Photos for OS X. Another poster (thanks jollyllama) pointed out the regular Apple site preview page has a little more detail: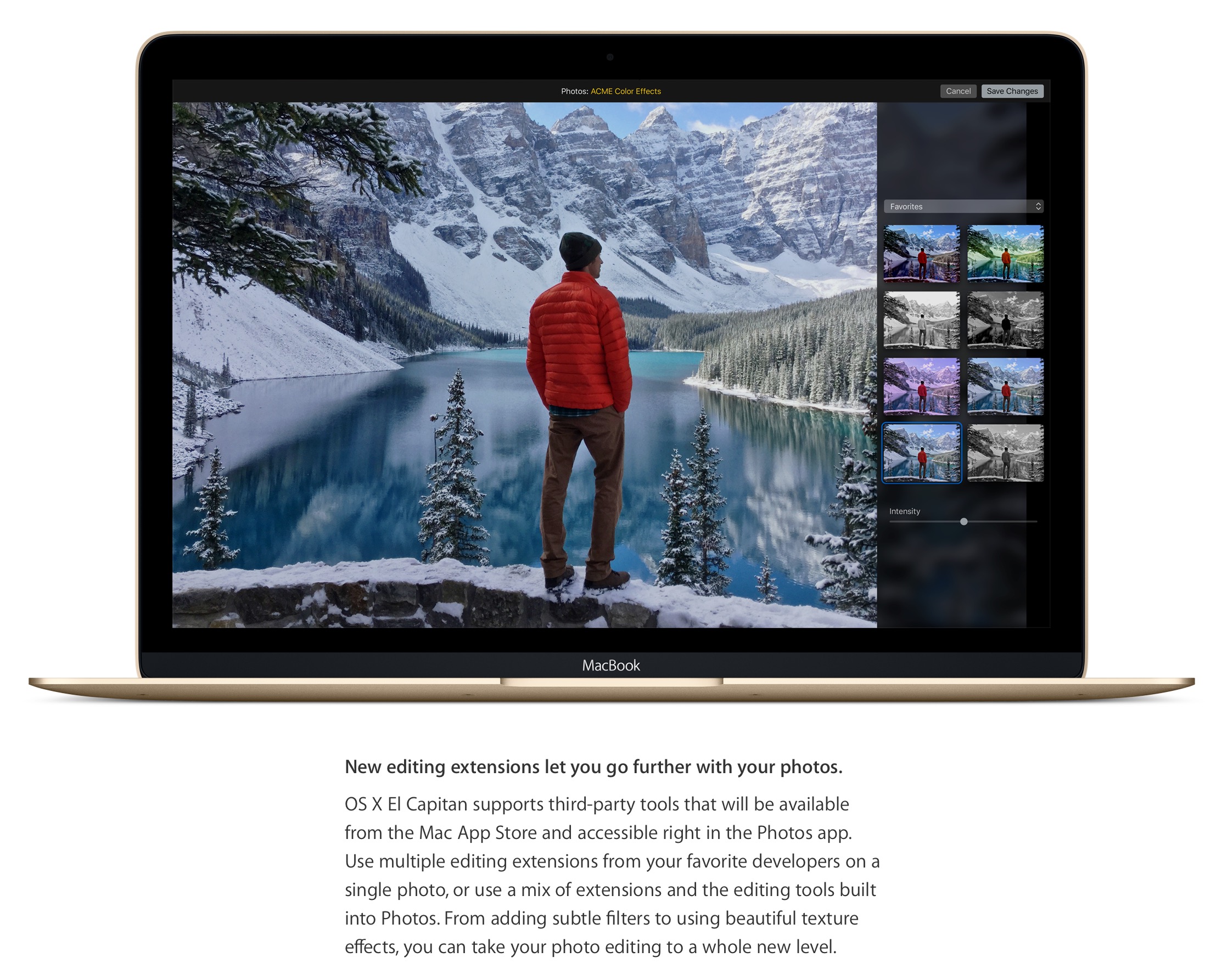 Otherwise the Public Beta coming in July will be the one to watch, although even then we may not get to experience extensions until interested developers have come on board. Hopefully that'll be soon.
Did you spot anything else in the keynote relevant to the Photos community?
App:

Platform:

Author: