Darkroom for iOS; Fun Editing App with Curves and Saveable Presets
February 25, 2015 - 12:17pm
Darkroom (free; $2.99 in-app purchase for Curves) is a fun and flexible iOS app who's shining features include the ability to save your own presets, and to step back in time infinitely on any image you've adjusted.
Basic (free) adjustments
The default adjustments are pretty basic, but seem to work quite well. You can crop (to a variety of preset ratios, but not freely) and straighten, adjust brightness, saturation, temperature, vignette and sharpness. None of these are features you won't find in a hundred other apps, but what sets Darkroom apart is the ability to save presets. If you dial in a look you really want to hold on to, you can save it to apply to other photos. It also features a selection of built-in presets, and the nice thing about these is you can get a taste of what you're missing without curves, which is a $2.99 in-app purchase. The curves affect will be applied, but you can't edit the curves without adding the feature.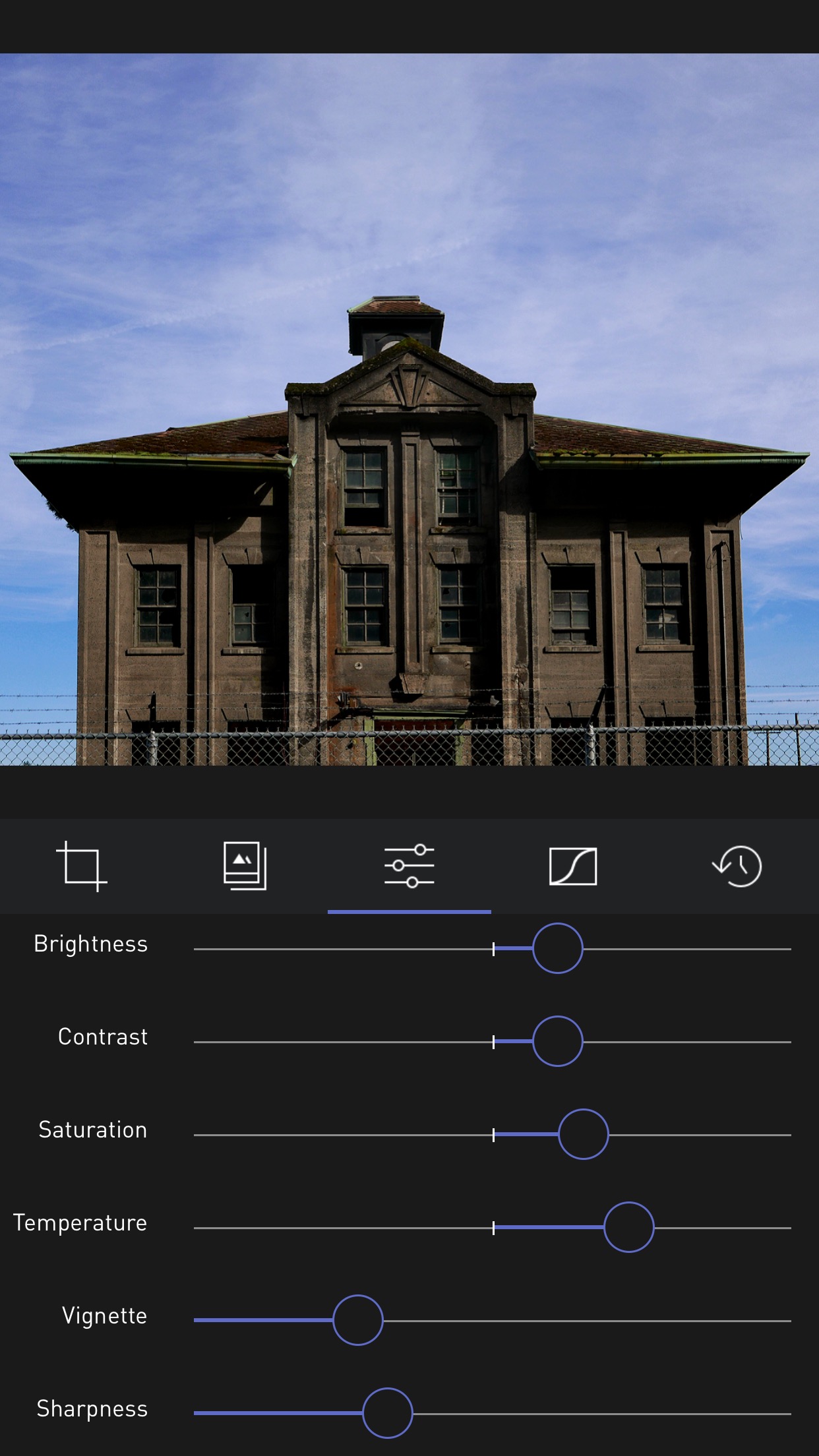 Fun with curves
Curves are a personal favorite adjustment tool, and if you know your way around them, you can do just about anything. The curves tool found in Darkroom isn't as advanced as on you'd find in Aperture or Photoshop, but it's very easy to use, and in fact I'm quite impressed by how it's been set up. 
The curve is divided into five segments; Blacks, Shadows, Midtones, Highlights and Whites. You don't create a point on the curve, as you would in most curve tools, but instead drag up and down (or tap above or below the line) in one of those five regions. Even if you've never used curves, you'll quickly figure out how they work and what they can do — knowledge that could actually help you in larger editing apps down the road.
You can adjust the RGB curve, or each Red, Green and Blue curve individually. Adjusting RGB isn't the same as adjusting each of the R, G and B curves though; it's more like a luminance curve, from what I can see. And that's great; this allows you to take some degree of control over the colors in your scene separately from adjusting image contrast. For example, you can remove a blue cast from a scene by carefully pulling out blue (and maybe adding a little red) in the midtones and highlights, then add contrast with a classic S curve in the RGB adjustment.
You can also use the R, G and B curves to lift the shadows and do it either neutrally (by lifting all three the same amount) or introduce a color cast by altering how much each shadows portion of the curve is raised, as in the example below.
Presets continue to be a great way to learn
One thing I've always liked about presets is that they can teach you how to achieve a specific effect. If you like the look of a preset but can't figure out how it was made, just apply it then look at the settings. Make some tweaks to suit your personal taste, and save it as a new preset if you want. 
Unlimited history
One of Darkroom's crowning features is its ability to track an infinite history of adjustments. You can view every change made to the photo, and revert to any previous status with a tap.
Shortcomings
This is a great version 1, however there is definitely room for improvement. In no particular order, here's a few things I'd like to see added or changed.
Vignette affect appears to be added after curves in the image process pipeline, meaning if you want that faded-blacks look, you can't add a vignette effect. If you do, the vignette will go towards solid black, even though you've lifted blacks considerably.
There's no grain tool, which I'd love to see. It may be cliché but I like adding that touch of texture to images, especially if I'm lifting shadows for a faded look.
You can't recenter the vignette, which limits its usefulness. Often you want a vignette stronger on one side than another, and the easiest way to control that would be to move the center point.
Cropping is limited to a selection of preset ratios. I'd like to see a free-cropping option.
When browsing your photo library, there's no import needed, which is great — just tap and edit. And when you then go back to look at your library (in Darkroom), you see all of your photos, including the ones you've edited, which have a pencil icon showing the edited photos. That's great, however I want to have a view that shows just my edited photos. It can be a challenge scrolling back through hundreds or thousands of images looking for that shot you were editing earlier. See the screenshot below for an example.
Overall, I like this app a lot
For me, the number one selling point is the presets. Being limited to someone else presets, or being limited to re-creating the effect every time you want to apply a look, is annoying. Darkroom lets you have both, and even though its editing features are somewhat limited (especially if you don't pony up for the curves), that alone is enough to make keep this tool on my iPhone, and return to it again and again.
App: Darkroom
Price: Free, with $2.99 in-app purchase
Devices: iPhone 6 Plus; no iPad optimized version
Level:

App:

Platform:

Author: