Lightroom Photo Importing Through Aperture Eyes
February 27, 2015 - 12:00pm
Overview
As I prepare for my migration from Aperture, I continue to experiment and explore Adobe Photoshop Lightroom, taking notes on how it compare to Aperture. Not everything lines up precisely. Some features in Lightroom are better. Some features of Aperture I am accustomed to are gone. One of the things I really liked about Aperture's import system is not available in Lightroom.
Importing photos
Importing photos is a big topic. Where do you store them? How do you organize? What kinds of previews do you generate? The list of questions goes on… and they're all good questions. And I can't answer them all here. Everyone has different needs – and knowing your needs is really important. If you've read my book Effective Aperture Workflow, I dedicate a whole chapter to knowing your goals first and then building your workflow to support those goals.
So… here I'll cover the basic comparison of the import features between Aperture and Lightroom. I am not going to talk about import speed. I've seen and heard many a complaint about Lightroom import speed. No need to rehash that here. 
I'll also cover what's important to me and where Lightroom falls just a bit short. All manageable problems – they'll have to be. Staying on Aperture isn't an option for me anymore. It'll eventually die, as will the machine I'm running OS X Yosemite on, too. ;-)
Import feature comparison
There's one big difference between Lightroom and Aperture when it comes to importing your photos – where they are stored. Aperture has the concept of a "managed" library, which means your original images are kept "under wraps" within the Aperture database folder structure. All that means is you can't casually browse to your originals in the Finder (you need to select the Aperture database and do a Show Package Contents). The upside – managed Aperture libraries seldom suffer from data loss by fat-fingering.
In Lightroom, all photos are stored in folders, readily browsable in the Finder. Aperture calls this arrangement a "referenced" library. I've always run referenced, so working with folders in Lightroom is familiar and natural for me. If you've run managed in Aperture, you'll have some thinking to do about a folder structure.
What about the rest of the import features? Here's the rundown.
During Import
Aperture
Lightroom
Copy/Move photos
Yes
Yes
Rename files
Yes
Yes
Adjust time zone
Yes
No
Apply Effect/Develop preset
Yes
Yes
Filter file types (audio, video, locked in camera)
Yes
No
Apply metadata preset
Yes
Yes
Manage

RAW

+

JPEG

pairs
Yes
No
Run AppleScript
Yes
No
Backup Photos
Yes
Yes
Overall, Aperture is a little more nimble when it comes to importing, putting more options at your fingertips during the import process. A bit about the differences:
Adjust time zone: The common use case is you travel, forget to change the time zone on your camera, and all of your time stamps are skewed. Aperture lets you correct this during import. With Lightroom, you'll need to do it after the fact with Metadata > Edit Capture Time.
 
Filter file types: Aperture's import provides methods to filter out audio, video, or image files. A very nifty option is to display only images that are locked/flagged in camera. This is very useful as a first pass import (here's an older post about the technique). I've seen Lightroom forum posts dating back years with users asking for locked/flagged in camera support on import. Evidently that one falls below the line for Adobe.
 

RAW

+

JPEG

: Lightroom doesn't offer this setting in the import options. Rather, you set this across your catalog in the general preferences. Selecting "Treat

JPEG

files next to raw files as separate photos" brings in both the

RAW

and 

JPEG

files. Unfortunately though, they are treated as unique files, not as "pairs" as in Aperture. [

JOSEPH

'S 

NOTE

: This is one of the single most frustrating missing features in Lightroom for me personally. I have high hopes that this is something Adobe will address. I have been struggling to find a satisfactory workaround… and I haven't yet. If you have, please post it in the comments below!!]
 
Run AppleScript: I've never used this feature of Aperture, however I recognize the value for some workflows. It's an open-ended hook to tailor the import process almost infinitely. For example, a script that detects the camera and lens and applies an effects preset. I may have considered using this in Lightroom to apply lens corrections if such a hook were available. But it's not, so I won't. 
Where Lightroom falls short for me
The import features that really matter to me are specifying a location to store the original images, renaming them, and modifying the metadata. Image storage and renaming is fine. For metadata management during import, Lightroom comes up a little short. Both Lightroom and Aperture have very good systems for creating metadata presets and applying them during import. The major difference is that Lightroom treats the preset as an immutable set of metadata fields, whereas Aperture treats the metadata preset as a template.
This is best explained with an example. There are several IPTC fields I want set on all of my images. Some of the data doesn't change (or changes rarely) such as my name, home city, and website. This is the IPTC Copyright and Contact data. Other fields change based on the shoot, such as where the image was taken. This is the IPTC Image information. 
My basic import preset in Aperture sets the IPTC Image information for San Diego. That's where I do most of my shooting, and it makes sense to have default values. On the left is my Basic Import Info metadata preset, where I have specified default values for various fields. On the right is Aperture's import pane. I've selected the same metadata preset and it fills in (or clears) the fields based on the preset. 
Now here's the beautiful thing – I can change the fields to my liking and the changes apply only to the current import. In this example, I changed the IPTC Image city to "Carlsbad". This one-time change is applied to all photos in the import and the metadata preset (template, really) remains unchanged. This feature is great for metadata fields that you want applied to every photo but whose value changes from shoot to shoot.
Here are the equivalent screens in Lightroom. On the left is my Basic Import Info metadata preset. Interface differences aside, LR has very full featured metadata support. On the right is Lightroom's import pane, where I've selected the "Basic Import Info" preset in the Apply During Import section.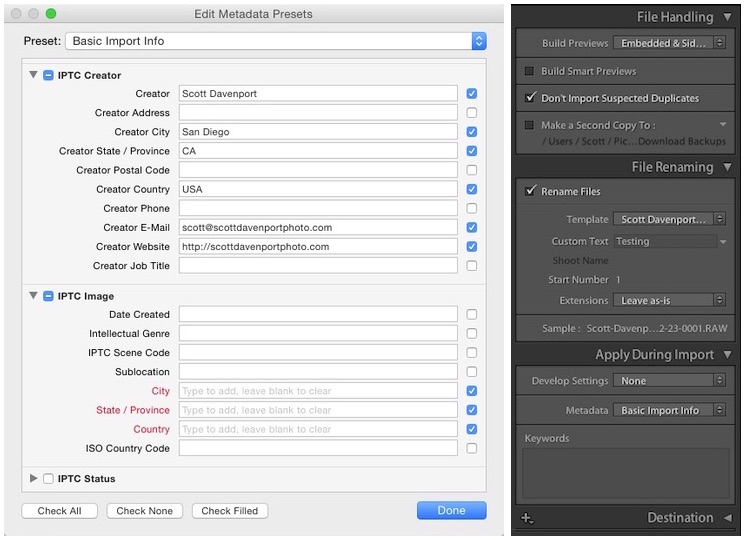 Lightroom's import pane is an all-or-nothing option for the metadata preset. In Lightroom's import pane there are no options to modify the values. It's a preset, not a template.
A lone tear slowly runs down my left cheek. Cue the violin music, please. 
Takeaways
I'll miss the ability to quickly import files locked/flagged in camera. That's a handy feature. I've seen workarounds that involve using another program to import first, or copying files to a folder and checking filesystem state bits. Hokey, kludgy, and not for me. Maybe a future release of LR will provide that feature.
The bigger annoyance for me is managing IPTC Image metadata. To avoid populating incorrect IPTC Image information, I keep those fields blank in my metadata preset. I'd rather have the data blank than incorrect. It's a lot easier to find empty fields than wrong data.
After the image import, I do a second pass to set the IPTC Image metadata. It's not difficult, it's just another step to perform. Once photos are imported, I key in the IPTC Image data for the first photo, select the rest, and use Metadata > Sync Metadata to copy those fields to the rest of the photos. An extra step, a little annoying, but not a game changer.
There is a potential silver lining. If your camera embeds the GPS location in the original, or you place an image in the Map module, you can configure your catalog settings so Lightroom suggests values for the IPTC Image location fields. In the catalog preferences, select "Enable reverse decoding of GPS coordinates to provide address suggestions". 
I haven't found out how to make that data permanent, short of selecting an image and keying it in manually. The suggested address information always remains in a "grayed out" state.
If you're a Lightroom user and know how to persist this information automatically, I'd really like to hear from you.
Level:

App:

Platform:

Author: