Culling Photos with ON1 Browse Before Importing to Lightroom
December 7, 2015 - 2:30pm
Introduction
Just about every Lightroom user I've spoken to agrees that Lightroom's import speed is woefully poor compared to other photo management products. After migrating from Aperture to Lightroom, I've warmed up to Lightroom. However, import speed remains a thorn in the side. To help speed up the process of culling and importing photos, I use ON1 Photo 10's Browse module as the front end of my photo import workflow.
ON1

Browse Overview

ON1 Browse is a product that does exactly what you think – lets you to browse your photos… blazingly fast. Browse is a module in the ON1 Photo 10 product and also available as a standalone program. Simply point it at a folder of images and previews for those images start appearing almost instantaneously. Shooting RAW? No problem. Browse uses the embedded preview in the RAW files to quickly present a preview (just like Aperture does).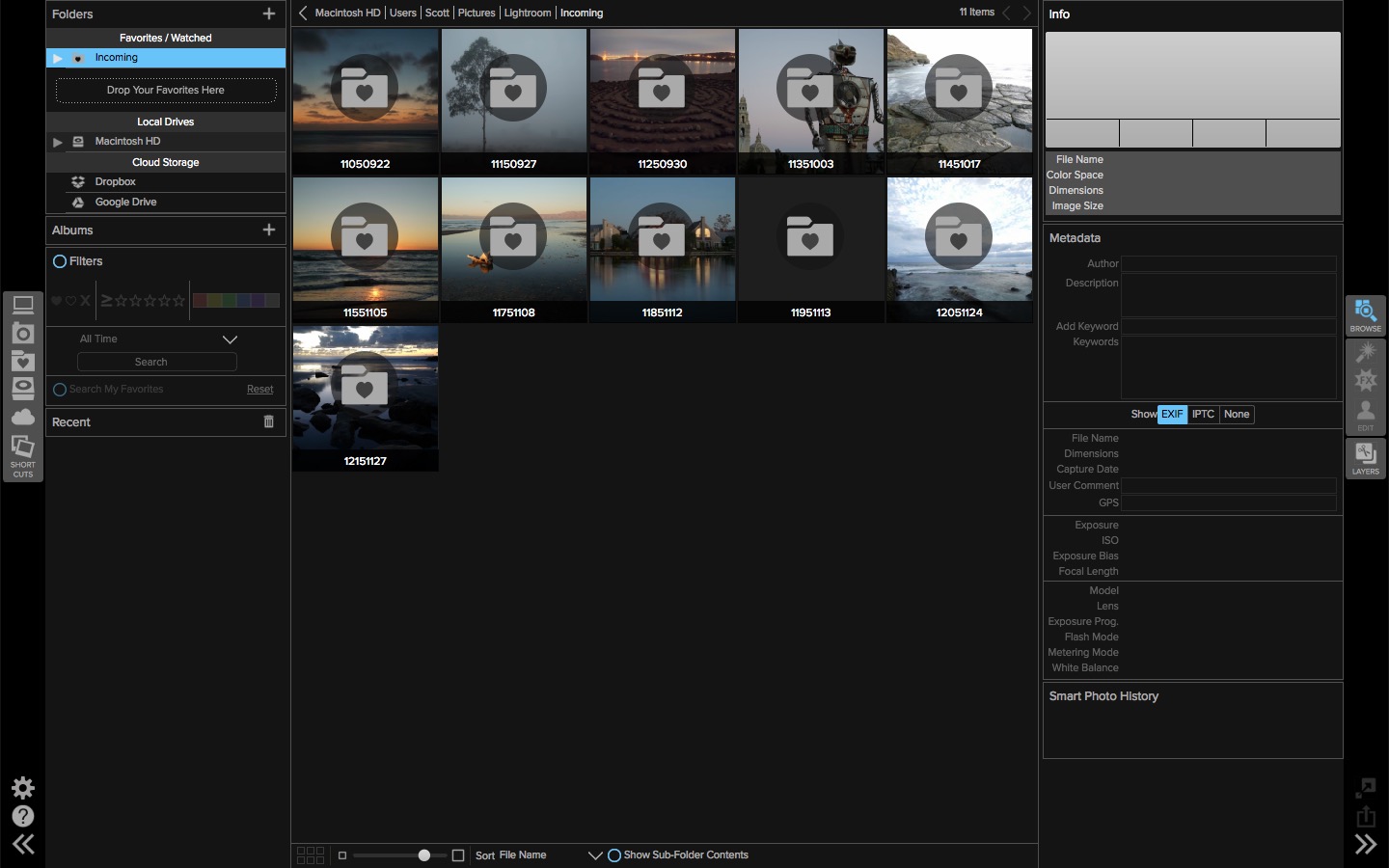 The Browse user interface is intuitive and most of the keyboard shortcuts mimic Lightroom's. You can navigate through the folders on your computer and tag photos with star ratings and color labels. There are also options to filter what photos are displayed and even create albums. Industry standard EXIF and IPTC metadata for each photo is also available. IPTC fields can be edited, too.
In and of itself, Browse is a capable asset manager. It also integrates very well with Lightroom. Let's see how.
Rating Photos in Browse
Before importing into Lightroom, I first use Browse to view and rate my photos. Since I use Lightroom as my asset manager, I don't make changes to IPTC data in Browse. I keep the right pane hidden, giving more screen space to the photos.
I use a 5-star rating system so my left hand hovers over the 1 though 5 keys. Tapping a number key applies that star rating to a photo. With Browse's Photo > Auto Advance setting enabled, once I rate a photo the next photo is automatically loaded. If a photo is truly terrible, I tap the right arrow key and skip the photo altogether, leaving it unrated. If you rank photos using color labels, those are also supported in Browse and use similar keyboard shortcuts as Lightroom (6 though 9 and 0 for purple).
Star ratings and color labels are tracked using industry standards. When you rate or color a photo in Browse, that same rating and color label is available in other photo management programs, such as Lightroom. Likes and Dislikes are propriety to Browse and will not appear in other programs.
Filtering the Picks in Browse
Once I have visited each photo in a folder and applied a rating for those I want to keep, I use the Filter in the left pane to display only images that have been rated.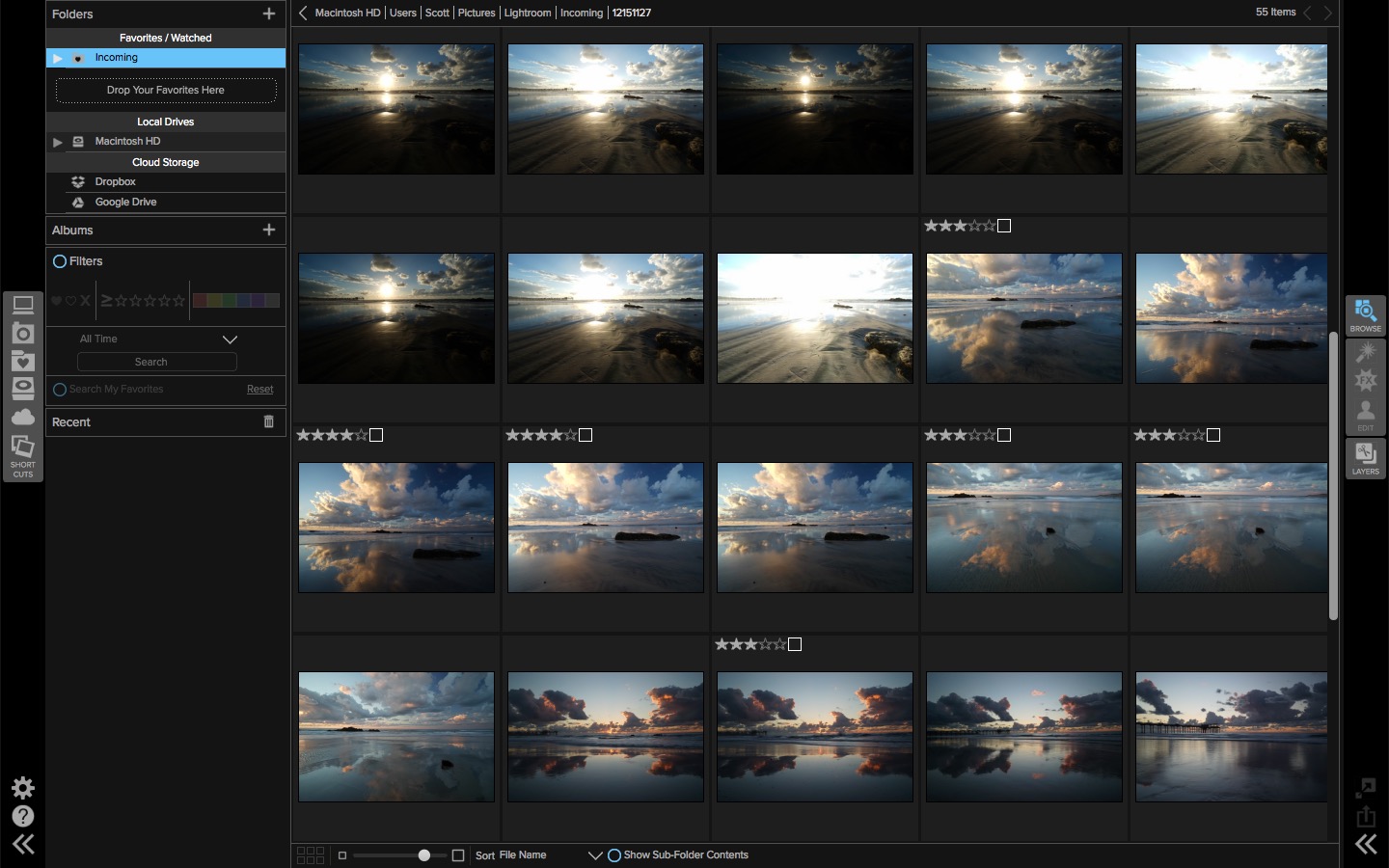 For my workflow, the filter shows photos that have at least 1 star. It's trivial to create a more stringent filter if that suits your workflow.
Importing Into Lightroom
With the filter in Browse active I select all the images with Edit > Select All, right click on one of the images and choose Send to Adobe Lightroom.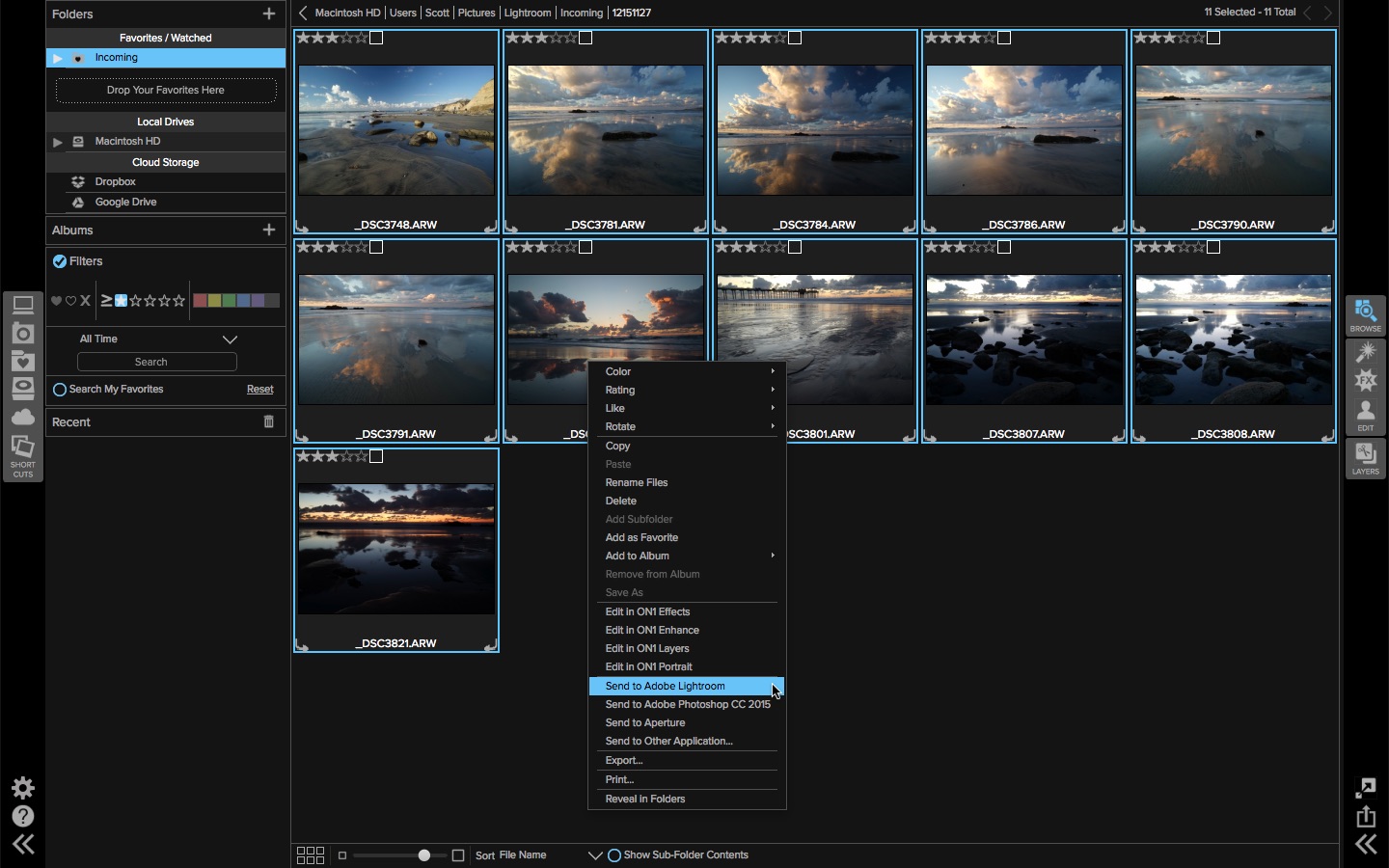 Over in Lightroom, the Import window opens. The photos selected in Browse are automatically selected in the Import preview window.
The rest of the process is the standard Lightroom import flow. Apply any Import Presets you may have and start the import.
Wrapping Up
Lightroom's import process is still slow. I'll raise a glass in hopes of Adobe addressing that in a future update. Until then, doing an initial cull in Browse and only importing photos I'll actually work with saves me significant time in my workflow. 
Level:

App:

Platform:

Author: