Aperture, Capture One and Lightroom Walk into a Bar (Part 1 of 2)

I know. Many of us Aperture users aren't up for joking these days. Unfortunately, Aperture will not see further developments and Photos ain't a replacement for Aperture any time soon; at least not if Aperture is meant as a program optimized for the peculiar needs of professional photographers today.
As a registered developer I've installed Photos for OS X and have started to build an opinion on it. I actually like it — it is incredibly fast and some of its tools (like the retouch brush) are the best working implementations I have seen so far. But it is also very clear that this cannot replace Aperture today. Regardless of that, the infrastructure around Photos is how photos will be managed on Apple devices from now on. So it is likely that it'll be a part of our future workflow even if another program replaces Aperture. Unfortunately it is not yet known which third-party vendors will offer some kind of integration with this new system or what that will look like.
It is clear though that many Aperture users are now looking at alternatives to manage and edit their photos. There are lots of choices — Lightroom, Capture One, DxO, Corel AfterShot, Phocus and many more — however it is not directly clear how any of those can fully replace Aperture for experienced users. It depends heavily on individual needs. Another difficulty is that you really have to learn these applications to actually decide on their strengths and weaknesses. You can hear a lot of good things about those alternatives from their users — but this is still out of context if they do not know enough about Aperture. Over the years I followed mainly the progress of Lightroom and DxO and recently Capture One. I have licenses to all of those and have used them to get an understanding of what I would miss or gain if I decide to adapt my main workflow to another tool. I'm certainly no "wizard level" user of this programs, so cut me some slack if I'm missing important features or just outright didn't understand how to do something with it. In this post I will concentrate on the two candidates that I personally found the most promising and therefore have the most experience with: Adobe Photoshop Lightroom and Phase One Capture One Pro.
I will edit a photo in Aperture, Lightroom and Capture One. The example is chosen to teach an important lesson; it is often wrong to quickly assume that something is impossible within an application. The paths are different — and sometimes more tedious — but in almost all cases you can get very comparable results from any of those programs. If not, try harder! To get to this point, you need to learn a programs strengths and quirks. Don't write-off something to early!
The User Interface
Aperture features a very reduced and efficient non-modal interface. At any time can select photos and organize or edit them immediately. Working with multiple photos is very intuitive. We (Aperture users) know and appreciate this simplicity.
This stands in contrast to Lightroom, which uses a strict modal interface with different sections for organizing and editing your images. Many users of Aperture found this modal user interface cumbersome, but it definitely can work efficiently as soon as one gets used to it and it could be argued that this way of UI may work better for some users. If someone found Aperture's UI appearance a bit long in the tooth, Lightroom's UI elements look even more dated nowadays, with really ugly 90s borders and cheap text shadow effects everywhere. My guess (and hope) is, that Adobe will do a major revision of the UI with the coming Lightroom 6.
The Capture One user interface works much more like Aperture and it even looks similar in many ways. It got a little face lift with Version 8 so that it (arguaby) looks more modern than the other two. It doesn't implement different modes — there is just the viewer and the browser and it is easily possible to just select multiple photos in the browser and show them beside each other in the viewer. Editing a photo is just a matter of selecting it and then using the currently open tools on it. Experienced Aperture users will certainly like that, with some caveats; they will quickly start to miss some smaller usability features like the intuitive cursor navigation and selection in Aperture. Some differences to Aperture can get corrected through the very flexible configurability of the UI (more than Aperture or Lightroom!). Also, Phase One is very responsive to the new crowd of Aperture users testing out or switching to Capture One. Many of the changes in the last versions were things that make the program a better replacement for Aperture, such as: import Aperture libraries, external editor round trip, Heal & Clone brushes, and more. With the ceased development of Aperture, I think Phase One is free to steal anything good about Aperture and I think it really is easier for them than Adobe, since these programs area already very similar.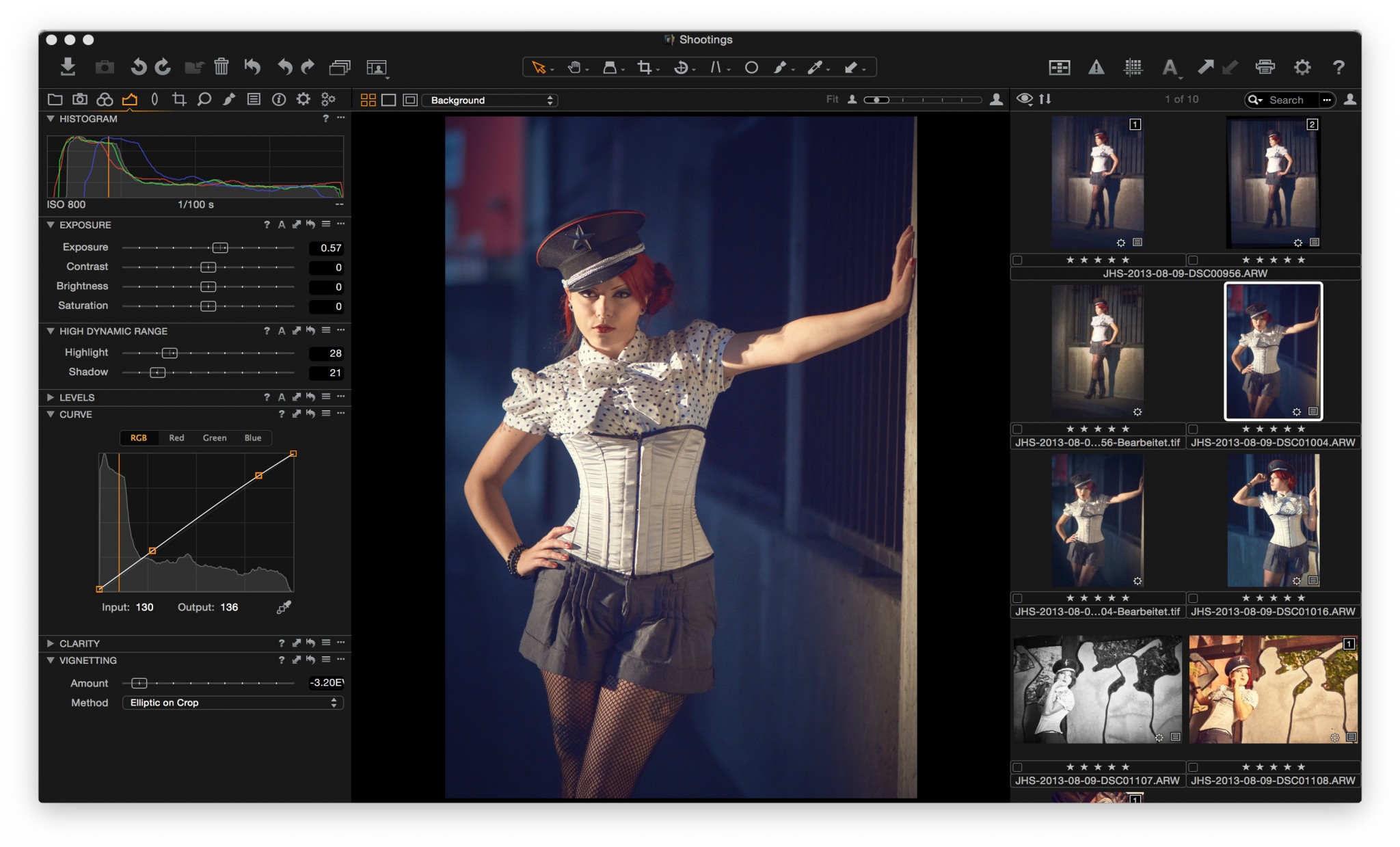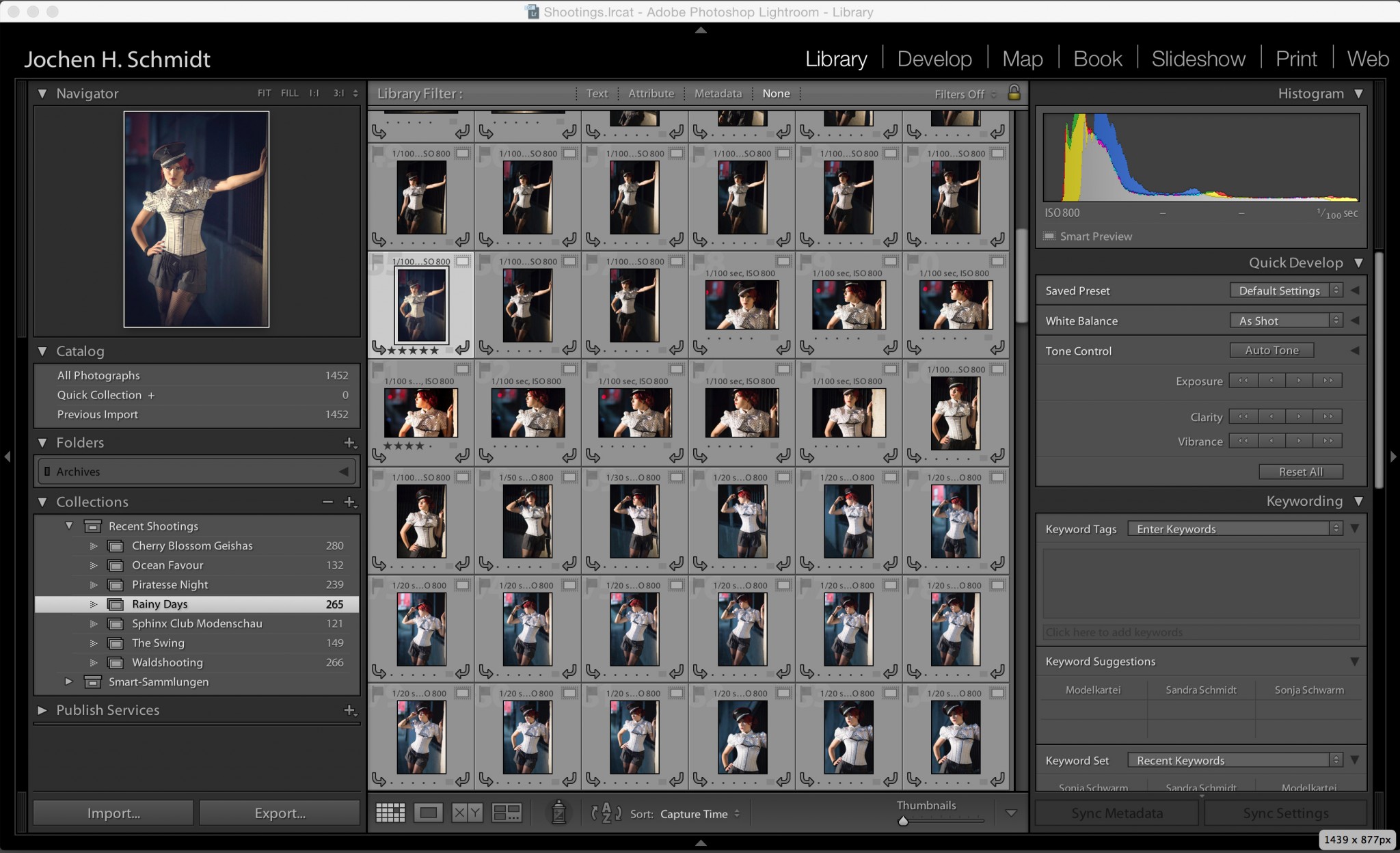 The Catalogs
What Aperture users know as a Library is called a "Catalog" in Lightroom and Capture One. Both alternatives miss the concept of a virtual asset container like Apertures "projects" (there are "projects" in Capture One — but they are only part of the game). Instead, your assets are either somewhere in the normal file system or within the catalog bundle itself. While Apertures projects are a mighty concept, the simpler one in Lightroom and Capture One might just be enough. All of those programs are able to split and merge Catalogs/Libraries and to store assets within the Catalog or referenced. With the possibility to export and import partial catalogs there may be less of a need for something like Apertures projects.
The workflow of Capture One was originally based on sessions instead of catalogs. Sessions are an easy and efficient way to organize the assets on professional photo shooting sets, were images are captured tethered and are then selected, edited and previewed at different workstations and devices. This organization method is still possible, but Phase One is pushing Capture One into a full blown catalog based solution — even if that means that their older cataloguing product "Media Pro" is not necessary anymore.
All programs support star ratings, colors, flags and keywords, and it's possible to filter using such information. Aperture's "Smart Albums" can be largely replicated using "Smart Albums" (Capture One) or "Smart Collections" (Lightroom). One difference is though, that while Aperture and Capture One can create Smart Albums which are restricted to the Project they are in, the same thing is not straightforward to do with Smart Collections.
Lightroom likely has the most comprehensive keyword system of all three programs. While Capture One also offers hierarchical keywords very similar to Lightroom (parent keywords get exported too), the interface is often unintuitive and limiting, particularily when it comes to batch updates with keywords.
Working offline and mobile
Both Capture One and Lightroom provide an interesting offline workflow feature. As you know from Aperture, if you work with referenced (not managed) photos, if your photos go offline, they are no longer available for editing; perhaps the assets are on an external drive that is currently not available or the library/catalog on a laptop holds only a subset of the originals. But with Capture One and Lightroom it is possible to edit those offline photos because the applications can create "Smart Previews" for that purpose. There are some restrictions though, which mainly have to do with the fact that these preview files have a reduced dimension; in Lightroom that's 2048 pixels on the long side, and in Capture One, up to 2880 pixels. Adobe even went one step further and created a Mobile App which is able to edit such Smart Previews. The edits are then automatically synced back to the desktop app! Capture One also has a mobile app (Capture Pilot), but editing isn't possible with it yet. Some photographers might be curious why one would want to edit on a tablet; it is actually a very nice feature to experiment with the photos and creating starting points for a more fine-tuned edit back on the Mac.
Part 2
In part 2, I'll compare specific image editing tools between the three apps, showing strengths and weaknesses and highlighting some dramatic differences between them!
Level:

App:

Platform:

Author: