Aperture, Capture One and Lightroom Walk into a Bar (Part 2 of 2)

If you haven't read part one yet, do that first. Part two is all about specific editing features; comparing advantages, disadvantages, and capabilities of Aperture to Adobe Lightroom and Phase One Capture One Pro.
The editing tools
Many Aperture users have the feeling that the editing tools and the image quality of their beloved tool is nowadays subpar to what the competition has to offer. It isn't difficult to come to this conclusion even after very short experiments with some of the other offerings. As an example, the following photo is too dark. I want to make the whole image much brighter by lifting mainly the shadows — without destroying the lights.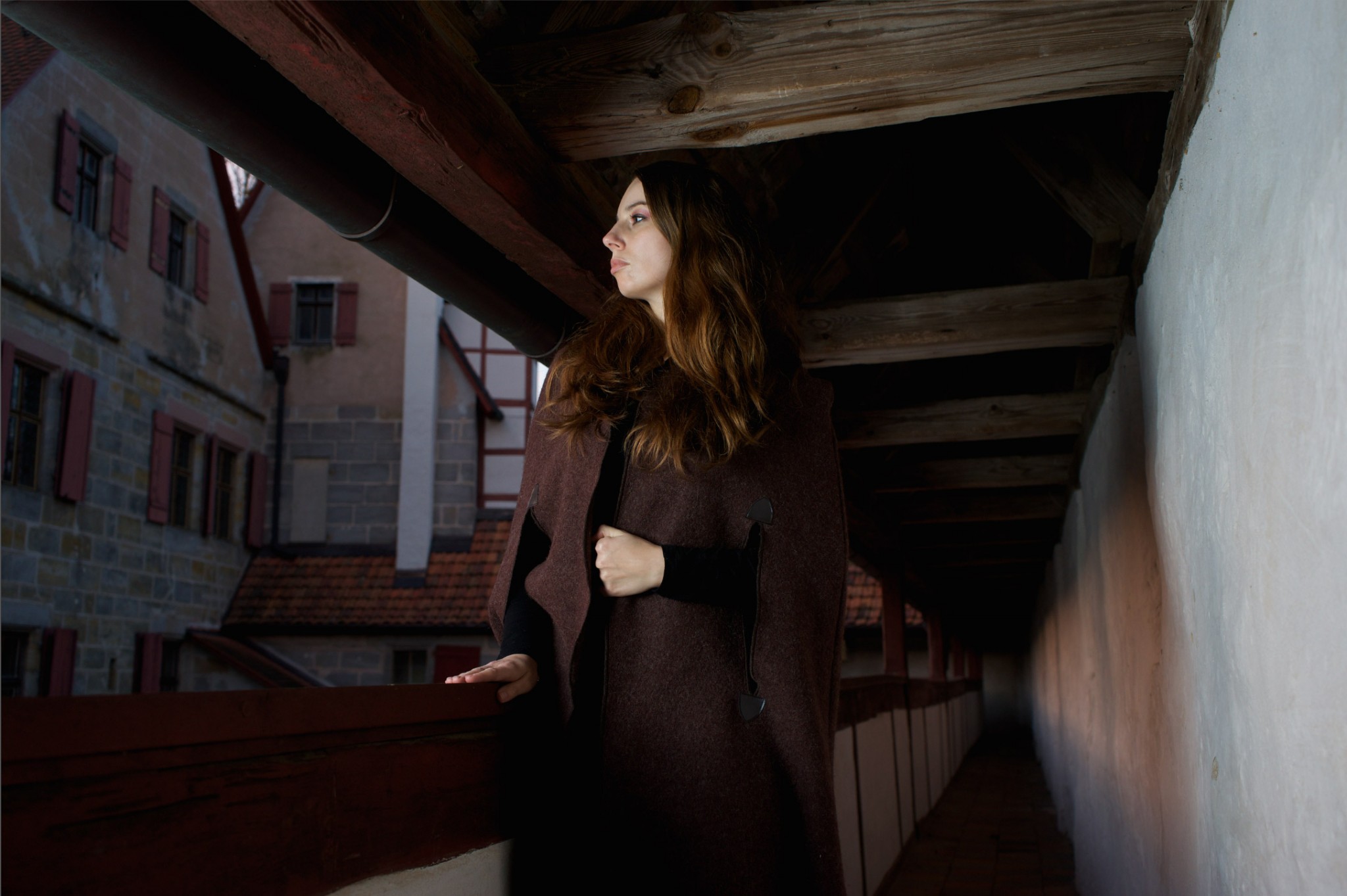 If I try to correct this in Aperture using "Shadows" in the Highlights & Shadows tool, the result looks chalky, and there are still very deep shadows. If I go even further by increasing exposure and pushing the shadows beyond the sliders normal limit, the result is really ugly. To many users this can look like a natural limit in Apertures RAW engine:
So let's try the same thing in Lightroom: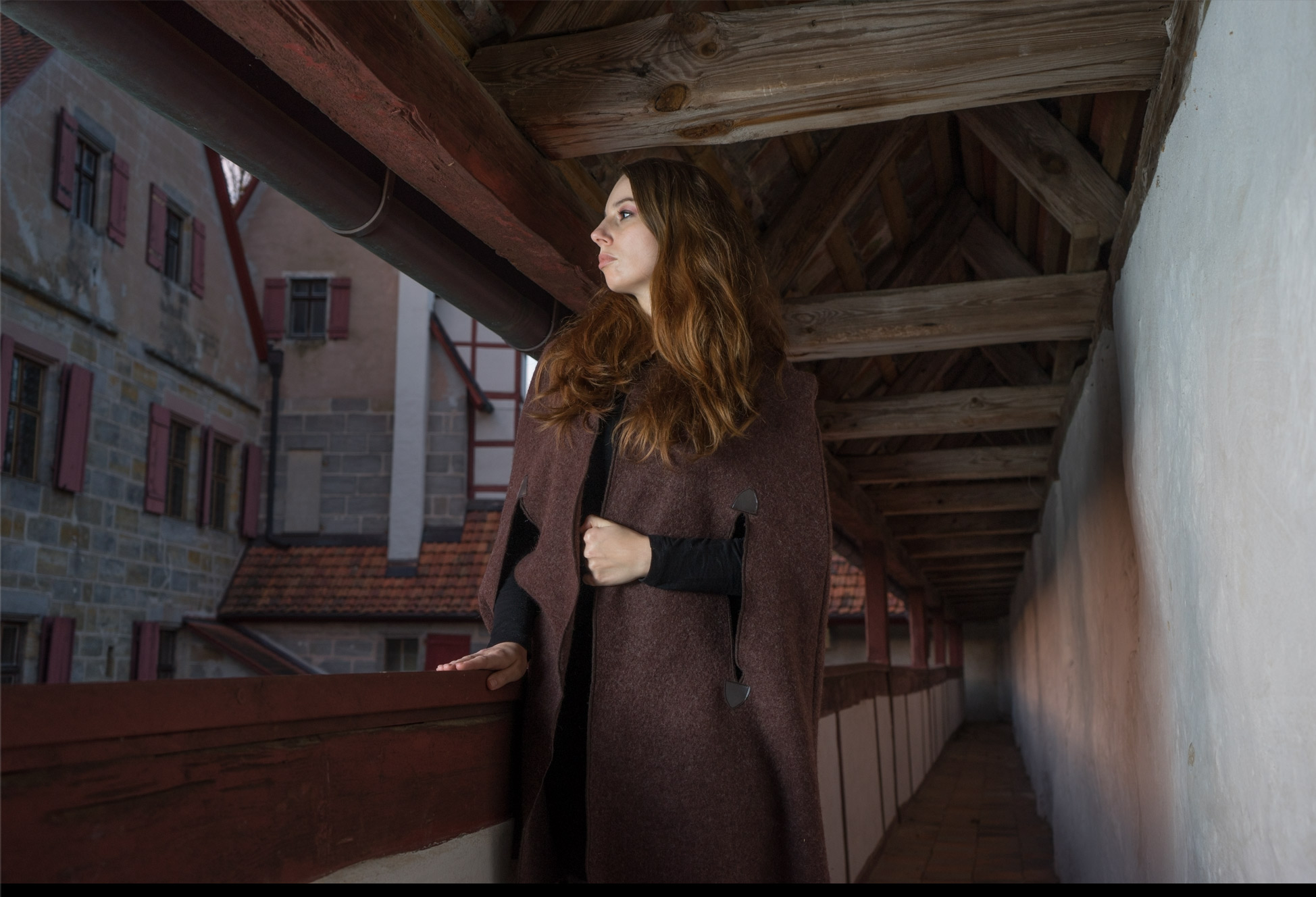 Since the photo is still to dark - I increase the exposure a bit which results in this:
The result is looking much better than the one in Aperture. This example clearly shows why so many users trying Lightroom are shocked about the results they can get.
Now Capture One: by pushing the shadow slider in the HDR tool I get the following result:
The shadow slider of Capture One works much stronger than the one in Lightroom. This extreme look is too much though; If I drop the slider back to 50%, I get a result very similar to maxing the shadows slider in Lightroom. By increasing the exposure similar to Lightroom I get the following result: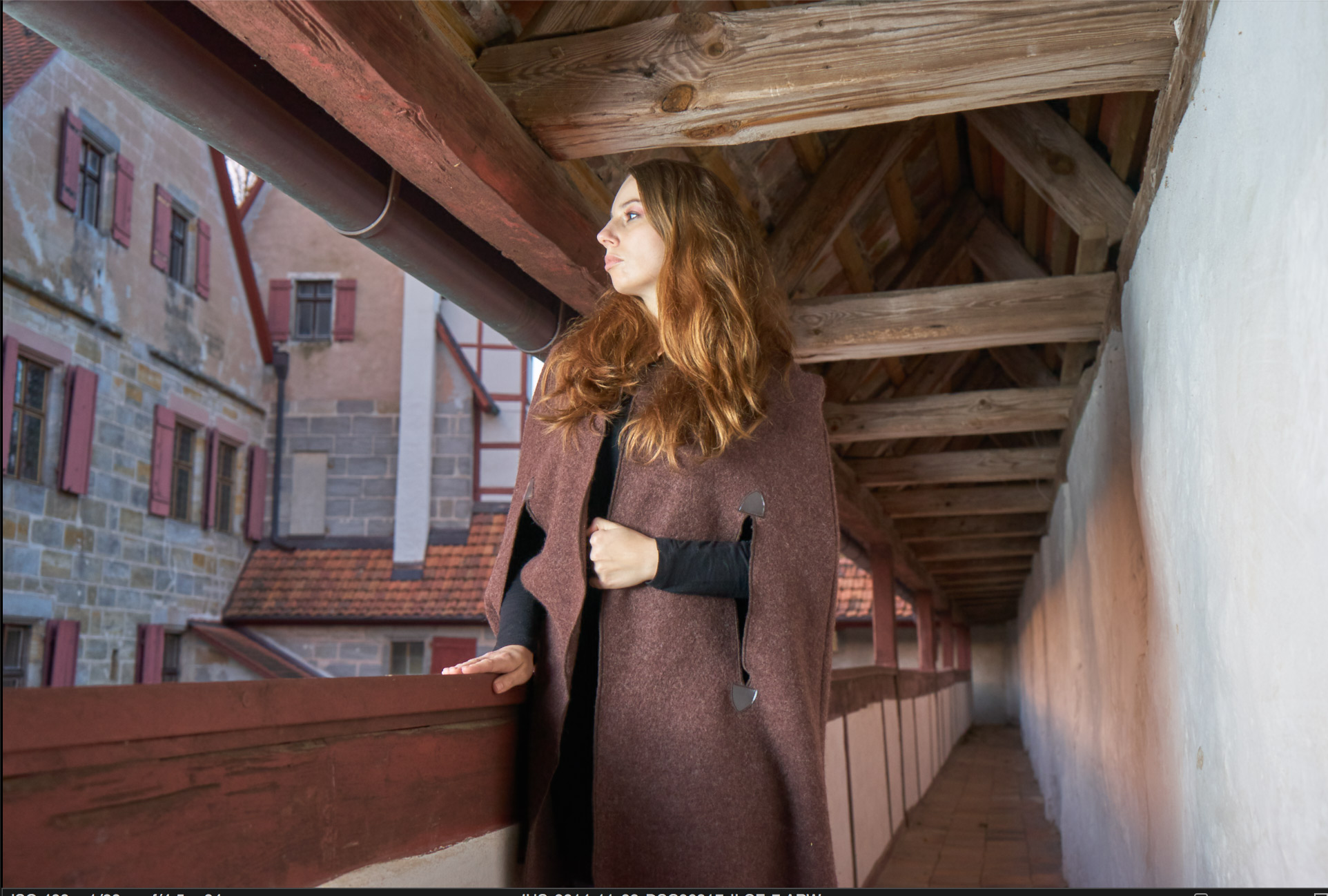 With both Lightroom and Capture One I easily can get better results than I got using similar techniques in Aperture. But is this really the whole story? Actually no; this kind of pushing deep shadows out of a photo with high dynamic range doesn't really work with Aperture's shadow slider. The solution is to drop the black point to zero and use the levels or curves tool to raise the shadows. My curves adjustment for this photos looks like this:
The result looks like this: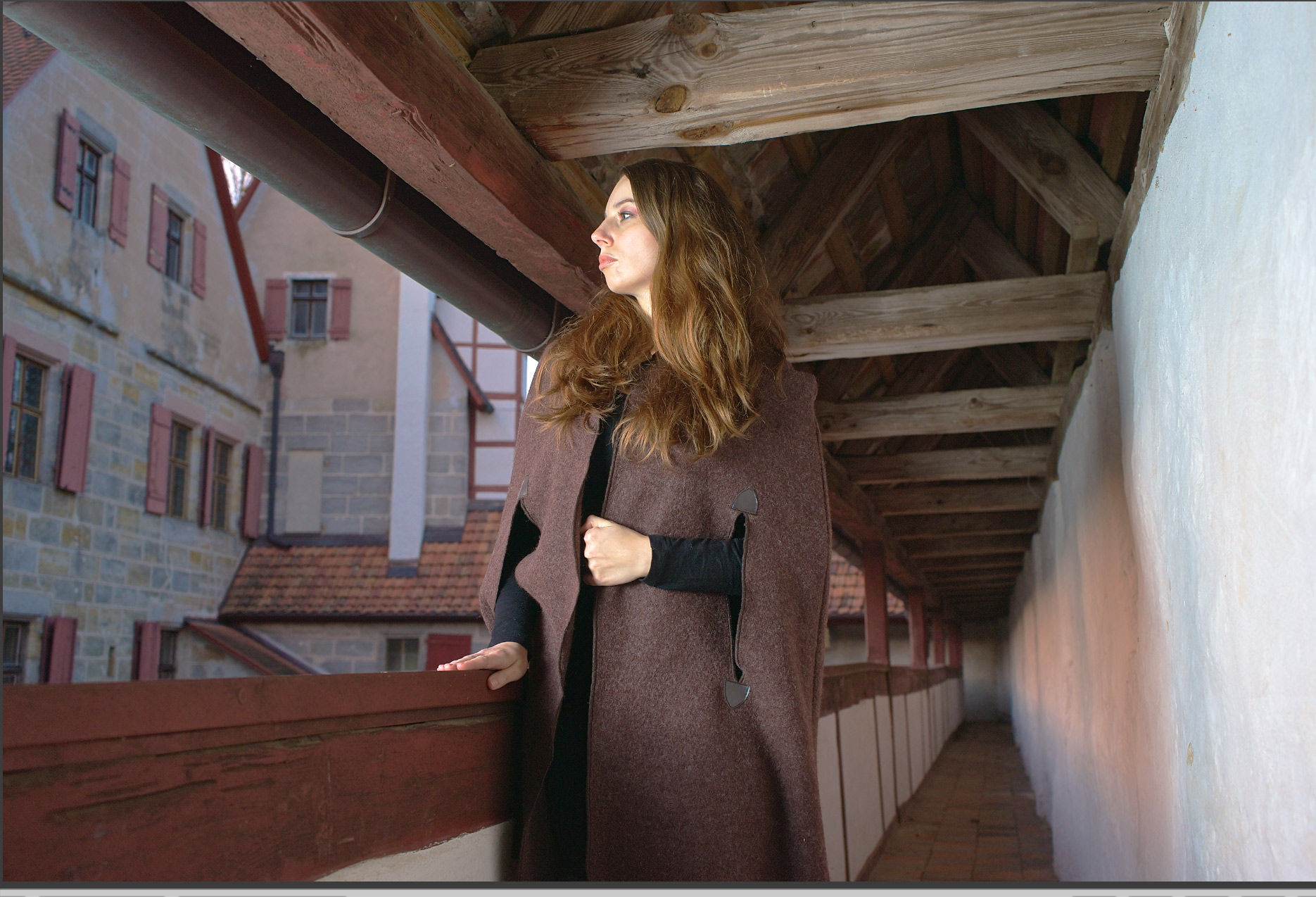 As one can easily see, the ugly artifacts are no more, and the image is much brighter than before. This means that it's not true that this photo shows a limitation of Apples RAW engine — it just takes a bit more custom work to get a satisfying result. When working with deep shadows, it is necessary to drop the black point to zero in Aperture. This makes the image look rather flat, but it is possible to compress the tones using the curves adjustment again.
One fact is undenyable though: It is much easier in Capture One or Lightroom. The reason for that is very simple; the tools in those programs are written with such situations in mind. These are not just simple linear shadow level adjustments; there is a set of non-linear curves behind them which are carefully crafted to give natural results, even in the extremes. This is not a limit of the engine; it is a feature of the user interface which hides such complexity behind a simple linear looking slider. 
Local adjustments
Aperture makes it very easy to brush in and out nearly any adjustment; even curves. Not only that, but you can have multiple instances of the same adjustment. This allows some very advanced edits; Photoshop users know a lot of different ways to dodge and burn photos (not only the simple tools), and a very flexible one is to use two curves layers with the midpoint lowered (dodge) or raised (burn). The effect is blended using "Luminance" and simply masked in and out. The best part; you can always adjust it by changing the curves a bit. The exact same technique is possible in Aperture using two curves adjustment blocks. And much more of course.
The good news is, that both - Capture One and Lightroom - provide local adjustments.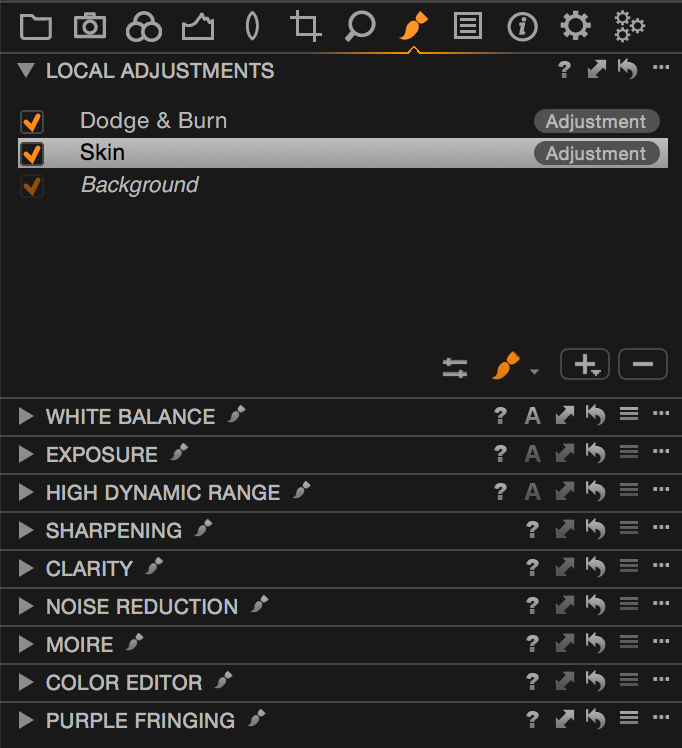 Capture One implements a very straightforward way using "Layers" similar to adjustment layers in Photoshop. One difference to Aperture though is that each layer can have multiple active adjustments. You can easily change both shadows and exposure using the same mask on the same layer. This is similar to grouping adjustment layers in Photoshop and masking the group instead of the individual layers. With Capture Ones layers, masks even can get moved around, inverted and copied to another layer, which can save you a lot of detail work. Last but not least it is possible to create linear gradient masks. All of these are things many experienced Aperture users have missed in Aperture's masking so far. Not all adjustments are available as local adjustments yet, but Phase One did add some of them in the latest releases. Sadly, the curves adjustment is still missing though. Another limit is, that one can only have up to 16 layers, which is a limit that can quickly lead to problems if one starts to use the new healing and clone layers. Since every healing layer has exactly one "source" you will quickly use up your layers if multiple sources are necessary.
Now on to Lightroom: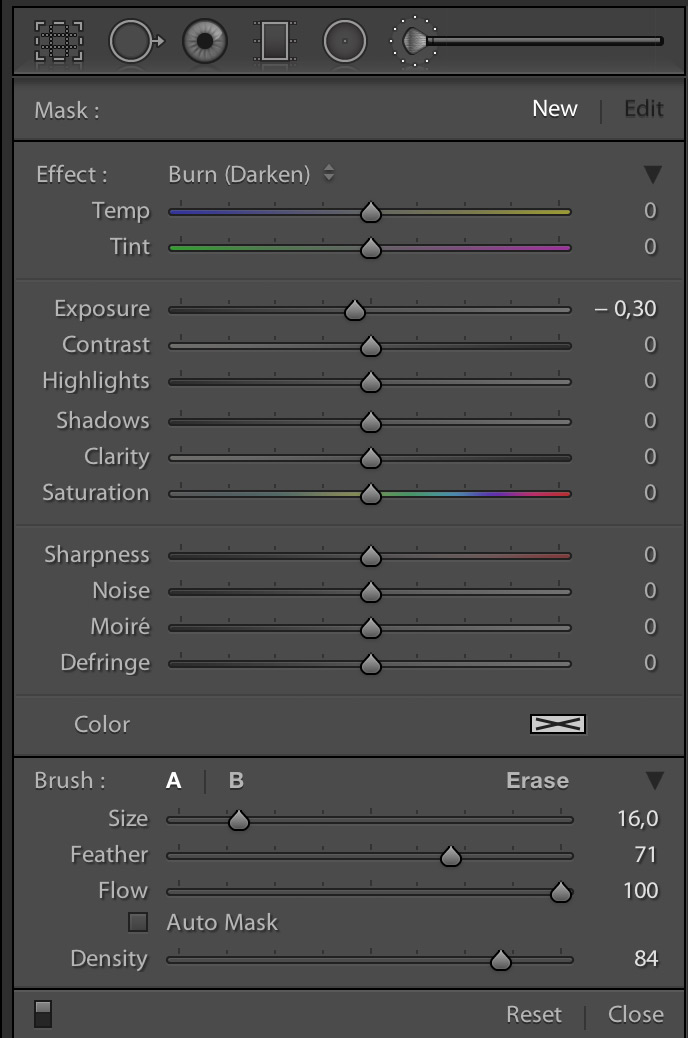 Lightroom doesn't use layers, but so called "edit pins". This isn't a big difference though; each edit pin is associated with a mask, very similar to layers in Capture One. And like there, it is possible to do different adjustments at the same time with a single mask / brush stroke. Brushed Curves are missing, so no difference there. Currently it's not possible to move or invert masks; you can only duplicate a pin (Command-Option drag), which duplicates the mask. The lack of "invert" makes it cumbersome to "brush out" adjustments like in Aperture. Also in addition to the linear gradient mask, Lightroom also provides a radial one.
Editing Colors /
HSL
Aperture provides an adjustment to directly edit colors by picking them within the image and then adjusting hue, saturation and luminance (HSL). Like most adjustments, it is also possible to brush this in or out.
Lightroom provides a similar feature with its HSL adjustments. The big difference though is that it works only global (the whole image) and that it just provides a set of eight nominal hues with sliders. There is however a small tool in the top left cursor which activates a mode that enables the mouse to change adjustments by clicking and dragging directly in the photo. This way you can adjust hue, saturation and luminance of a particular color by clicking and dragging on such colored parts in the image. This is an intuitive, explorative way to adjust colors, however I still think that the picker method in Aperture allows for better control of the result. Its really a shame that this adjustment is not available as a local adjustment though, as this really limits its purpose.
If there is one area where Capture One really shines, it's the "color editor". It works very similar to the one in Aperture. You can pick a color and then adjust hue, saturation and lightness. The "Smoothness" slider is similar to apertures "Range" which allows you to control how exact or "smooth" the color selection is made. Capture One shows the selected color in a nice Lab-Color-Circle with handles to directly manipulate the currently selected color segment. A checkbox "View selected Color Range" controls a mode in which you can see the selected colors within the photo. A special variant of this color editor is for skin tones; in addition to the common HSL and smoothness sliders, the skin tone editor adds a slider "Uniformity" which allows for easily creating more uniform skin tones. And last but not least, the color editor is part of the set of local adjustments, so you can create layers with masks to apply it to only certain parts of your image. Overall, this looks like the natural progression of the color adjustment block in Aperture.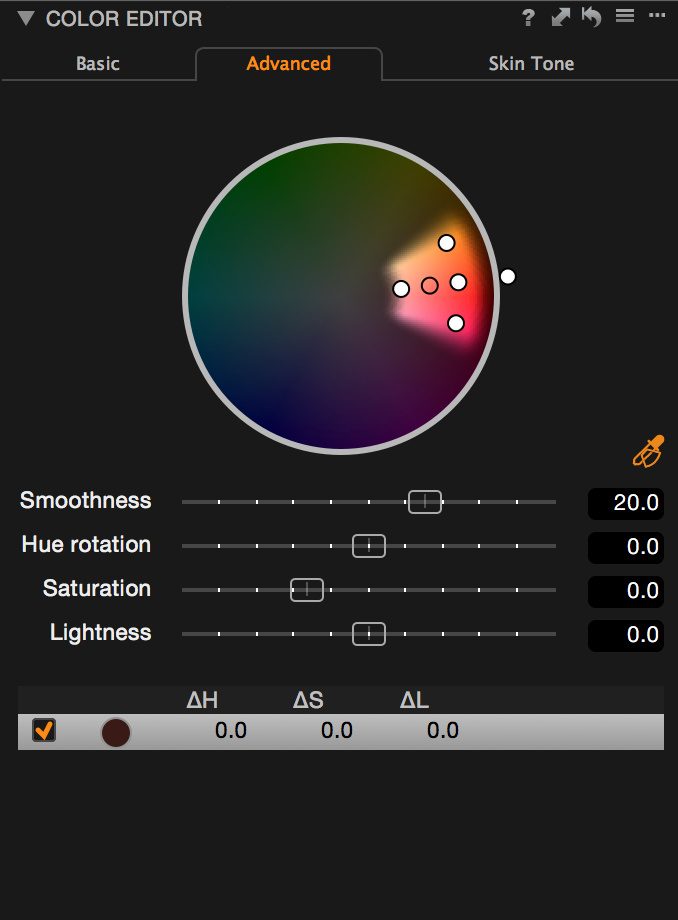 Lens correction
This section is likely a sore spot for Aperture users. Lens corrections were probably the first big feature in Lightroom which many Aperture users wanted but didn't get. To some degree this got remedied by Apple when they started to apply "Manufacturer Profiles" which are more and more common with newer lenses. For lenses without such a profile, there is no further support though. Switchers will be happy to hear, that Capture One and Lightroom both provide lens corrections. There are much more available lens profiles for Lightroom though, which certainly is the effect of the lens profile creator tool Adobe provides.
Another popular feature of Lightroom 5 is "Upright" which is a tool to correct perspective in your photos. The counterpart in Capture One is called "Keystone". Like with the lens corrections, there is nothing like this in Aperture, so this is another plus. This is not only useful for architecture; controlling perspective and how things line up can really make the difference between nice and "wow" in any genre.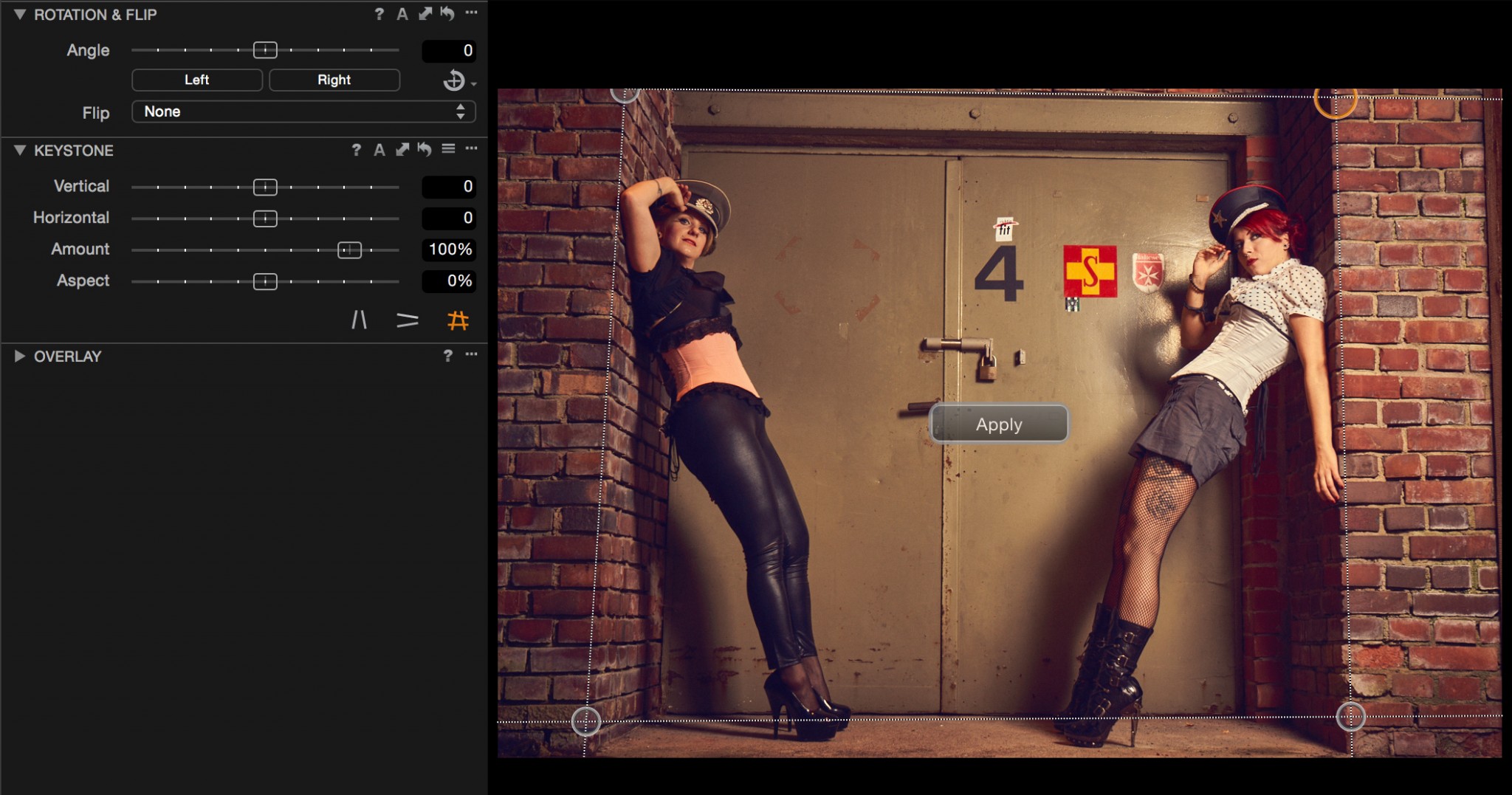 Summary
Users switching from Aperture to Lightroom or Capture One will get a whole set of new and useful features. The biggest challenge is always to learn the new tool. One shouldn't be demotivated if it will take some time to come up to one's familiarity level again.
Both applications are very capable of being used in a professional workflow. There are even many of professionals who are still happy and efficient with Bridge and Photoshop alone. Aperture users are used to an efficient and supportive workflow which is something you don't want to give up easily. Neither Lightroom nor Capture One are a 100% replacement to a sophisticated Aperture workflow. You will have to adapt.
When comparing Lightroom to Aperture I mostly miss the ease of use. While Lightroom's tools work exceptionally well, the user interface and the catalog organization is something you may really have force yourself to like. I still miss brushed color and curves adjustments. I really like the Lightroom iOS app. Since I didn't really use maps, books or slideshows in Aperture I cannot say if the ones in Lightroom are enough to be a replacement. When it comes to scripting, Lightroom plays the misfit; it's done in 'Lua' which isn't a bad scripting language, but even the rest of even the Adobe-World is using JavaScript today and most programs on Mac OS X allow scripting through Open Scripting Architecture [OSA] (i.e. AppleScript, Automator…). I don't need another language to learn.
Capture One doesn't only look similar to Aperture, it has a lot in common. The UI is more like Aperture and more configurable than Lightroom. The quality of its output it often said to be better than Lightroom. I think it is difficult to make this point because so much is subjective or depends on how you use the program. I can agree though that things like the shadow slider have more effect in Capture One when compared to Lightroom and I like the handling of highlights better. I really like working with colors in Capture One. Anything about the catalog system is quite new, which can mean that it is incomplete or even buggy. I did face some performance problems with big catalogs converted from Aperture libraries. The catalog system is new and there are certainly missing things or opportunities for optimization. Capture One has more local adjustments than Lightroom and is more flexible when working with masks. Scripters can rely on the OSA (AppleScript/JavaScript) interface.
Lightroom is still installed on my system as I've had it for many years, and sometimes I try things in it or test new versions. But I personally have now started to use Capture One for new projects where I used Aperture before. 
Level:

App:

Platform:

Author: