Why I Chose Capture One Pro v8 and Abandoned Aperture 3 (Part 1 of 2)
It was June 2014 when Apple finally announced that Aperture (and iPhoto) was no more. As an increasingly frustrated Aperture user, I immediately looked at my options. I had already looked at Lightroom and downloaded Lightroom 4 as a trial whilst waiting for Nikon D7100 camera support in Aperture to arrive, but didn't really like the program. Aperture was so much easier to use and, despite its many missing capabilities, it was my preferred RAW editor and digital photo manager. Notwithstanding the extensive range of tools available in the Lightroom software, as well as wide third-party support, I judged it as an inferior RAW convertor as several personal and third-party tests showed.
DxO Pro, which I own and used to compensate for missing features in Aperture, alongside Catapult from Brushed Pixel for round-tripping, was also rejected due to its lack of digital asset management capabilities, though it is actually a great RAW convertor.
Thus the choice, for me at least in 2014, boiled down to: a) stay with Aperture and wait for the future with Photos, b) bite the bullet and use the industry-standard Lightroom, or c) move to Capture One Pro by Phase One. In the end I chose Capture One but it was not an easy decision. This article shows my personal analysis process in choosing Capture One, and some subsequent experiences organized by a number of for- and against- topics.
The article is divided into two parts: the first one analyses the arguments in favour of moving to Capture One, and the next sets out the reasons to hesitate and perhaps look at alternatives.
First the positives. Capture One really does have many attractions for an Aperture convert as described below:
Lens and Keystone corrections
I used to use DxO Pro with Aperture pretty much systematically to compensate for its missing lens correction capability. Capture One has this function albeit with a more limited selection of lenses when compared to DxO Pro. As a Nikon APS-C or DX user, all my lenses are supported bar one; the wide-angle Nikkor 10-24mm f/3.5-4.5G ED AF-S DX. Generic profiles can be adapted for this and other lenses but it remains an important miss for me as this is my favourite and most-used lens.
Keystone corrections are also available and easy to use, which also avoids the need to round-trip to third-party programs, as was the case with Aperture.
Better
RAW

 conversion

A few side-by-side test imports revealed great and mostly better results than with Aperture. As an example, the monument image below was taken in Bern, Switzerland in late February this year. It was a fine and sunny early morning and the dark monument (anyone know the name as I can't find it?) contrasts strongly with the fresh and very blue sky taken in an unpolluted mountain valley, so a difficult picture to take. I didn't exposure compensate as I didn't want to lose the great sky colour. I took it at ISO 800 (not necessary but I had just exited a dark street and forgot to change), f/8 aperture, 1/800s (due to the highish ISO setting) and with my trusty 10-24mm lens fully extended at 24mm.

First let's look at native RAW conversion.
The two images above compare Aperture on the left to Capture One on the right, directly after import with no adjustments. The Capture one version shows more detail in the sphere and figurines and a more natural sky colour. Interestingly the balance between shade and light in the image, especially at the base of the monument, is slightly better in Aperture, though it still lacks detail.
Next, I'll add some shadow recovery.

The two images above compare Aperture (left) and Capture One (right) after shadow recovery, where roughly the same amount of recovery in both programs has been applied. The bottom part of the monument is now clearly more detailed in the Capture One image on the right.
Now to add a little definition…

Again with Aperture on the left and Capture One on the right, I tried to get Aperture to match the detail of Capture One by moving the Definition slider in its Enhance tool. I also added detail to Capture One's image with the Clarity slider for comparison purposes, although for final output I would likely dial this back a bit in Capture One.
In summary, Capture One shows more detail and is overall a nicer image, and in both programs I made just two adjustments. At this stage, in Aperture I would normally see what Color Efex Pro 4 from Nik could achieve, so I did a quick test. Certainly Color Efex Pro's Polarizer corrected well for the sky and I got a very satisfactory image as a result, but the Detail Extractor filter could not get me nearly the same level of detail as Capture One in the image. Aperture's RAW conversion had lost it forever.
Overall, my assessment as a result of this and several other tests is that Capture One reveals more detail and can get more out of RAW pictures, (certainly for Nikon shooters), than Aperture.
Range of tools
The tools I used regularly in Aperture all seem to be present (except "compare" – see below) and work in much the same fashion. I particularly like the versatile Clarity and High Dynamic Range sliders in Capture One. Local adjustments with layers is also great, especially with a wider range of tools available since Capture One v8. It also possesses a greater range and scope to its tools than in Aperture, especially in the area of colour management.
Noise reduction
This was the other reason for using DxO Pro, which I used to compensate for Aperture's frankly poor noise reduction capabilities.
In May 2013 I ran a noise reduction comparison test between Aperture, DxO Pro and Photo Ninja, where Photo Ninja was the winner, DxO Pro came in second and Aperture came last. I chose DxO Pro then however as I was already using it for lens correction. I ran the same rather challenging test images through Capture One, which put Capture One (well) ahead of Aperture, but behind the other two. Third-party tests I looked at were more positive for Capture One so it may depend on the images but my conclusion was and remains that it is good for averagely noisy images, but not very noisy ones, and this is ok for me. So except for very specific situations I can now mostly avoid the round trip to DxO Pro.
Digital Asset Management (
DAM

)

The DAM functions of Capture One seem similar to Aperture, though the handy Vault function is missing, as are built-in sharing mechanisms. Capture One actually has two working modes: session for tethered shooting sessions and catalog or DAM mode. I use the latter in pretty much the same way I did with Aperture as can be seen in the library view below. I just use projects and albums and this I can do well in Capture One. I also use Joseph's suggested naming system, which I picked up from one of his Aperture tutorials. Below you can see my main library called PMI Catalog arranged into a variety of user collections grouped at a first level by projects (holidays, school events, etc.) and then albums with date and name descriptors.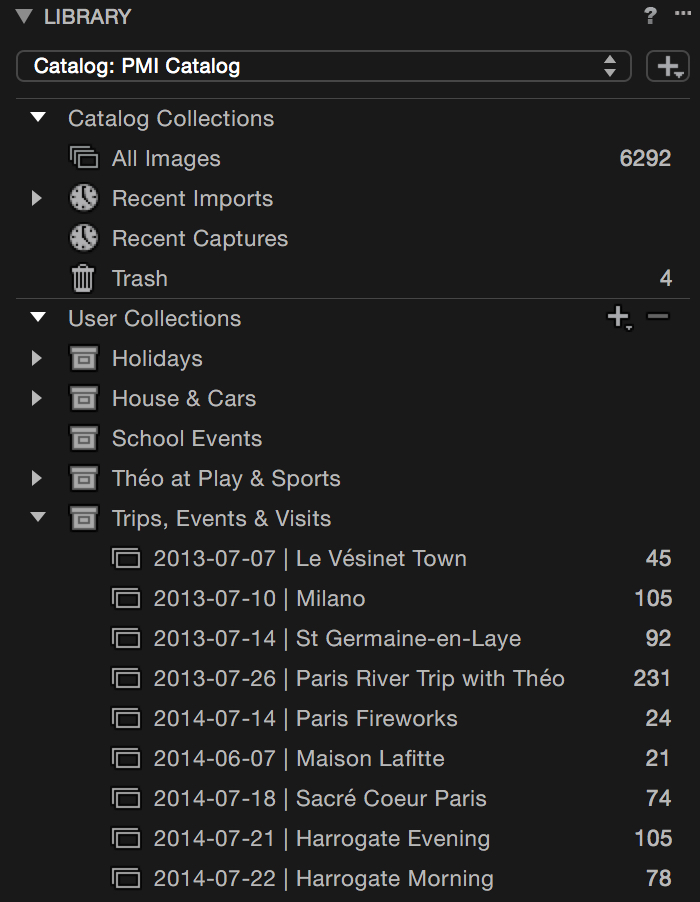 Just as in Aperture, you can create smart albums based on star ratings and color tags as well as a large range of other criteria such as date, keywords, camera make, lens, EXIF and IPTC parameters. Capture One also has another organizational construct called folders, which I don't use.
Tools quite similar to Aperture
The tools seem to operate in much the same way as Aperture, even my much-used double-click for resetting sliders. So the learning curve is low, and in my view not nearly as bad as some other reviewers have commented on. Plus some of the tools work better than in Aperture, which is a bonus.
The tools are organized into related working groups across different tabs, which are completely customizable. It also has a toolbar at the top of the image bar very similar in accessible functionality to the toolbar found below the viewer window in Aperture.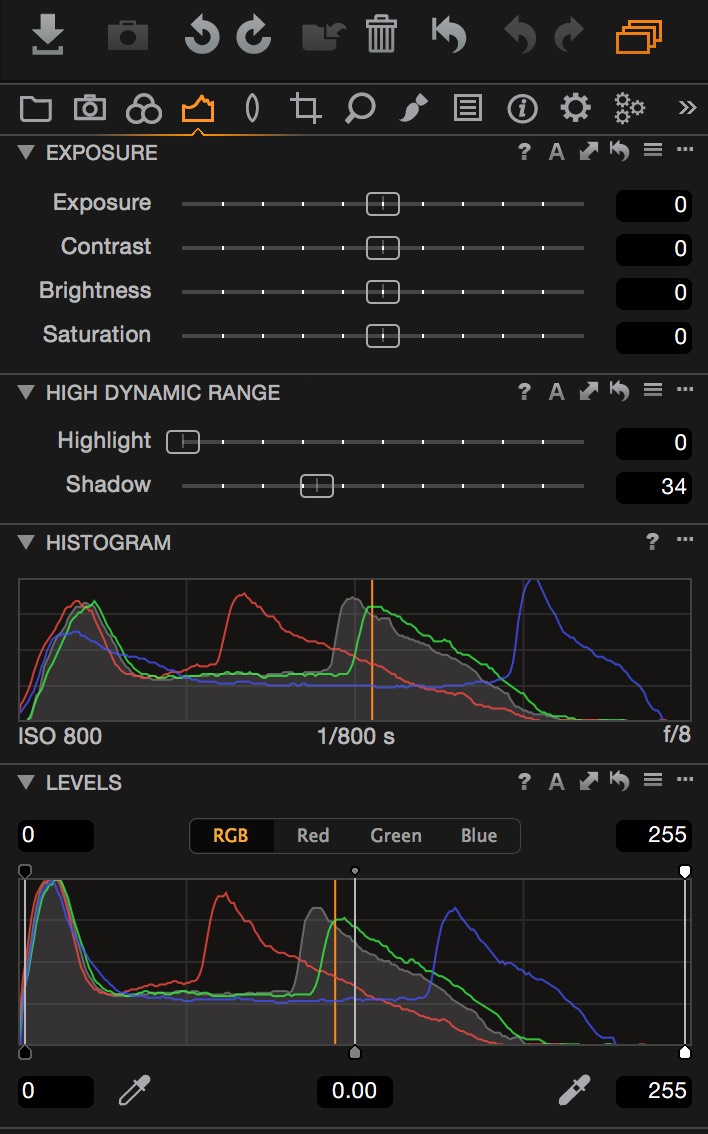 This organization concept is quite different to Aperture and is one of the main reasons most commentators view it as 'complicated'. Personally, I found it easy to get used to and the interface organization is highly customizable. I have chosen to stick with the default groupings more or less so I can better follow the many on-line tutorials.
Support and tutorials
Phase One has produced an excellent set of tutorials including blogs and videos and there are many videos demonstrating Capture One's use by various photographers. In contrast, we had to rely on Joseph and others for instruction with Aperture. And of course, Lightroom has a huge, mostly paid, set of tutorials available from multiple third-party sources.
I've used the technical support service for Capture One three times now. They do respond in a reasonably timely manner but since my enquiry focus was third-party support I didn't get the impression there was huge motivation to solve my issues: the stand-alone culture of the program is reflected in their support organization. Nevertheless, support is there, unlike Aperture. My few experiences with Adobe, which weren't concerning Lightroom to be clear, have been worse.
That's all for now. In my next post I'll set out some of the weaknesses of Capture One, what Phase One has recently done to address one of them, and my conclusion after 9 months of using the program.
Level:

App:

Platform:

Author: