Why I Chose Capture One Pro v8 and Abandoned Aperture 3 (Part 2 of 2)
[If you missed part one, be sure to read that first]
My initial post on Capture One looked at all the positive reasons I identified for moving to Capture One alongside some of my experiences in using the program from an ex-Aperture user's perspective. At the time there were also quite a few reasons I identified for staying and waiting it out for Photos.app. The Yosemite 10.10.3 beta has dashed many of these hopes so my analysis made at the time has been adapted here to focus on why you might not choose Capture One and maybe use something else.
A more recent consideration in this analysis is that Phase One has introduced a major new feature with its 8.1 release late last year that radically changes its prior 'standalone' program stance and in my view addresses one of its biggest disadvantages. As an aside, this also reflects a change in release philosophy. Phase One has stated that will now release some major functional upgrades in dot releases rather than waiting for a major new release.
So what's missing?
Capture One is/was a Standalone Program
The Phase One philosophy has historically been to do everything in the one program and thus it had no support for third-party plug-ins. For the most part it succeeds with this all-in-one approach but there are functions where it is not best of breed (cloning, healing and noise reduction spring to mind).
As an Aperture user you were almost obliged to use third-party apps to achieve specific results and this led to familiarity and love in some cases. In particular, I really missed Color Efex Pro 4 from Nik. OK I could export a file to it and use my favourite filters, and maybe the Capture One Clarity slider reduces the need a bit, but this situation was not fantastic, especially as I had to manually import the TIFF file back to Capture One. This was for me the biggest stumbling block about moving to Capture One.
But, you will notice the last two paragraphs have been written in the past tense. Since version 8.1 Capture One supports round-tripping with automatic file re-import from third-party applications. Hooray! Officially, this new feature is just for Photoshop, but many other apps also work including my beloved Color Efex Pro!
No History Tool
This is a major miss and a big argument for Lightroom. Aperture doesn't have a history tool either but it does have a very handy compare to original version with a single shortcut ('m'). Creating compare versions is possible in Capture One but this is clumsy in my view. I'd much prefer a history tool or a single key 'compare to original version' shortcut. I've since learned that you can use the Option key with the Revert button to do a quick backwards compare for each editing tool but this is fiddly and prone to error. For a proper compare to original, you have to right-click and create a new original version for comparison purposes and then delete it (or not) once done.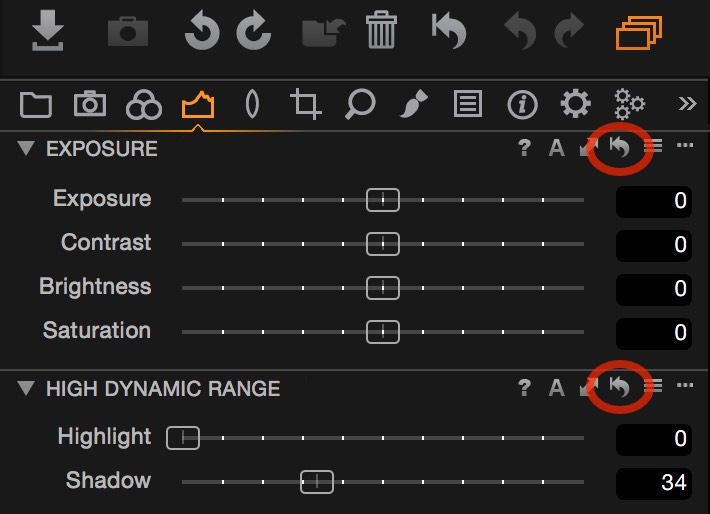 Clicking and holding the Revert button with Option/Alt resets the tool until you click off. Double-clicking any slider resets it to its default value.
Cloning
&

 Healing

This was weak in Capture One 7 when I moved over. There is new functionality in Capture One v8 but it's still not close to what you can achieve in Photoshop or OneOne. However, cloning and healing wasn't great in Aperture either and I used and still use OnOne for this. So it remains a round-trip I can't avoid but it is an infrequent one. Round-tripping to the OnOne suite from Capture One also has some issues as I have found out: it works for jpgs but not for tiffs and despite support enquiries to both Phase One and OnOne I have not solved this issue. If anyone has an idea, I'd be glad to hear it.
Noise reduction
Noise Reduction in Capture One is reasonable but if you have very noisy images then you will need to reach for something else: either Photo Ninja or DxO OpticsPro in my experience. Having said that, the ability of modern sensors to take pictures at ISO 6400 (or ISO 3200 if you are a pixel-peeking perfectionist) with few noise artifacts, means the need for noise reduction has reduced considerably in the last few years. I like to take low-light photos and have very seldom found the need to use DxO OpticsPro for noise reduction recently.
No 'Do not import duplicates' option
I format my SDXC cards only when I absolutely have to and use two rotating sets of 32GB cards (the Nikon D7100 takes two cards) so as to provide an additional backup store of my images for as long as possible (I am manic about backups). Given my habit of leaving images for as long as possible on my SD cards, Aperture had a handy tick box in its import settings called 'Do not import duplicates'. Very useful and missing in Capture One as I have found to my cost, i.e. I've had to manually delete duplicate images after import on several occasions when I forgot or couldn't remember what I imported last.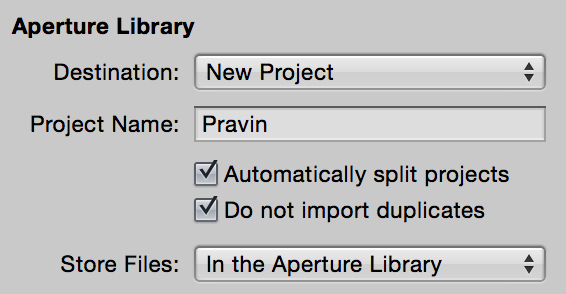 Budget
Capture One lists at $299 USD or €229 EUR, which is much more expensive than Aperture, or Lightroom for that matter. In June 2014, when I bought Capture One, Phase One had the program on offer at roughly half-price so I jumped. Capture One has roughly a two-year major upgrade cycle so I anticipated I would need to pay a v8 upgrade fee soon after, which happened just over two months later. For current switchers you probably have over a year before the next major (and payable) upgrade but keep your eyes peeled for special offers. Phase One has also introduced a rental model for the program since v8, alongside its standalone price, just like Adobe. If like me you instinctively reject this model, I would trust Phase One more than Adobe not to drop its standalone price and pursue a monthly fee only, especially as they target exclusively photographers for their market, but it's a consideration.
Incomplete Lens Support
Capture One lens correction supports only a more limited selection of lenses when compared to DxO OpticsPro or Lightroom. Generic profiles can be adapted for missing lenses but I would carefully check whether your lenses are all supported. One tip is to check from the program as I have seen some discrepancies between the release notes and the drop-down list in Capture One, which is more complete.
Conclusion
As a long-term Aperture user I was very concerned about the implications of replacing it and the impact on my workflow, both positive and negative. Having looked closely at the promise of Photos in mid-2014 and the intriguing prospect of non-destructive editing at Apple's last world-wide developer conference, the choice for me eventually boiled down to using either Capture One or Lightroom with the option of using DxO Pro as a front-end to Lightroom for better raw conversion. Both my personal dislike of Lightroom's interface and philosophy plus the thought of having a two-step workflow for the best raw conversion nudged me in the direction of Capture One.
After nine months of experience with Capture One I am very pleased with my choice and especially since the addition of round-tripping support in Capture One v8.1. The bottom line is that I get fantastically well-converted images at import, superior tools and outstanding colour management without having to leave the program for the most part. Most of my photos get processed with just two or three tools: a bit of exposure reduction if there are highlights in the image, bring up the shadows with the HDR tool and a tweak with the Clarity tool and I am done. Simplicity and a fast workflow are what I am after and Capture One delivers. If I need third-party tools, which is much less often than with Aperture, I now have access to them with Capture One v8.1.
Other Capture One reviewers have commented on the complicated interface. My experience has been different. As an ex-Aperture user, I find the tools very similar in presentation and use. Although the organizational structure of the tools is different, the tools layout is easy to assimilate, use and customize if you want. You could even make a tab with default Aperture tool equivalents if you wanted though the Exposure tab in Capture One already comes close to Aperture's presentation.
Any choice involves some disappointments and frustrations. The key thing is to minimize them and I feel I have achieved that with Capture One. Of course, every photographer has his or her own way of doing post-processing. My assessment in this two-part article is very personal to me, though clearly there are some common themes that most digital photographers will share.
My main advice: just assess what is important to you and then rate its impact, positive or negative, on your workflow when making your choice.
Level:

App:

Platform:

Author: