Migrating Metadata from Aperture to Lightroom
Like others, I am evaluating which direction to migrate my Aperture libraries. I have been testing PhaseOne Capture One Pro and Adobe Photoshop Lightroom. Both applications offer migration paths for ingesting Aperture libraries, but neither application does the job perfectly. It is important to me that all of the IPTC metadata and keywords are transferred. In this article I demonstrate four different methods that I tested with Lightroom for transferring this information and provide the results of each test.
The Test Setup
In my master Aperture Library I have several types of image files: Nikon Raw NEF, Adobe Digital Negative DNG, Photoshop PSD, JPG, TIFF and PNG. My goal was to determine which migration method would transfer the most IPTC metadata from an Aperture Library to a Lightroom Catalog. I tested four different methods of transferring images from Aperture to Lightroom.
To perform this test, I took a single Nikon Raw NEF file that had NO metadata saved to the original raw file. From that I produced a DNG, PSD, JPG, TIFF and PNG file of that same NEF file. All six formats represented the same source file and were confirmed to have NO metadata written to them. I then imported these six files into a new, empty Aperture library (referenced) and took the following screenshot demonstrating they are starting with no metadata applied.
NOTE: The "Creator" field filled in below is done in-camera at the time of image capture.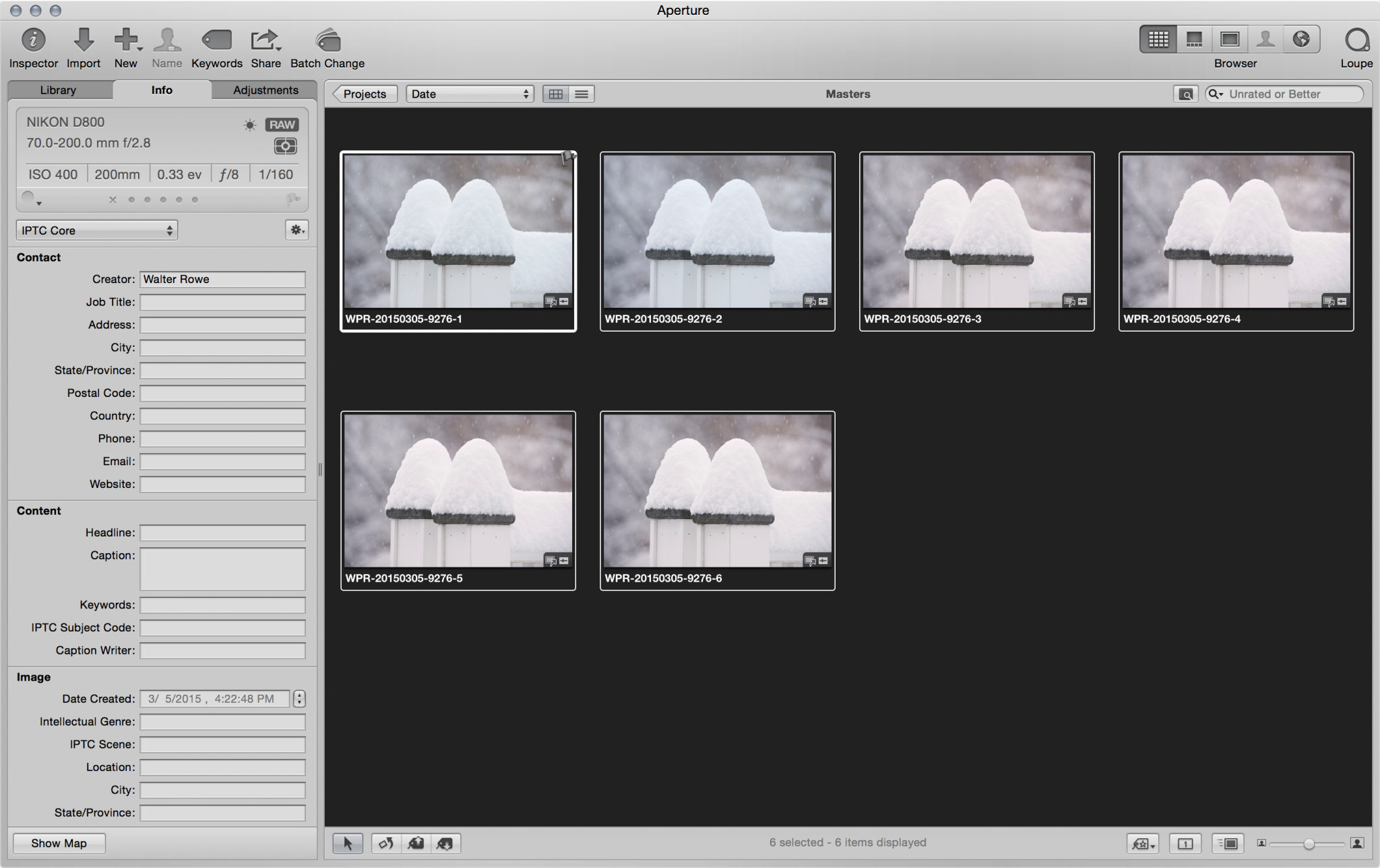 Inside Aperture, I applied the exact same metadata to all six images including fields in the Contact, Content, Image and Status sections. I wanted to know if all of the file formats transferred IPTC metadata equally, or if one or more formats only transferred partial or no IPTC metadata. I also wanted to know if all, some, or none of the sections of IPTC information transferred.
I did not test transferring ratings or labels as those are not defined fields in the IPTC standard. I will address them below.
The Tests Performed
I tested four methods of transferring images and IPTC metadata from Aperture to Lightroom.
Export Original Without
IPTC
With this method, I exported the originals from within Aperture and selected the option to NOT include any metadata whatsoever. I then imported these exported originals into an empty Lightroom Catalog.
As expected, this method transferred no metadata. Excellent. Not an option I would choose, but confirms that expected and actual results match.
Export Original With
IPTC
With this method, I exported the originals from within Aperture and selected the option to INCLUDE IPTC metadata. I then imported these exported originals into an empty Lightroom Catalog. With this method, Aperture attempts to write the IPTC metadata into the exported original file.
The results were that DNG, NEF, JPG and TIFF files successfully transferred the IPTC metadata. The PNG file format does not support IPTC metadata so getting the error message pop-up in Aperture that it failed to write it was expected. What was not expected was that Aperture also reported an error writing IPTC metadata to the PSD files. Aperture apparently cannot or will not do that even though the file format supports it. The PSD file format is a modified form of the TIFF format, and past experience of my own has proven that PSD files do indeed permit including IPTC metadata.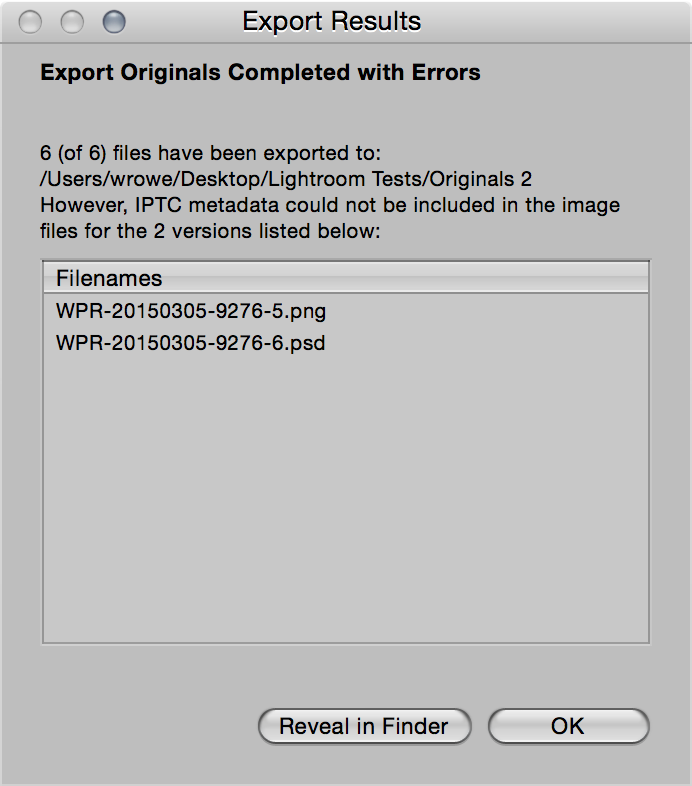 Export Original with
IPTC4XMP

 sidecar

With this method, I exported the originals from within Aperture and selected the option to INCLUDE IPTC4XMP sidecar. I then imported these exported originals into an empty Lightroom Catalog. This method does not write the IPTC metadata to the exported original file. Instead it writes the IPTC metadata to a sidecar XMP file that pairs with the exported original. For example, an exported original called IMAGE123.NEF would be paired with a sidecar file called IMAGE123.XMP that contains all of the associated IPTC metadata for the image file.

I had high hopes that this method would produce perfect results for all six file formats. To my surprise and dismay, only the NEF and DNG image XMP sidecar files were imported into the Lightroom Catalog. The PSD, TIFF, PNG and JPG sidecar files were completely ignored by Lightroom.
Lightroom plug-in Import Aperture Library
With this method, I did NOTHING inside of Aperture except open and close the library I want Lightroom to import. This method is performed entirely within Lightroom. Adobe recently released a plug-in for Lightroom that reads your last opened Aperture library, offers you some options for how it will import that library, then performs the import. I created an empty Lightroom Catalog, selected the Import Aperture plug-in from the File > Plug-in Extras menu, selected the option to leave the referenced files in their present location, and pressed the "Import" button. Within seconds, the plug-in had successfully imported all six file formats and all six file formats had all of the metadata that I had applied in Aperture.
I did some additional testing with the Import Aperture plug-in on some small libraries, both managed and referenced. I had the same success with these libraries as I did with my initial sample test. In addition, ratings and labels were transferred as keywords. This is documented in the Import Aperture information provided by Adobe and works as advertised.
Importing my Master Library
In a final test I made a copy of my master Aperture Library. To make this copy, I created a new empty library and imported my master library into the new library. My rationale was that this would create a clean copy void of any cruft from years of managing images in this library. This is a 29GB library with 50,905 referenced items. This test was not successful. The Lightroom plug-in produced the following error message.
An online chat with Adobe Support offered no solution. The chat assistant even went so far as to suggest my library was larger than Adobe's import tool could handle. Anecdotal evidence from other users in Internet discussion groups indicated that it works with even larger libraries than mine, and that there may be some relationship between the types of items in the library and the success or failure of the plug-in. My library also includes a books, slideshows and movies (.MOV). To test this theory, I removed the books and slideshows from the copy of my master library. Again the import plug-in failed with the same error message.
In one final effort to determine whether there were issues with my library, I again made a copy of the library. Instead of creating an empty library and importing my master, this time I opened my master, selected Projects in the inspector library panel, selected all of the projects in the viewer panel, and exported all of the selected projects in my master library to a new library.
Would this new library would be clean of any issues that might cause problems for the Lightroom plug-in? Apparently so! The Lightroom plug-in successfully scanned my exported library, determined how many items were in it, and imported them into an empty Lightroom Catalog. This process took several hours, but completed successfully.
An unexpected outcome was that labels and ratings seemed to get transferred as well. The plug-in documentation says they will be transferred as keywords. It appears to have done even better and actually applied the same ratings and color labels to the same images in Lightroom.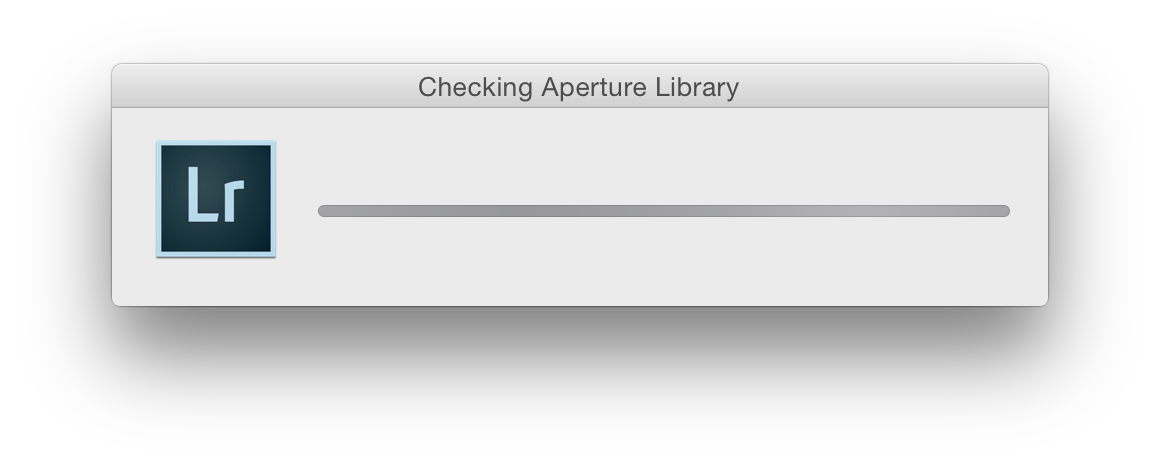 There are two important things to note regarding the Lightroom plug-in. First, when you select the plug-in from the Plug-in Extras menu, it will scan your last opened Aperture Library by default. This process can take a considerable amount of time. Second, once the scan completes, make sure you press the "Options" button in the bottom left corner of the dialog and review all of the checkboxes. Pay particular attention to the last one indicating whether or not to "Leave referenced files in your Aperture library in their current location". By default, this box is unchecked meaning Lightroom will COPY all of the images named in your library into a new location. If you want this behavior, make sure the selected destination has adequate space to hold all of the copied images.
Summary Results
Of all four methods I tested, only the Lightroom plug-in Import Aperture method successfully transferred all of the IPTC metadata from all six image formats that I tested. An added bonus was that ratings and color labels also transferred over and were applied in Lightroom.
Another important consideration to evaluate is how the importer transfers over library organization. I reviewed my Aperture Library organization and the Lightroom Catalog collections. My organization transferred pretty well in-tact. Others are reporting varying amounts of inconsistency between the organization of their Aperture Library and the resulting Lightroom Catalog. This is likely due to the organization objects and structure of the source Aperture Library. My library has no folders within any projects. Folders are used only for organizing sets of projects. My organization within projects is solely done through albums. Lightroom appears to transfer Folders, and Projects containing Albums, as Collection Sets. Albums, and Projects that do not contain Albums, appear to transfer over as Lightroom Collections.
It should be noted that smart albums and non-photo items like books, slideshows and light tables do not transfer. Movies and all file formats in my library transferred successfully.
Level:

App:

Platform:

Author: