Faces on Photos for iOS… You Can't See Them, but You Can Find Them
Faces is a feature we've had in iPhoto and Aperture for years, and it has made its way to Photos for OS X as well. Unfortunately, we don't see Faces on Photos for iOS. I suspect this is something we'll eventually see, but for now, it's not there. Which is a shame.
However, it turns out if you search for a face name, the data is there. So you can find Faces by search, just not through a visual interface.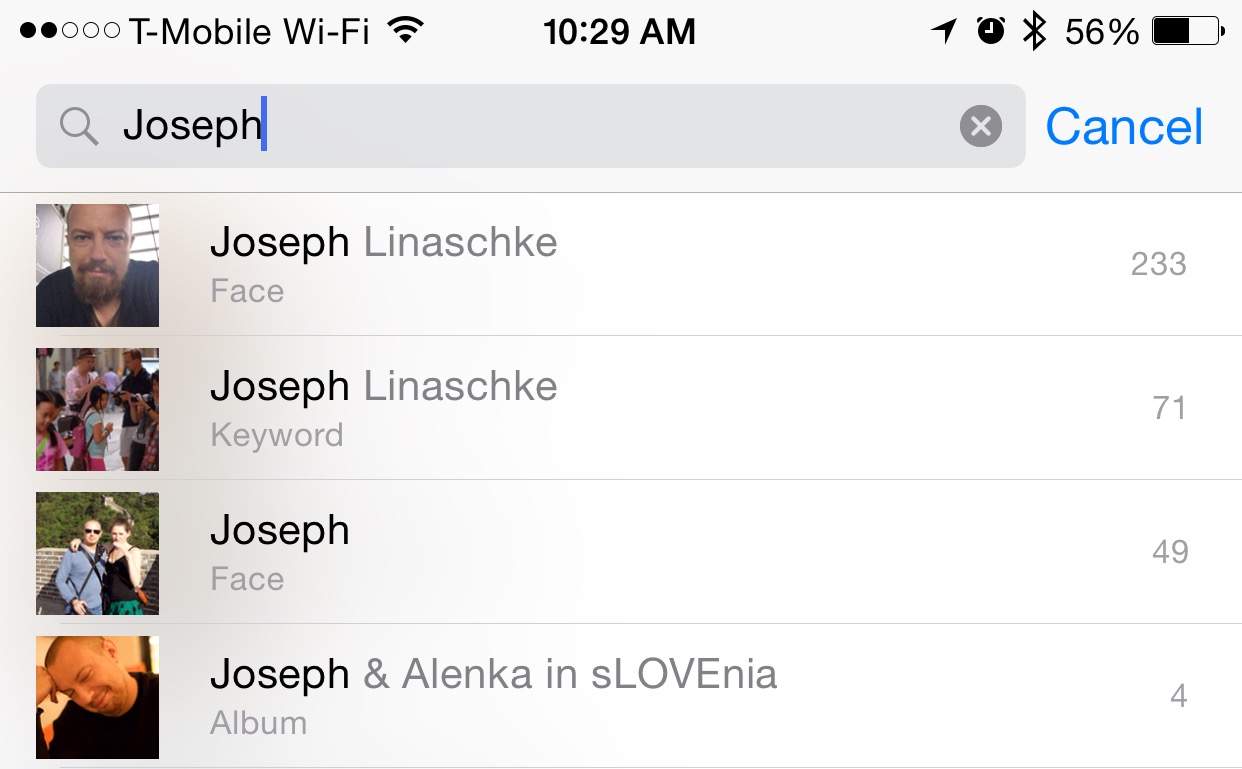 As you can see above, by typing in "Joseph", it's found my face listed as "Joseph Linaschke" in position #1. Awesome! Just tap on that, and there's all the same Faces you see in Photos for OS X (or at least in my case, it will be if this ever finishes syncing, with nearly a TB to go still.)
You'll see in position #2 that it's found a keyword with my name on it as well, and in #4, an Album with my name. But what's that in #3?
Looking in my different Photos apps (one on my laptop, and one on the iMac which is my massive transitioned-from-Aperture library), it appears I had at some point set up a Face for myself in Aperture, calling it only "Joseph". That makes sense; I'd played with Faces a few times, but always ended up turning it off. However that data wasn't deleted, and the faces data from Aperture did carry over. So it's just a case of renaming that Face on the iMac, and (presumably, hopefully) those faces will (eventually) merge. I think I've got a long, long road ahead of me before they do, due to my I'm-clearly-insane migration of 100,000+ personal images to Photos, but we'll see how that goes eventually. 
So Faces data is available on iOS… you just have to look for it.
Level:

App:

Platform:

Author: