A Neat Trick for Uploading Photos from Aperture

[There's an important update to this at the end… be sure to read all the way through, and to read the comments as well — particularly those by Butch Miller.]
Aperture has built-in support for flickr and Facebook, but sometimes that just doesn't cut it for you. Or you may simply need to upload a photo to a service that isn't built in; it doesn't matter which, there are dozens (hundreds?) of places and reasons to push your photos.
So how do we handle this today…
Export a photo from Aperture to the Desktop
Upload the photo through some web interface
Delete the photo on the Desktop
What if I told you there was a way to skip steps 1 and 3? Is that something you might be interested in?
Here's what I realized…
Fact 1
Aperture creates preview files, which live somewhere buried deep in the bowels of the Aperture Library. (If you don't have Previews turned on, you can generate them on the fly. I set the keyboard shortcut Shift-Return to Update Preview so making — or updating — a preview is just a quick keyboard shortcut away). It doesn't matter if you work referenced or managed; the previews are JPGs that live somewhere in the Library package.
Fact 2
In the Mac OS, whenever you're looking at a Save or Open dialog, you can drag a file or folder into that dialog to go straight to it, instead of digging through the dialog box itself. So for example let's say you're in Pages, and you want to save a document to ~/Documents/Personal Stuff/Really Personal Stuff/My Memoirs. You click Save, and you're looking at some random folder elsewhere in your system. Instead of clicking on the Home icon, then Documents, then Personal Stuff, then Really Personal Stuff, and finally My Memoirs, if you happen to have that My Memoirs folder open in the Finder already, you could drag any item in that folder into the Save dialog box, and instantly you'll be looking at that folder in the Save dialog.
The same works for an Open dialog, but even better because this will select the actual file you dragged. Imagine that you're about to upload a photo to sharemyphotodotcom and that photo is on the Desktop (or wherever). Once you're in the Open dialog, instead of manually navigating to the Desktop (or wherever) you can just drag the photo from the Desktop (or wherever) into the Open dialog box, and you will instantly be looking at that location — and your photo will already be selected. Neat.
Fact 3
Fact 1 + Fact 2 = Fact 3
So what that means is…
You can be looking at a thumbnail in Aperture, and drag it into an Open dialog box in your web browser, and click Open (i.e. select/upload). It's that easy. No more exporting to the Desktop (step 1 above) and no more deleting the file afterwards (step 3 above).
The Open dialog would end up looking something like this:
Once dragging the Preview into the Open dialog, you can see how buried it is within the Aperture library
Here I'm uploading a photo to Google+. Notice when I clicked on the folder at the top of the dialog, it shows the path down… we were seven layers deep inside the Aperture library, in some seemingly randomly-named folder. Obviously you'd never navigate to that manually (nor could you — it's not possible to navigate into the .aplibrary)
Caveats?
I can think of two.
If you choose to export/upload/delete, you can make the file any size you like. If you're going the drag-the-Preview route, then whatever size your Previews are set to is what you'll be uploading. That might be full size ("don't limit"), or half-size, or a specific pixel size. You can set this in your Aperture > Preferences… > Preview > Photo Preview (size).
You can only upload one photo at a time this way. Since each Preview lives in its own folder, there's no way to add multiple images at once.
What do you think? I've tried this on a variety of places (including the image you see above on Google+, linked here) and it always works. No reason I can think if that it shouldn't. You're not doing anything to the library, so there's no risk involved. It's essentially the same as dragging the preview to the Desktop.
Reader Butch Miller pointed out in the comments that these preview files don't have a color profile embedded in them — and he's right! This is really surprising to me, so I'm going to do a little digging on this. If you have any insight into why this might make sense, please add to the conversation below. In the meantime… here's a screenshot of the Preview.app info screen on an image dragged out of Aperture (which is the same JPG you'd be uploading using the method above):
uh-oh, no color profile… maybe this isn't such a clever idea after all!
Yet another follow up…
Reader Nathan Smith noticed that while it does list the Color Space as "Uncalibrated" under EXIF, if you look under the General settings, you'll see that there is in fact a Profile attached — Adobe RBG (1998). So that's great! To Butch's original point, you can not control what Color Profile is embedded in the preview file that is dragged out of Aperture, unlike when doing a proper export (see your Export settings under Aperture > Presets > Image Export…). The default settings in the preset exports seems to always be sRGB, so now I'm wondering why exports get sRGB by default yet previews (which would be used anywhere you access the OS Media Browser, not just when using this tricky trick above) are getting Adobe RGB (1998).
This prompted me to refresh my memory on sRGB vs Adobe RGB. That was easy; start typing "adobe rgb…" into Google and the first suggested hit is "adobe rgb vs srgb", which takes you to an article on KenRockwell.com titled "sRGB vs Adobe RGB". According to Ken, the world is sRGB and unless you really, really know what you're doing, then you shouldn't use Adobe RGB.
Which begs the question, "why is Adobe RGB the standard on image previews in Aperture?".
Here's a composite screenshot of the info panels from the same photograph in Preview.app — the top pair are of the dragged out preview (General and then EXIF tab), and the bottom pair are from the same photo exported from Aperture using the default "JPEG — Original Size" preset. I don't know why Color Space is listed as "Uncalibrated" in the Adobe RGB embedded image, but I also don't know the difference between "Profile Name" and "Color Space" in this instance. I'm sure someone will chime in here…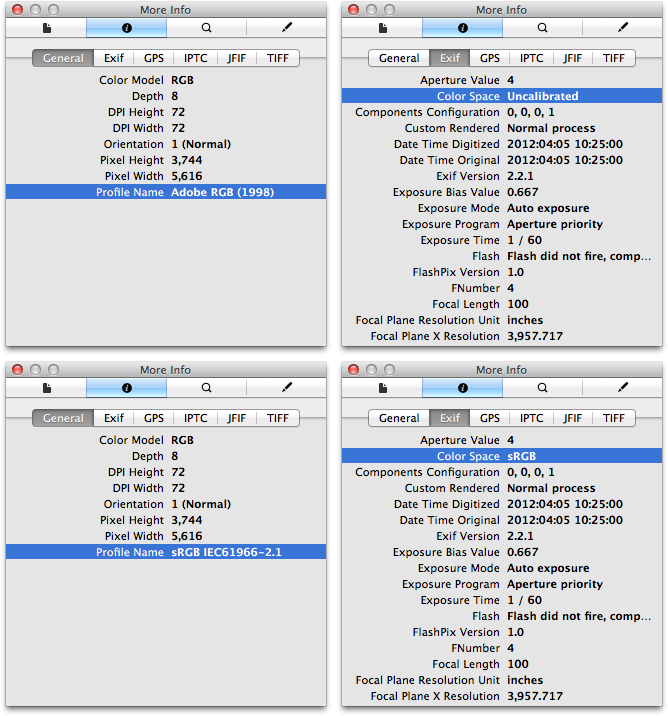 The top pair are from an photo dragged out of Aperture; the bottom pair are from an export
App:

Platform:

Author: