WPPI — mylio; A Contender to Replace Aperture?

From the show floor at WPPI 2015 in Las Vegas… 
I've heard of mylio before (they're advertising department appears to be very well funded), but hadn't given it much of a look. It sounded intriguing, but honestly when I first heard about it I thought "oh, shame, Photos.app will do all that". Of course now that we've seen what Photos will be, and I got a very nice demo and answers to some tough questions at WPPI, I'm extremely excited about what mylio can be. It may not be able to replace Lightroom or Aperture today for advanced users, but honestly there's a possibility that by integrating Photo Mechanic as an ingest tool and letting mylio take it from there, you could have a very powerful and flexible DAM on your hands.
So what does it do? In essence, it's a DAM (digital asset management) tool that synchronizes across multiple devices (OS X, Windows, and iOS, with Android to come), and includes some basic image enhancement tools, with full support for "open in editor". The sync is the killer feature. Gone are the days of storing a library on a portable drive if you need to access it from multiple systems, gone are the days of a single computer that has to be shared by husband and wife or photographer and assistant, gone are the days of planning which photos to include on your iPhone, and enter the days editing on one device and having edits sync instantly across all of them. It's really, really compelling. I can even see shooting tethered (not with built-in support but using tether software that ingests to the mylio folder) and seeing those photos pop up on an iPad the client is holding. There are some very compelling features here.
Here's what I can tell you, good and bad, that really stuck out for me on the show floor. And every feature that's missing is something they are working on. These two chaps gave me a great demo and put up with all my tough questions at WPPI; thanks guys!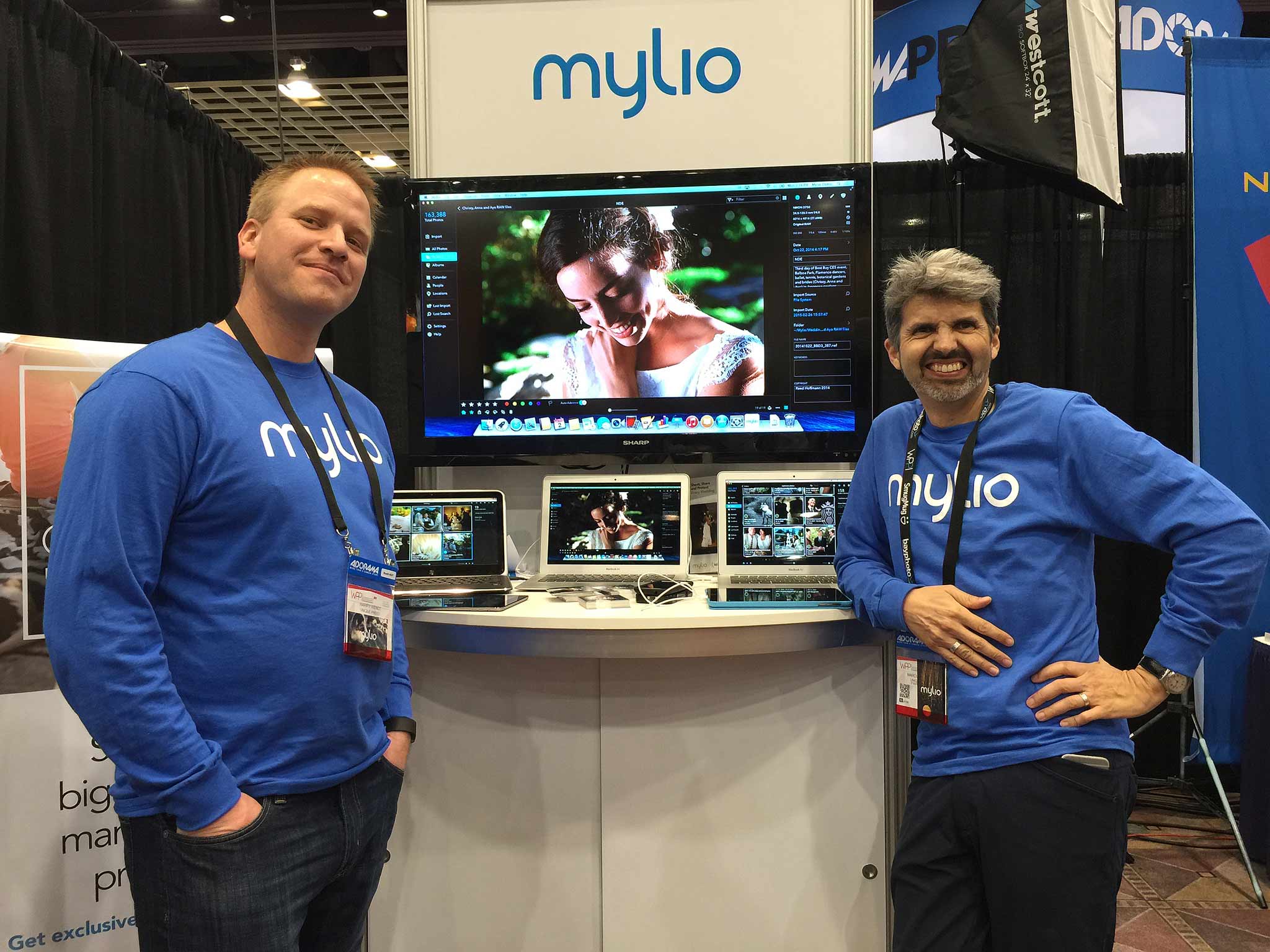 Capabilities you want to know about
On import, you have a very flexible name-changing system. Yay!
On import, you have virtually no metadata control. Boo! However…
The way "import" works, mylio is simply syncing, or mirroring, a Finder structure. If you put photos in the right folder, they are instantly inside of mylio. Which means you could use anything to import, such as…
Using Photo Mechanic to import could actually be a reasonable workflow. Even many Lightroom users use Photo Mechanic to import today. If you need powerful metadata and fast import, Photo Mechanic will do that. Just import to your mylio folder and they will be "imported" into mylio instantly.
Star ratings, color labels and flagging, are are all built in. Take that, Photos.app.
The Albums structure is flat right now, which is a problem, but nested Albums is high on their list. I have to play with it to really understand it but I think there might be a semi-acceptable workaround in how you handle the setup of your mylio "libraries" (in quotes because that's not really what they are but that's how us Aperture users are used to thinking of them). Regardless, nested albums is high on their list.
It actually handles

RAW

+

JPEG

properly. They are imported as pairs, and when you edit a photo, you choose which one you want to edit. Lightroom can't even do that.
The "open in editor" function lists as many apps as you want it to. So you can open an image in Pixelmator, Photoshop, or whatever you like.
I don't know if it handles 16-bit or what the options are for "open in editor".
It uses its own

RAW

decoder, which may or may not be a good thing. The only way to know will be to compare a series of

RAW

images decoded by Apple Camera

RAW

 and by mylio. This of course could be a complete deal breaker. If their

RAW

decode isn't as good, then the entire solution gets thrown out the window. They don't give you the option of using Apple's

RAW

decode, because this is cross platform. This also means that they have to decode every new camera as it comes out; Apple is the biggest company in the world and sometimes that takes too long. Adobe is sometimes faster than Apple, sometimes not. But now we have to rely on mylio to do the same work themselves. Clearly I'm not convinced this is a good idea but testing, and seeing how they handle this over time, will be the only way to know.
Mylio includes a simple collection of global editing tools (no brushes) but this is their fastest area of expansion. I encouraged them to focus more on

DAM

since that's the killer feature; editing tools can come later since we can always edit using other apps. It's a balance of course. 
Syncing between devices does not rely on a cloud service. It's peer-to-peer (think BitTorrent), all handled across your wifi network. I believe that there is a cloud option, but I wasn't clear how that integrates. If your devices are on the same network, changes happen instantly. If they aren't, changes happen when the devices enter the same network. It has intelligence for merging syncs if two people are working on the same library. If they are working on the same photo, then the newest one wins, which seems acceptable.
When you create a folder on an iOS device in mylio, that folder is actually created in the Finder on your Mac. That's trippy to see. 
I'm already in touch with their PR and technical team. I'll start playing with this myself very soon, as I have really high hopes for what it can be. Fingers crossed, and if any readers have used it yet, please chime in your thoughts below. I'd love to know what you thought of it, what you think is missing, and of course if there are any great features or blatantly missing features that I've excluded here.
Check out their product promo video, and again I'll be diving into this personally very soon.