Aperture Library Not Showing Up in iLife/Media Browser? Possible Solution Found…
November 5, 2010 - 11:33am
This is a topic that's shown up here on this blog, on the flickr Aperture group as well as on the Apple boards, and it appears that, at least for one user, the source of the problem has been found.
The Problem
The problem has been people's Aperture Libraries not showing up in iLife, Mail, etc—basically the Media Browser connection was broken. You can share your Aperture Library with the rest of your Mac by enabling Share previews with iLife and iWork in the Preferences: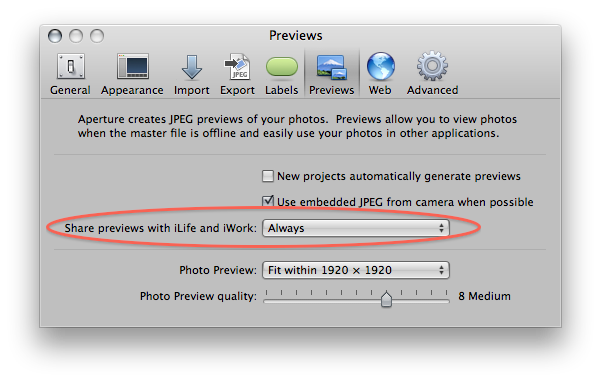 The only images that will show up in iLife, iWork etc. are the ones that have Previews generated of them. This can be done automatically for your entire Library, or on a project-by-project basis, or even for just individual images. (I looked at sharing extensively in this post some time ago; A Comprehensive Look at Thumbnails, Previews, and More in Aperture 3. Check it out if you have any questions on how Previews work, what they do, and how to manage them.)
The Solution?
Solutions have been suggested of disabling and re-enabling this Share setting, trashing preferences and cache files, and more. But apparently an Apple tech support rep helped another user get to the root of the problem, and at least in this users case, it had to do with TIFF files having a null date associated with them. The thread on the Apple forum is here. I recall back in Aperture 2 finding some files like this, and that they were causing havoc with the rest of my Library. In my case I deleted the files, but here is a better solution: go to the Metadata > Adjust Date and Time… menu and add a date to the file—ensuring to enable the Also Change Master File option.
Finding the Problem Files
Finding these files could be tricky however. You can search by date, and there's even a search criteria of Date: Is not empty and is not: however there's no "date is empty" command. I don't appear to have any of these errant files in my Library, however I'd suggest that a way to find them is to go to the Photos view (looking at every photo in your Library at once) and switching to List view, then sorting by date—and looking at the top and at the bottom of your list. See if there's any files that have an empty date field, and take it from there. [Update: scroll down to the November 11 update to see another way to search for these null-date images]
View Photos, List View and look at the top and bottom of the list for files with no date. Click for a larger view.I know this has plagued many users, so let us know in the comments if this helped you or not, or if you ran into any other issues along the way!
A few other solutions that have been popping up on the boards. Different things seem to work for different users:
Delete all previews in Aperture, and let Aperture re-generate them. You can do this by selecting the Photos view in the Library tab, and from the Photos menu, select Delete Preview for Library. (If the menu just says Delete Preview(s), that's because you've actually selected pictures(s) in the Browser or Viewer. Don't click any pictures, just click the Photos icon, under Projects icon, in the Library tab.) It will take some time to regenerate your previews if you have your entire Library set to make previews, so be aware of that. You'll still be able to use Aperture, but the preview generation could well take several hours, overnight, or even several days if you have a significantly large (i.e. over 100,000 images) library.
Some have found not missing dates, but obviously wrong (possibly corrupt) dates. When you list by date and find images that have a date of 1984, or 2105, you know there's something wrong. Reset those dates using the same instructions listed above, and get those dates right (or at least reasonable—and reset, which is the key).
For some, simply creating a new Library and switching to it, then back to your existing Library, has kicked it back into shape.
For some, the fix was as simple as trashing the com.apple.Aperture.plist preferences file (in ~/Library/Preferences). Go figure.
Some have started poking around inside the Library package, and noticed that the ApertureData.xml file wasn't updating when it should have been. I've made the suggestion myself to actually delete that file from the Package, at which point Aperture will have to rebuild it. But as always when poking around in the package, make sure you're working off a backup!
Regardless it appears this issue is more widespread, and more complicated to fix, than previously imagined. If I learn any more, I'll certainly update again on here. Please continue to share your experiences in the comments or the forum!
The very clever "Rosember" on discussions.apple.com has come up with a better way of finding null-dates on images by employing a double-negative in the search criteria. I don't have any files with missing dates on my Library, so can't confirm that this works on my end, but the logic is sound. Go to the Photos view (so you're viewing ALL the photos in your Library) and open the Search HUD, setting it up like this:
You'll need to set the search to "All of the following that do not match" and then add "Date: Date - is not empty and is not - (a year in the future where you couldn't possibly have photos in the library)". This double-negative should reveal images that have no date at all.
Yet another possible fix, from Sichenze on discussions.apple.com. Apparently Apple phone support suggested removing the following plugin, which at least for Sichenze, has cleared up the problem. From the root hard drive level (not your user folder), navigate to:
Macintosh HD / Library / Application Support / iLifeMediaBrowser / Plug-Ins /
The file in there titled iLMBAperture31Plugin.ilmbplugin is what Sichenze was advised to remove. Notice that there is also a file titled iLMBAperturePlugin.ilmbplugin (without the "31") that was left behind. This plugin doesn't appear to be reinstalled automatically after removal, so I'm assuming this means that the sharing reverts to the older (?) plugin (non 3.1). Since this problem started with Aperture 3.1, it's one of the most likely real fixes I've heard of. However, do proceed with caution. If you're going to test this, I'd make a backup copy of the iLMBAperture31Plugin.ilmbplugin before proceeding.
App:

Platform:

Author: