The Anatomy of Finding an Old Photo
December 31, 2010 - 6:10pm
With a multi-hundred-thousand image library staring you in the face, it can be a bit daunting looking for "that photo you know you took" all those years ago—especially if you aren't (or at least, weren't) diligent about adding keywords and other relavent metadata.
I just found an image I was looking for that I knew I had (but wasn't easy to find), and I thought I'd share the process. Sometimes a little sleuthing can save you a ton of work.
The shot I was seeking is for a new eBook I'm writing on photography. In it I have a chapter on stabilizing the camera, and I am talking about the Joby Gorillapod. I knew that years ago on a trip to Hawaii I'd wrapped my dSLR around a stalk of wet bamboo for a long exposure, and I knew I'd taken a photo of that. So, off to find it.
Search by Name
First, I searched the Library for "Hawaii". One thing I do well is name my projects, and I was quite sure that whenever that trip was, chances were I'd included "Hawaii" in the project name.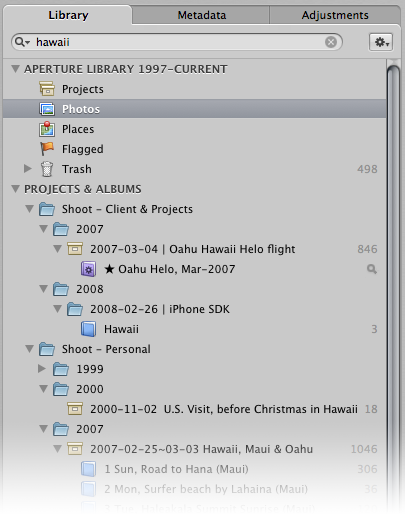 I knew the shot wasn't in a helicopter (so the "2007-03-04 | Oahu Hawaii Helo flight" wasn't going to have it), and it couldn't have been in 2000 because that pre-dates the Gorillapod, but there was a collection of 1,046 photos labeled "2007-02-25~03-03 Hawaii, Maui & Oahu" that was promising. As you can see from the screenshot above, there are a series of Albums in there, and I scanned those names but none sounded right. I ended up just looking at the whole project, and found something promising.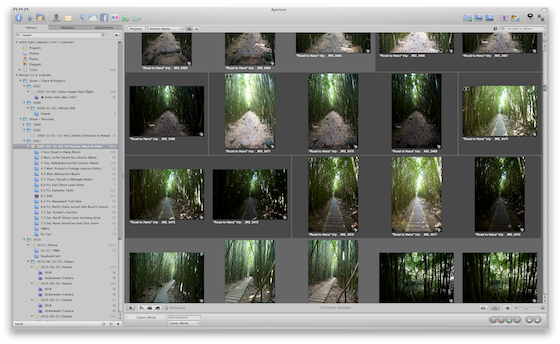 There's the bamboo! Easy, right? Wrong… as I scrolled through this I realized that of course the photo I'm looking for isn't here. I took a photo of my camera so it's not likely in these photos taken by that camera. Hmm…
Oh, easy right… iPhone! I probably took this shot with my iPhone, that has GPS, so all I have to do is look in Places, and it'll be there, right? Sure… except that this photo pre-dates the iPhone. This trip was Feb 2007, five months before the first iPhone was shipping. And besides, GPS came to the iPhone much later anyway. But I probably did take the shot with whatever cameraphone I had.
Hmm, how to find, how to find. How about, a date search? I can look at one of these bamboo photos to see when it was taken, and search my entire library for that date, right? Tap the t key to call up the tooltip and point at one of these photos to find the date:
Actual date captured was 2007/02/25.
Search by Date
To search the entire library, click on the Photos collection under the Library tab:
And then to call up the search HUD in the top right corner of the Browser, click the magnifying glass in the black box icon:
The Date field is probably already there, but if not, just choose it from the Add Rule drop-down menu.
I typed in the date in the format 2007/02/25, because that's how it's displayed in my tooltip. I also entered it as 2007-02-25 and that worked too.
All photos in my entire library (nearly 130,000 images in this one) were searched almost instantly, and the photos from that day were revealed. And check it out… there are the photos I was looking for!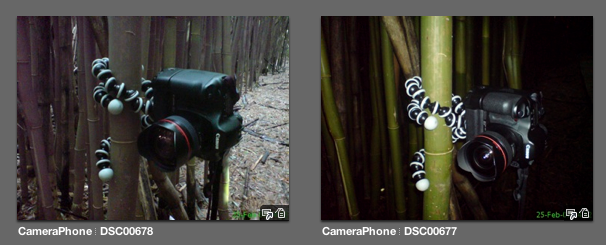 Looks like these were shot with Sony Ericsson K790a… wow, so there was a life before iPhone!
Not too shabby, actually a 3.1 MP image (it took years for the iPhone to catch up).
Wrap it up…
As I was entering the search date, it occurred to me that if the time stamp wasn't accurate on either the camera or the phone, that the date could be off by a day in either direction. Fortunately, Aperture will let you search in a date range as well, which I would have done next if the file hadn't turned up.
A little detective work can go a long way. I could have searched for photos under a certain resolution by searching EXIF : Pixel Height : is less than, or if I'd remembered that it was a Sony Ericsson camera phone that I'd owned at the time, I could have searched for EXIF : Camera Make. Lots of options, and one of my favorite things about Aperture is that you can search through all of them!
Any great search-and-find stories in your Aperture history?
App:

Platform:

Author: