When Aperture Isn't Enough (aka, "Anatomy of an Interior Design Composite")

August 29, 2014 - 12:00pm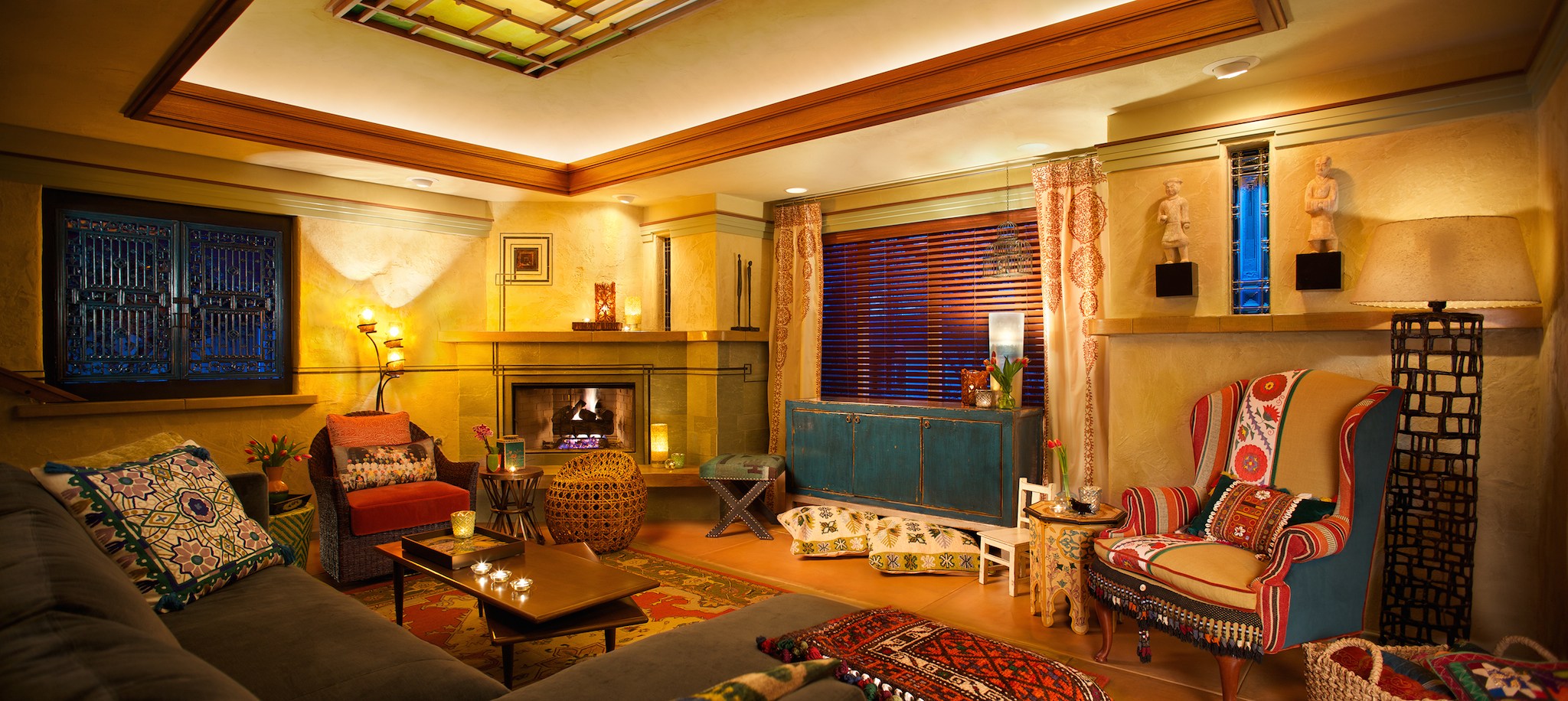 We love Aperture, but naturally it doesn't do everything you might possibly need when editing your photos. I was hired many months ago to create an image of an interior designer's handiwork to print as a showcase piece for their new design studio, and since Aperture doesn't do compositing, needless to say this was a task beyond the scope of Aperture itself.
That doesn't mean however that Aperture wasn't used. On the contrary, Aperture was used quite a bit, starting with tethered shooting and note-taking, then to basic photo editing (making selects) and overall file management, then finally white balance adjustments before being sent to Photoshop.
Tethered shooting
For a scene like this, shooting tethered was critical. I set up my 27ʺ iMac on the kitchen counter so I could examine every lighting detail of every shot before moving on to the next stage, and also so the client could put a critical eye on placement of objects throughout the scene. Every pillow, every drape, every chair, every candle… all meticulously placed!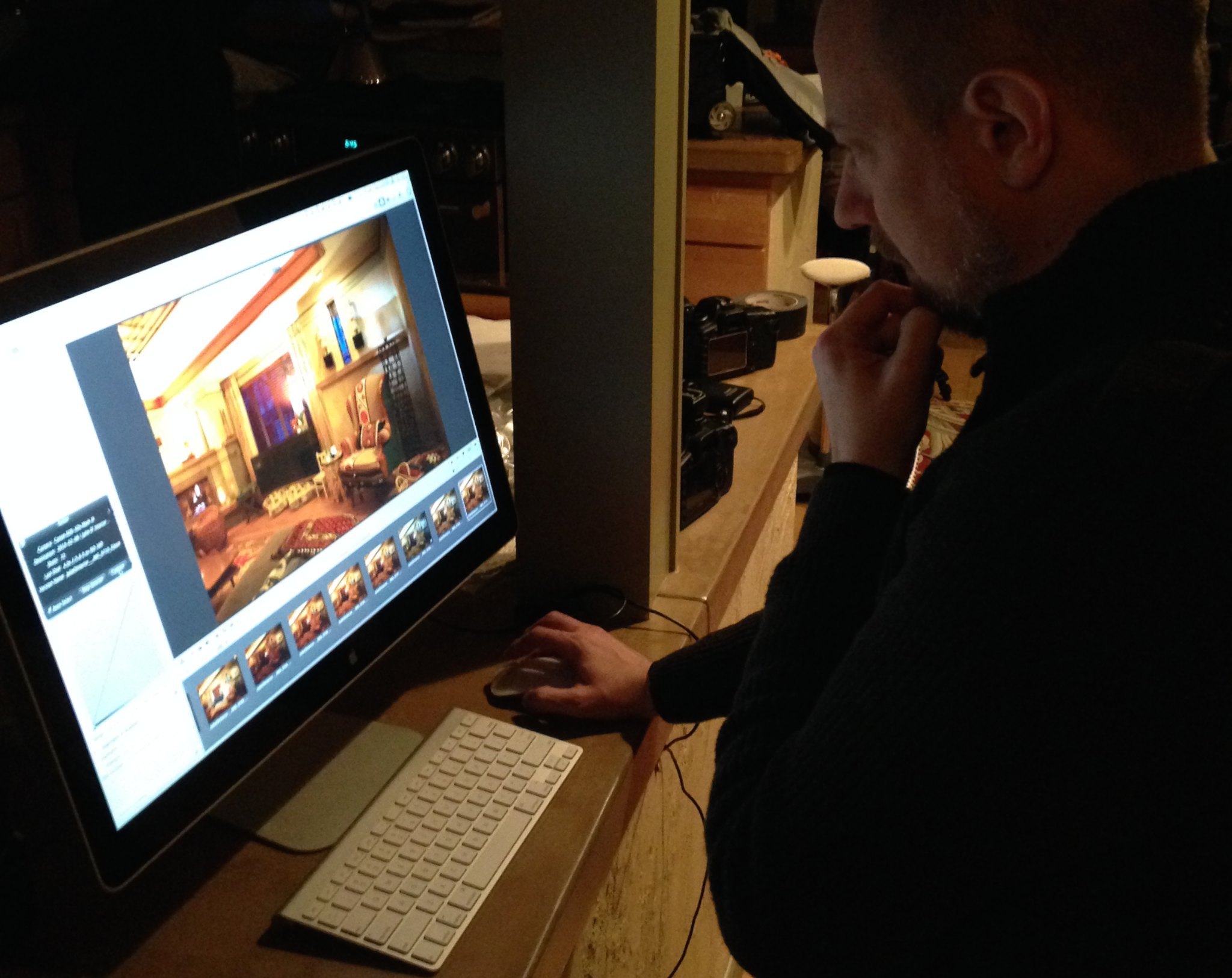 Shooting tethered (no matter what system you use) is really one of those fantastic studio experiences. The difference between looking at the back of your camera, at the embedded JPEG on a small screen vs looking at the actual RAW file on a big computer display can't be compared. If you've never tried it, Aperture supports most cameras for tethering. Give it a go, just to see how cool it is!
Making selects, note taking
Lots and lots (and lots and lots) of photos were created, because after each test shot, something would get adjusted. Usually a light or reflector, but occasionally a pillow or some other effect. We really tried to not touch the scene once we started shooting, but ultimately we did have to move a couple of pieces around. 

Once everything was settled on, a final shot was made, flagged, and had a caption added to note what it was for. Since many elements were lit and photographed individually, but without moving the camera, keeping track of that was critical.

Once this was all complete, I had 17 primary files to use for the composite. Some were duplicated and altered further in Photoshop later, resulting in over 20 layers in the final file.
Sending to Photoshop
Again clearly this work wasn't all going to happen in Aperture. I found it easiest to export a full size TIFF file from Aperture, then link that as a smart object into the Photoshop composite. This kept the final file to a more reasonable (ha!) 1.62 GB size, linked to an additional 2.86 GB of original TIFF files.
One thing I did do in Aperture was adjust white balance on several images. Even though it was fixed in camera, as lighting moved, reflecting colors off the walls, and in some cases simply wanting to make the glow from a light warmer, I found tweaking the WB in Aperture worked out well for that.
Here's what the Photoshop file looks like…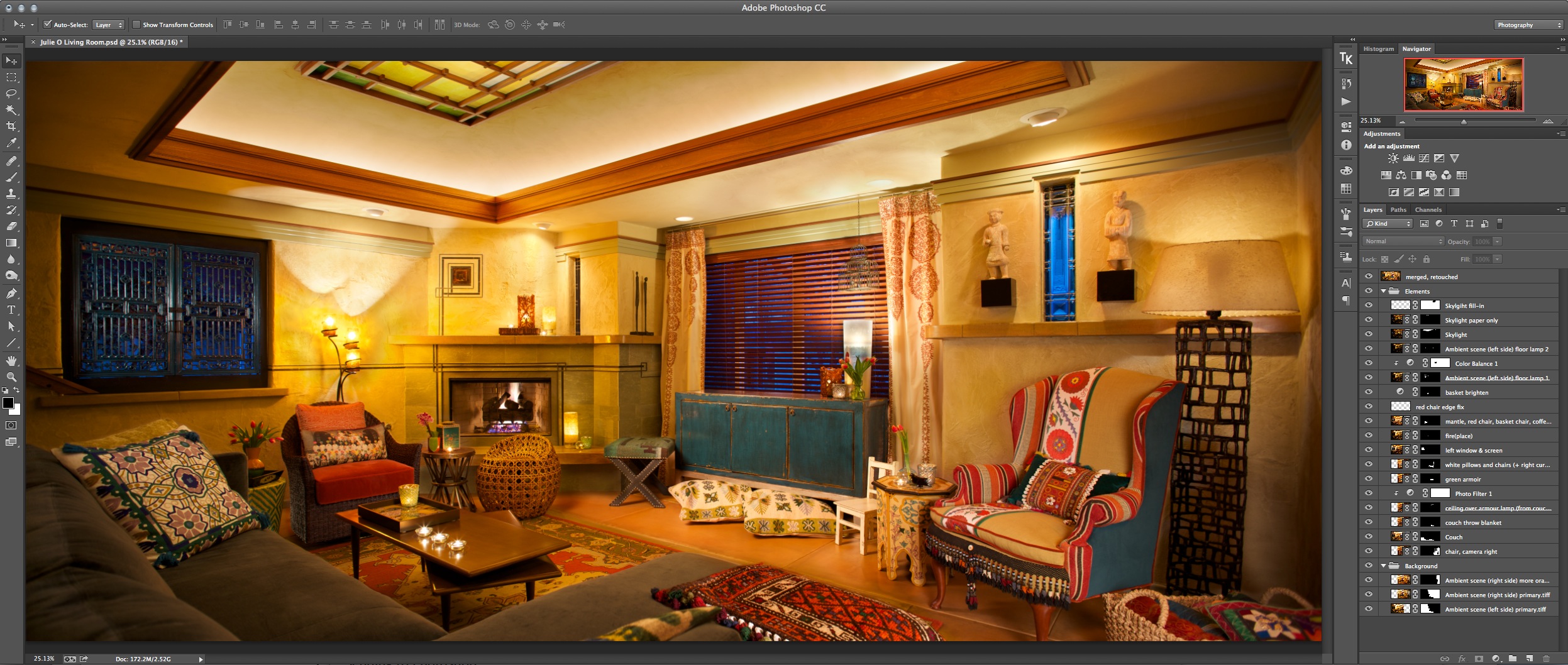 Managing the final files
Even though this is a Photoshop project, it's still managed in Aperture. In fact, I even output a variety of print-ready files, sharpened for output at specific sizes, and reimported those to Aperture. I do have to remember when dealing with them (although it's not hard; the caption says "sharpened") that these file should not be re-output. If I want to send these to a printer again, I'll just File > Show in Finder and send that file off. So yes, to do this, you have to work referenced. This is not the typical Aperture workflow; usually you just select your full size file in Aperture, and export whatever you need at the time, send that then delete the output. But these were meticulously sharpened for specific printer styles, and so I need them to stay as pure as they are.
As you can see we did a few different shots, however the big one shown at the top of this post is the one that had the extensive layering. The others were only a couple of blended exposures.
Show me the process!
If you frequent my photography blog at photojoseph.com/blog you may have already seen this, but just in case, here is a Keynote presentation I recorded with voice over to explain the entire composite process. It's a bit long, but hopefully interesting!
Level:

App:

Platform:

Author: