A Script To Open Olympus E-P1 & E-P2 RAW .ORF Files in Aperture
February 1, 2010 - 7:30pm
There are a lot of Olympus PEN E-P1 and E-P2 photographers who user Aperture, and many have been frustrated by the lack of RAW support from Apple. I actually bailed on RAW shooting on mine and decided that as a point-and-shoot, JPEG was just fine for me, but hey that's me. There's obviously a lot of folks who want RAW support.
A buddy of mine in Paris emailed me this morning asking if I'd test out an Applescript he wrote that changes a header in the ORF file to trick Aperture into thinking the E-P1 ORF file is actually from an E-30. This mens that Aperture treats the file as an E-30 file, so the RAW conversion hasn't been tweaked specifically for the E-P1, but the end result is it DOES allow you to read the native RAW file.
His script went up for sale for just €5 today. Here's a quick look at it, and a link to his store is at the end.
The installer drops three files on your desktop; a Setup script that makes a change to your Universal Access settings, and one script each for the E-P1 and E-P2. The ReadMe instructs you that these files need to remain on the desktop but only due to the authors own Applescripting "poor programming knowledge"; if you're into this sorta thing you could probably change it yourself.
To "fix" (aka "hack") the files, you just drag and drop the ORF files onto the appropriate E-P1 or E-P2 script, and walk away. The script will make a copy of each file (which is good, so your originals are left intact), make the required change to the header, and repeat. It takes a good 10+ seconds per file, and you're advised to just let it go and not try to do anything else on the computer while it's working. In my experience, Applescripts don't like going to the background so I think that advice is worth heeding. This does mean that you need to find something else to do while it works it's magic, but as the ReadMe suggests, "it makes you go away from the computer for a while, gives you time to relax, have a glass of wine or even go out and take some more photos". I think it's safe to say that Paris has had the right influence on the author, Kevin ;-)
So what's the catch? None of the lens correction data from the file translate over, so depending on what lens you're using, you may seem some distortion in the file. Here's an example of an E-P1 ORF file hacked to work in Aperture; under that you'll see the JPEG from the same photo that the camera produced (with one of the in-camera treatments applied, so you'll see a difference in the image quality too). You can clearly see the distortion correction that the camera applied to the JPEG (look at the head, and also at the corners of the windows. This photo was shot on the 17mm pancake lens; I'd expect a much more subtle effect from the longer, zoom lens.
A RAW (.ORF) file from the Olympus E-P1 "hacked" to open in Aperture 2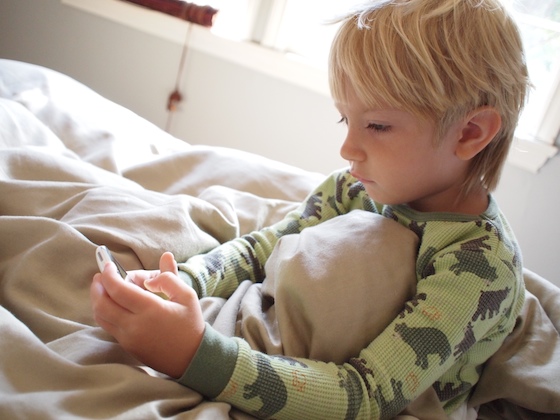 A camera-generated JPEG from the Olympus E-P1
Hey, if anyone out there knows how to set up a rollover in Squarespace, please contact me. I spent the last hour trying a pile of different methods and none of them worked. Free eBook of your choice to the first person to provide a working solution (that doesn't require me to go to school to learn advanced HTML, CSS, or any other crap… I signed up for Squarespace so I didn't have to do that!) I obviously wanted to set up the above images to swap as you roll over them.
Kevin's script can be purchased from his website, facefullofbees.com for €5 (about $7).
Yes we all expect that Aperture 3 will support this camera. But really… who knows. If you're an E-P1 shooter, buy the script and feed Kevin for another day. That Parisian wine ain't free!
App:

Platform:

Author: