Sharing Movies from Aperture 3 to YouTube & iTunes

Many have noted that Aperture 3 is lacking the YouTube and iTunes share features that you find even in QuickTime Player. Curious for sure, but here's two (not exactly ideal but better than nothing) solutions.
For Managed Libraries
If you are working Managed, meaning your master files live inside the Aperture 3 library, you can take advantage of the "Open in Editor" function. However this also means you'll have a duplicated movie that you'll likely want to delete when you're done.
First, set your preferences to Export > External Video Editor: QuickTime Player.
Now select any movie in your Aperture 3 library, and right-click Edit with QuickTime Player… (or hit the keyboard shortcut, Command-Option-O)
That will duplicate the file, then open it in QuickTime Player. From there you can further trim if you want to, then publish to YouTube or to iTunes from the Share icon on the play bar.
Once you've shared it, close and return to Aperture. Here's the bummer part though… you'll now have two copies of that movie file (and movies can take up quite a bit of space). So, delete the new version before you forget about it (right-click Delete Version or Command-Delete). Remember, deleting only moves to the Aperture trash—so the file will still be taking up disk space until you empty the trash.
For Referenced Libraries
It's a bit cleaner from Referenced libraries, as you'll have no file to delete, since it's not using the "Open in Editor" function.
Select the movie file you want to share, and right-click Show in Finder. Notice on mine, I've added the keyboard shortcut Command-R to that function.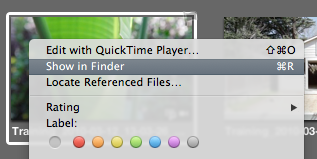 Once you're in the Finder, simply double-click to open like any other movie file, and that will open in QuickTime Player. Share, close, and you're done. No duplicated file. Just be sure if you trim the file or alter it in any way, you don't save over the original since that is your Master file!
There's probably a way to do this through Applescript/Automator as well. If anyone writes a script for that, please do share it here!
App:

Platform:

Author: