Aperture 3 for Only $79?!
You read that right… Aperture 3 is available for just $79.99 on the band spanking new Mac App Store.
To get the new Store, you'll have to run Software Update and bump up to Mac OS X 10.6.6. There's not a whole lotta info on 10.6.6 itself, but here's the kb article if you're interested.
Once you've run the update, you'll see a shiny new icon in your dock!

Launch that bad boy, search for Aperture, and check this out…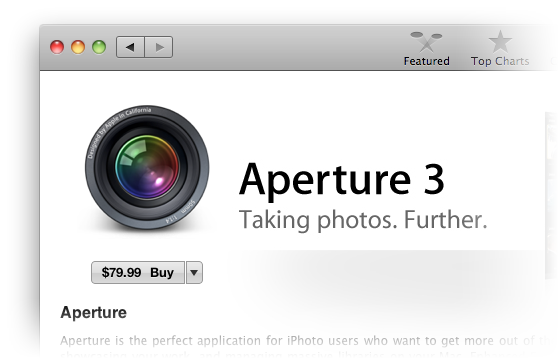 Of course if you already have Aperture installed, you'll see this…
It'll be interesting to see when the next Aperture (or any app) update comes that you haven't installed via the new App Store, if it shows up in this App Store or not. Right now when I look at my Purchases, it shows that I "have not yet purchased any apps", yet as you can see from the screenshot above, the App Store does recognize that Aperture 3 is already installed.
Time will tell. In the meantime, if you've been playing with the trial for Aperture and hesitating over the purchase price, get it now! No telling if this is a permanent price reduction, or a temporary sale to get traffic on the App Store.
App:

Platform:

Author: