Aperture X… The Rumors Are Rife! Go on then… tell us what you're hoping for!

November 24, 2011 - 6:49pm
A quick google search for "Aperture X" will reveal rumors dating back to 2009, so that's nothing new. But the appearance of a pending book titled Aperture X Portable Genius on Amazon (thanks Peter for the tip), set for release in April 2012, is the sort of thing that really gets the rumor mill going.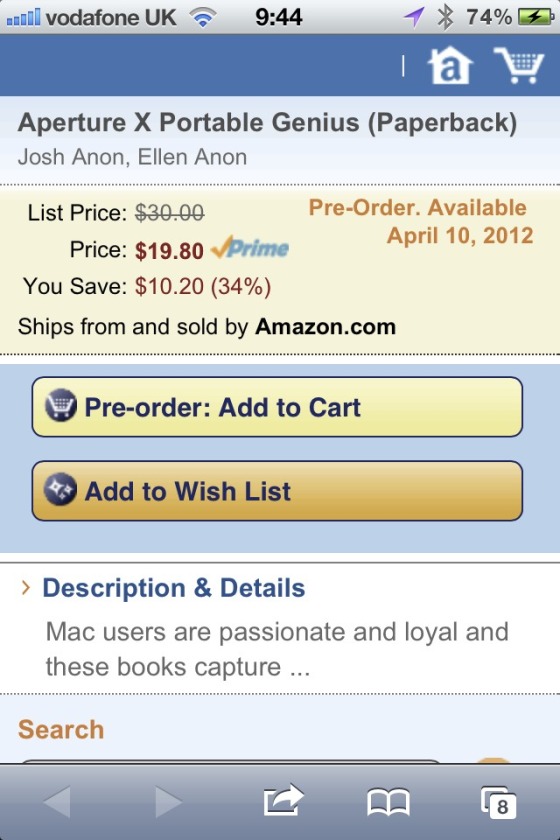 Could this be the first book on the next Aperture?
Of course, this could be for an iPad app that someone is releasing to complement Aperture. That whole "portable" thing in the name is a bit curious. Unless of course "portable" refers to the book itself. Oh it does (reading description). Hmm…
Or, it could be an intrepid author who's secured a release date for a book he's planning to write but hasn't started. Shoot I wish I'd thought of that… However this has a page count and is being published by Wiley. Double-hmm…
Whatever it may be, let's kick it off… what do you want to see in the next version of Aperture?
When we had this discussion prior to the Aperture 3 launch, I asked the same question, and got a handful of responses (from probably every reader on the site… hey, we were very new back then!). For a trip down memory lane, check out the wants and desires in the January 2010 post "What Do YOU Want in Aperture 3?" then hit me in the comments for what you want to see in the next release!
App:

Platform:

Author: