DPHOTO: A Viable Alternative to MobileMe?

With MobileMe Galleries in their death throws, many users are looking for an alternative. The topic comes up here every so often, and of course there are loads of different places to show off your photos, such as Flickr or Facebook or Smugmug, but none that seemed to offer the simplicity and elegance of MobileMe.
The creator of a service called DPHOTO.com, based in Australia, introduced his product to the forum. Intrigued, I asked him to give me a tour over Skype. I really liked what I saw, and wanted to share this with all of you.
They have an Aperture plugin, which is of course key to your workflow. You can create new galleries and set their descriptions and permissions, and upload as many photos at a time as you like.
Create new DPHOTO galleries from the Aperture plug-in
The ability to create private and password protected galleries is an important feature that MobileMe users have been looking for.
You can choose the photo size to upload from the Aperture list of export sizes, which means you can also make your own watermarked files to be uploaded. That said, DPHOTO is adding a watermark feature to the site in the near future as well.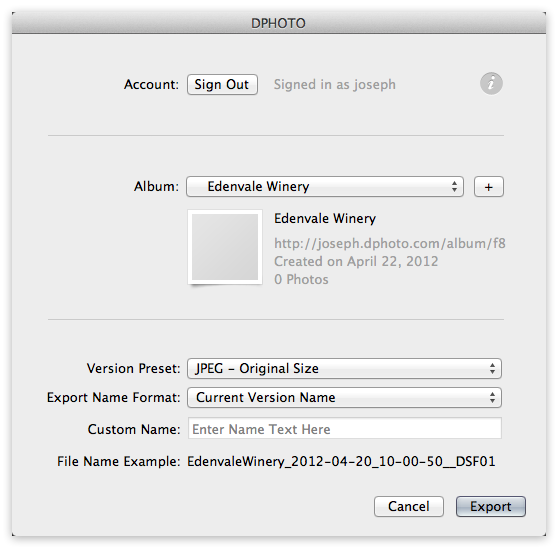 Choose your size and even rename on upload if you like
Once the photos are uploaded, you'll get a dialog in Aperture that will take you there, if you like.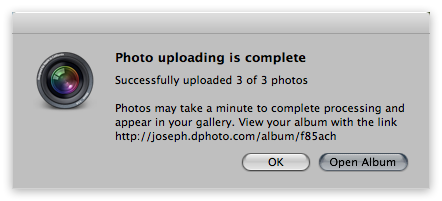 The plugin can take you directly to your new Album
The experience of getting your photos online is dead easy. Of course it's not as integrated as Flickr or Facebook or the defunct MobileMe, but that's not up to the developer.
But what really matters is… how do your photos look online?
The
DPHOTO

 Galleries

The look of these galleries is very, very clean. White background, auto-arranged tiles based on window size, and you can customize what data is shown under each photo (title, caption and keywords). There's a simple and clean slideshow view, as well as a really nice full-screen mode.
The gallery view is clean and pure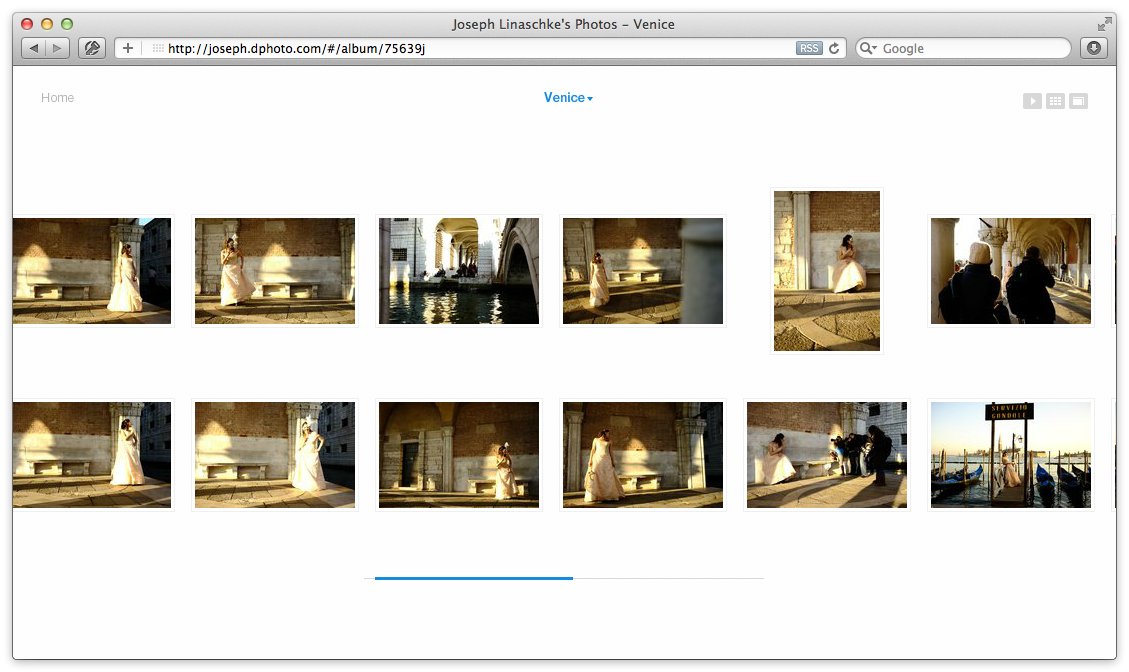 Viewing a gallery, the thumbnails drift by
You have total control over the background colors, you can create a custom domain, connect Facebook and Flickr accounts, allow or disallow sharing and even downloading and much, much more.
iPad
How your galleries look on mobile browsers is getting more and more important every day, and DPHOTO doesn't disappoint here. The galleries look great on the iPad, filling the browser screen and allowing you to swipe between them. I'd like to see the Safari browser bar go away completely, but I don't know if that's technically possible or not.
Sign Up
DPHOTO.com offers a 30-day free trial, and while they currently only have paid services, they are about to expand to include a free account. More customizability to the interface is coming in the not-too-distant future as well, as is watermarking, iOS and Android versions of the "Director" (that's the interface to control your galleries), and even a public API. They are also releasing a Lightroom plug-in, but we won't hold that against them ;-)
When you sign up, you get a URL that's yourname.dphoto.com so mine is nicely joseph.dphoto.com.
As it stands today, it's a great service, and the features coming will make it even more awesome!
App:

Platform:

Author: