Understanding the iPhoto 9.3 and Aperture 3.3 Unified Library
There has been some confusion in the comments and forum here about the meaning of the "Unified Library", one of Aperture 3.3's top new features. I believe the confusion is coming from, quite frankly, over-thinking this. It's quite straight forward, so I'll try to explain it here.
The following assumes you have one iPhoto library, as well as one Aperture library. If you have more than one, then you'll need to repeat for each Library. If you are only using one of the apps, then this post is largely irrelevant to you, although you may still find it interesting.
The way it was
The iPhoto Library and Aperture Library used to have nothing in common. If you decided to upgrade from iPhoto to Aperture, the process was tedious and fraught with problems. Plus, once you moved to Aperture, there was no way to go back to iPhoto. So, Apple set out to fix the whole process.
What happens when you upgrade to iPhoto 9.3
&

Aperture 3.3

Once you update your software (and OS if needed), the first time you launch iPhoto and/or Aperture, the application will tell you it needs to update your Library to work with this latest version. You click Upgrade, and off it goes. If you have a massive Library, this may take some time, but eventually the software will open with your newly updated library.
Aperture upgrade dialog to 3.3
iPhoto upgrade dialog to 9.3
Now you have iPhoto 9.3 running, and you're looking at the same photos you have always looked at in iPhoto.
And you have Aperture 3.3 running, and you're looking at the same photos you have always looked at in Aperture. Nothing has changed, as far as your images are concerned.
However behind the scenes, what has changed is the entire internal structure and format of the iPhoto library. The iPhoto library internal structure is now essentially identical to an Aperture library internal structure. Some changes were made to your Aperture library as well. Even the library icons from both applications are now the same. In fact the only way to tell the difference, other then opening the package (don't do that) is to check the file extension. The Aperture library has a file extension of .aplibrary, and the iPhoto library has no file extension at all (there's something in the package telling the system what to open it with). [correction: sometimes an iPhoto library will have the extension .photolibrary, but not always — not quite sure why that is]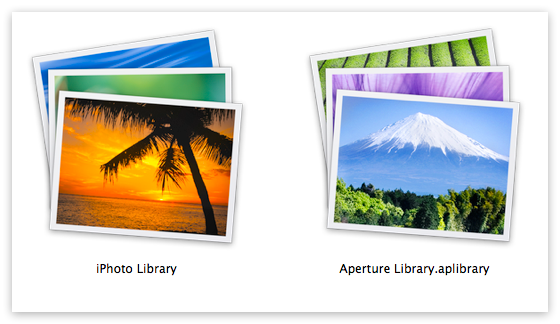 An iPhoto and an Aperture library, pre-upgrade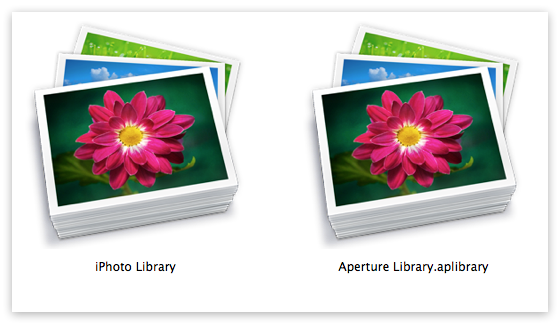 The same iPhoto and Aperture libraries, post-upgrade
The way it is
Now that the libraries are upgraded, there are a host of things you can do that you could never do before.
You can open your iPhoto library in Aperture, work on your photos, then open the library again in iPhoto.
You can open your Aperture library in iPhoto, work on your photos (or make cards, calendars, etc.) then open the library again in Aperture.
You can merge your iPhoto and Aperture libraries into one combined library (merging has to be done in Aperture).
You can merge any number of previous iPhoto and/or Aperture libraries.
Opening a Library in the other application
There are several ways to open an iPhoto library in Aperture, or an Aperture library in iPhoto.
Right-click on the Library and choose Open With > iPhoto or Aperture.
Drag and drop the Library icon on the Application icon.
While launching iPhoto or Aperture, hold down the Option key. This will open a Library chooser. Aperture's chooser will scan your hard drive and present every library it finds (sometimes it misses a library, so if you don't see the one you're looking for, just click Other Library…). iPhoto's chooser will just ask you to locate the library you want to open.
In iPhoto or Aperture, while it's running, you can go to the File menu and choose Switch to Library and navigate to the library you want to open.
Common questions /
FAQ
Here are some questions you might ask as you realize the implications of this…
Q: Will my referenced Aperture library work in iPhoto?

A:

YES

. Even though iPhoto doesn't allow you to create a referenced file system, a referenced Aperture library will read just fine in iPhoto. If you import any images while in iPhoto, they will import as Managed, because that's all iPhoto can do. However you can later relocate those files using Aperture, and still read them just fine in iPhoto.

Q: What happens to adjustments added in Aperture that aren't available in iPhoto, like Curves?

A: iPhoto will show the results of that effect (meaning, the effect is still applied), but you have no way to control it. You can add or alter other adjustments in iPhoto, and when you go back to Aperture, those adjustments — along with your original Curves adjustment — will all be available. If you revert your photo in iPhoto, then the Curves will be discarded.

Q: What happens to iPhoto projects, like Cards, that have no equivalent in Aperture?

A: If you create something like a card in a Library, then open that Library in Aperture, you'll see it listed in an "iPhoto Print Projects" collection. When you select it, you'll see a message that "iPhoto print projects can not be edited in Aperture… please open this library in iPhoto". So to edit it, you simply have to return to iPhoto.

Q: How do I choose which library I want to open, or where that library should live?

A: See the section above "opening a library in the other application" to see how to do that. As far as where the library lives, you can put it anywhere you like just by moving it in the Finder. The default location is your home Pictures folder, and unless you have good reason to move it, you may as well leave it there. But you can put it anywhere — even on an external hard drive (putting it on a

NAS

is not advised).

Q: Can I open a library in iPhoto and Aperture simultaneously?

No, and if you try to you will be told you need to quit the other application before you can continue.
Anything else?
If you still have questions, please post them in the comments here, and I'll update the FAQ as needed.
If you're in iPhoto and aren't sure what Library you're currently running, or where it lives, you can command-click on the word "iPhoto" in the title bar, and it will reveal the path to your Library, just like command-clicking on a window name will in the Finder.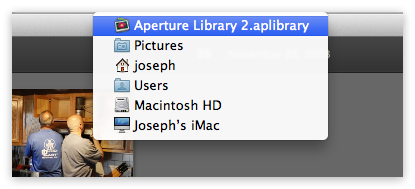 Command-click on the iPhoto title bar to see the path to your Library
App:

Platform:

Author: