Viewing Image Metadata in Photos and iOS 8
One of the features iPhoto for iOS users loved was the ability to see your image metadata — the exposure, date and time of capture, and if GPS data was embedded, where the photo was shot. This feature disappeared with iPhoto, and Photos for iOS doesn't (yet) have it. Fortunately at least two third parties have stepped in to fill the void, each taking two very different approaches.
Photo Investigator
Photo Investigator by Danny Anderson is a free app with two 99¢ in-app purchases available; one to remove ads, and another to give the ability to remove metadata from a photo (handy for privacy concerns when sharing on social media).
Photo Investigator's approach is quite clever. Instead of being a "Photo Extension" it's a "Share Extension", which allows you to view your image metadata from nearly any app. This allows you to get to it very quickly, from almost anywhere. Unfortunately it's not very pretty, but as you'll see, the developer is working on that.
Setup
Once installed, to set it up you can open any app with a share sheet, such as Photos, scroll to the side until you see the More button, and then enable it from there. Perhaps confusingly it's called Metadata in here, but that is quite literal, so there ya go.
You may want to drag it elsewhere in the list. This position seems to be unique to each app, so you may find yourself rearranging it several times.
Usage
To use it, open a photo, well, anywhere. Messages, Photos, even in Mail (tap-hold on an image in Mail to bring up the Share sheet), when you tap on the Share icon…
…and you'll see something like this…
As you can see, Metadata is an option there. Just tap to open, of course.
NOTE: There is a bug in iOS 8.0.2 where this icon appears blank in the Photos app, but is fine in others. This is a known bug and will hopefully be addressed soon. You can still see the title, so you know what you're tapping on, just not the icon.
Once tapped, it will reveal a fresh new window with lots of good info on your photo, including a map if the image had GPS data embedded.
As you can see, metadata abounds, and tapping on View Advanced Metadata will reveal even more info. A lot more info, in fact.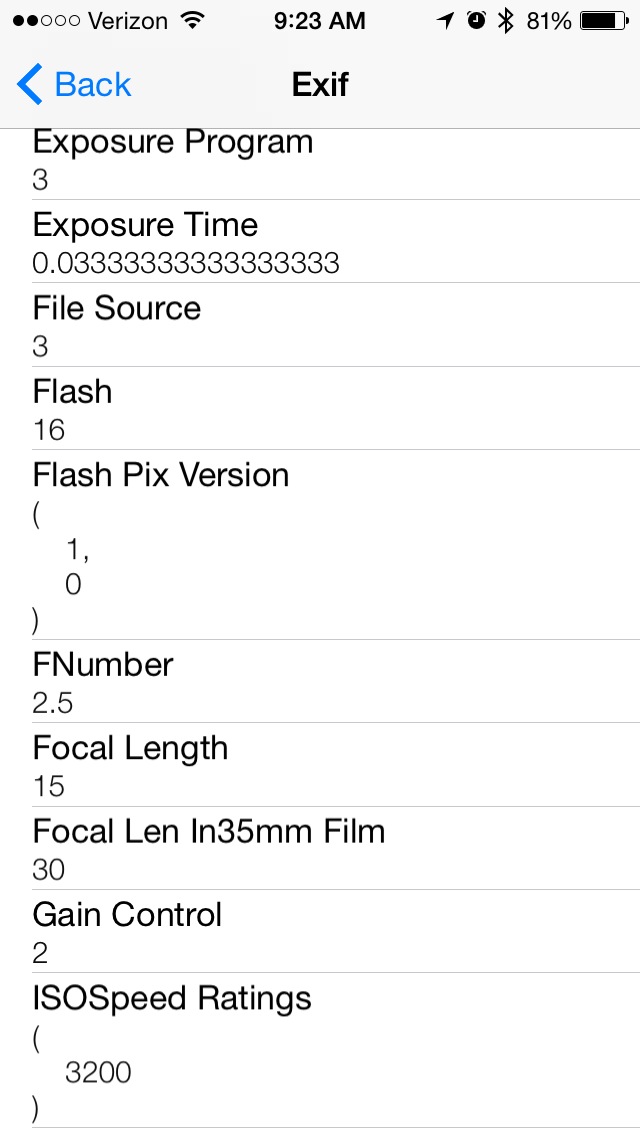 Pretty much every EXIF and IPTC field is in here. Or maybe ever field. I didn't count. But there's a lot.
Complaints
I'll preface this by saying that the app appears to be developed by a single individual, and that chap (Danny) has been great to chat with. I've been in touch with him since I discovered the app, and he's been very quick to address my concerns and promise updates in the very near future. Here are a few things that need to be better about the app, in no particular order, all of which he has acknowledged:
The metadata view is cramped and overly large, making text get clipped, and probably should adopt a more camera-like interface (remember how nice it looked in iPhoto?).
Misspellings, such as  "Aperature" instead of  "Aperture", and "Focal Len In35mm Film" which should probably read "Focal Length in 35mm equivalent" or "full frame equivalent".
Shutter speed illustrated as a decimal, not a fracation. Let's see… 0.03333 seconds, that's… 1 ÷ 0.03333 = 30, so that's 1/30th of a second. Easy math.
The interface for dismissing the "buy to get rid of ads" message makes you think you're dismissing, when you're actually saying "buy now!". Again he's promised to change the

UI

for the next release; I don't like misleading things. (You still have two chances to cancel the purchase, but I asked for it to be cleaner regardless).
Now on to another choice…
Metapho: Manage Photo Metadata
Metapho by Zininworks Inc. is also a free app with a $1.99 in-app purchase to unlock the ability to remove metadata. There are no ads to begin with in this app.
Metapho's approach is as a traditional photo extension, which means you have to go all the way into editing mode to view the metadata on a photo. That's a shame, because it also means if you have a photo in Photo Stream (iCloud) that's not local, you will have to duplicate it to get into the edit mode, even though you may just want to view metadata. The UI is definitely cleaner than in Investigator, although it also gave me grief loading the same image I used for the Investigator screenshots above.
Setup
Once installed, to activate this one you have to open an editable image (or duplicate one to make it editable), tap the edit button, then the more button to access your extensions, then scroll to the right and click more again, now adding your extension app.
Again, you can position it wherever you like in your list.
Usage
So as explained, edit the photo (duplicate first if needed) and tap the more icon (…) then open Metapho.
Once there, you'll see that the metadata looks much cleaner than before. But again getting here was more work, and you can only get there from the Photos app. It also doesn't show up in the Share sheet under the apps you can open a photo it in (i.e. Messages, Mail, Camera+, etc.), which surprised me.
Which one?
Even though I like the look of Metapho better, its usefulness is limited by where you can get to it. On the other hand, Investigator is executed very cleverly; it just needs to get prettier.
UPDATE: I realized after writing this that Investigator has both an iPad and iPhone version, whereas Metapho is iPhone only. Granted, an iPhone-size window opens on the iPad to show your metadata, so clearly that needs to improve, but it does work.
Since both are free to start, I'd suggest downloading both and seeing how they mature. One can never have too many apps, right? :-)
Level:

App:

Platform:

Author: