Should I Reprocess That RAW File?
December 2, 2014 - 12:00pm
The Reprocess Button
Aperture uses the RAW processing engine of OS X to render RAW camera files. Periodically, that engine is updated with a "Digital Camera RAW Compatibility Update" from Apple. The updates often bring RAW support for new cameras and sometimes also change the algorithms for existing cameras.
When the engine supporting an existing camera changes, you will see the Reprocess button in the Adjustments pane of the Inspector.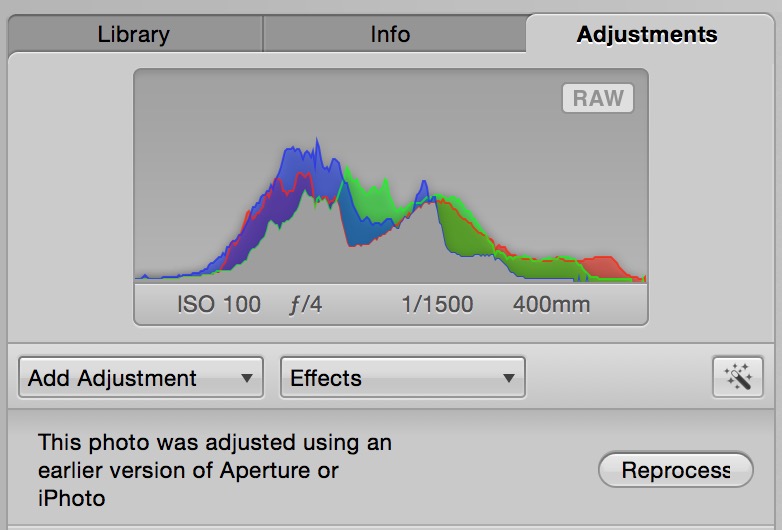 Reprocessing the image is easy—click the button. However, whether or not you should reprocess the image is a different question.
Should I Click The Reprocess Button?
As with many things in life the answer is… it depends. Generally speaking, updates to the processing algorithms correct problems and produce a better starting point for your image. For example, the processing engine for the Nikon D7000 is updated with OS X Yosemite and Aperture 3.6. Here's the image as rendered in Aperture 3.5.1:
And here again in Aperture 3.6:
The new processing engine is producing a much brighter image. The histogram is clearly shifted to the right. I actually like the softer, brighter treatment of the new processing. It feels more natural. 
However, reprocessing the RAW file can have some unpleasing consequences if you have already applied adjustments to your image. Observe; here's the adjusted image in Aperture 3.5.1: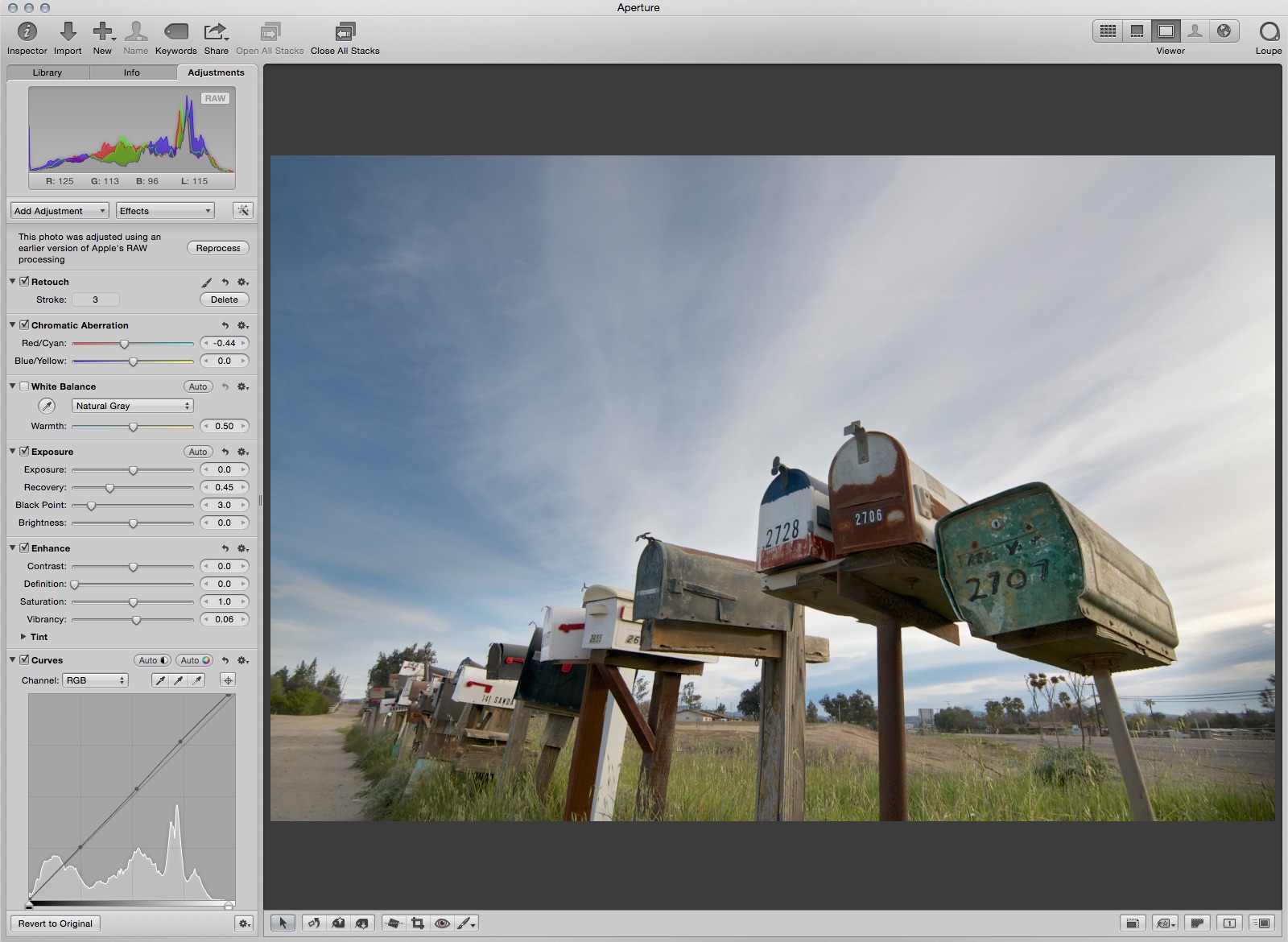 And the same photo, with the same adjustments, after reprocessing for Aperture 3.6: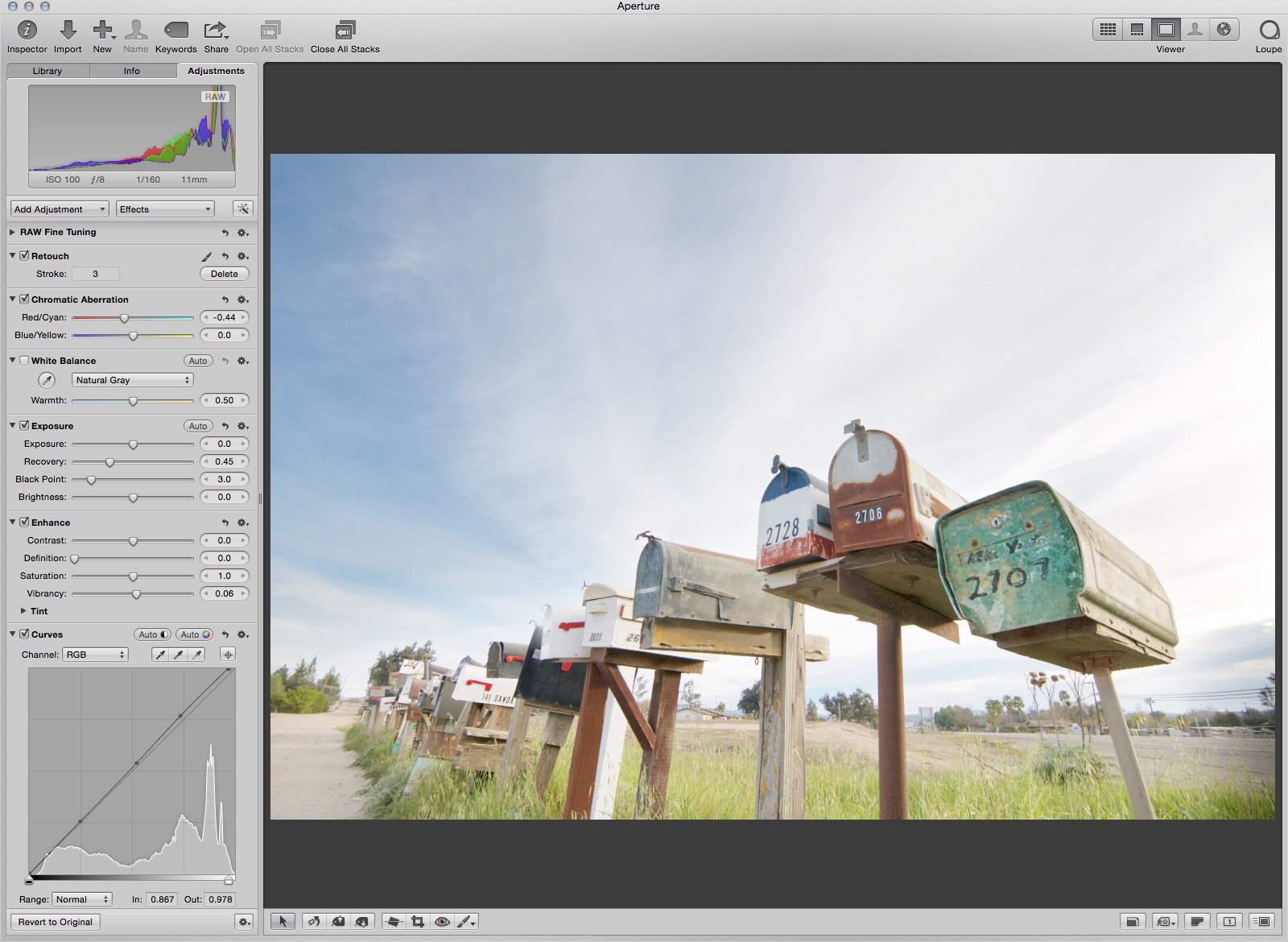 All I did here was click Reprocess. Highlights. Blown. Way less cool than Mind. Blown.
Why is this? If an older RAW engine rendered the image darker, you probably adjusted it with exposure, enhance, curves, etc. to get the tones the way you want. Clicking Reprocess may significantly change your photo and you might not be happy with the results.
Recommendations
Here's how it breaks down for me:
Reprocess an image if it has not been adjusted
Don't reprocess an image if you've already applied adjustments to your images. If you really, really want to see how Reprocess will affected your adjusted image, use Photos

 > 

Duplicate

 

Version. Duplicating a version will use the new processing engine and then apply your adjustments. If you don't like the results, delete the version.
Be extremely careful with Photos

 > 

Reprocess

 

Originals. I'll only bother to reprocess an image if I'm going to work on that image. If you feel compelled to reprocess images en masse, be safe and use a filter and limit your selection to only

RAW

files with no adjustments applied.

Then select the images and use Photos > Reprocess Originals.
Level:

App:

Platform:

Author: