Syncing Your Aperture Library via Dropbox

The timing on this article goes along nicely with Apple's WWDC announcements and suggested direction of a cloud-based library. 
EDITOR'S NOTE: The following post discusses how to do something that's frankly dangerous. You will read this disclaimer about a dozen more times throughout this post. If it works for you, it can be incredibly useful. If however you're not the exceptionally diligent time, you may want to give this a skip…
-Joseph @ApertureExpert
Have you ever considered using Dropbox to sync Aperture libraries, but been too afraid to put your precious library in harm's way to see how it works? No need any longer—just read below to learn more.
Although there are no other tips on this subject to date, I will start out by referencing a very relevant conversation here that took place in the Forums and has some great insights. The consensus there was that using Dropbox is more trouble than it's worth and could really screw up your library.
All of that may be true, but, as someone who has used Dropbox with my Aperture library for years, I can also say that it can be a valuable tool.
It is possible to mess up your library, so as a big disclaimer up front: this isn't a workflow that is recommended by either Apple or Dropbox. It works for me, and provides some solid benefits, but yours may vary, so be very careful.
Caveats: Look Before You Leap
Before you delve further into this article, I will start by stating the obvious: before you do this (or anything) with your Aperture library, be sure to back it up! You're likely making regular backups already. If not, there are plenty of resources on how to backup your library (here is a good place to start).
The fact of the matter is that you really can screw up your library if you aren't careful. On top of that, you will not find any Apple-designed safeguards to prevent it from happening, so keep that in mind before moving any further. If you backup regularly, then nothing should be irreparable, but either way: you've been warned.
Why bother?
After listing all those caveats, you may be asking yourself why I bother. Do the benefits really outweigh the potential heartburn?
That all depends on how you use Aperture as a tool. Personally, there are several factors that make use of Dropbox worthwhile to me. Those include:
Referenced masters
Multiple computers
One "main" computer for majority of work

"

Secondary" computers occasionally
My computers are on the same network
A library of referenced masters is very relevant here because a managed library will be a huge file, likely into the hundreds of gigabytes (or even larger) depending how much you shoot. Referenced libraries are generally small(er), as they only contain the the changes you have made to your images, rather than the images themselves. Larger libraries not only take longer to sync, but will cost more, given that Dropbox's cost tiers are linked to storage space.
If you use multiple computers, especially if you do the vast majority of your Aperture work on one machine, then this is likely useful. I am almost always using my laptop for my day-to-day Aperture work, but also like the option of using another machine for doing book layouts or other time-intensive projects, and I want all that work in the same place without taking many extra steps. Using the computers over the same network allows the changes to sync quickly via LAN rather than waiting hours over broadband.
Using this setup, I organize my library and sync those changes across computers. Even if images are offline, I can sort them into whatever organization scheme makes sense for me. I can also use large previews of offline images to layout books and do other work that doesn't require the originals to be online. Finally, I store my referenced files on an external hard drive, so it's easy to work with the referenced images from any machine (I just plug the external into whatever computer I'm using and the masters are immediately online).
That said, I'm not constantly going between machines. If you are, then this probably isn't the option for you, given that you are at greater risk for creating conflicts by accidentally simultaneously opening the same library on multiple Macs.
Making it Happen
The trick to using your Aperture library with Dropbox is that you never want both libraries open and syncing at the same time. If you do, the one will try to overwrite the other. Given that a library is actually a package file with many many smaller files, this will cause a headache… but isn't the end of the world.
In fact, like most stupid things, I've done it once, and the results aren't terrible. It took me about an hour to figure out the issue, grab a recent backup, then get back up and running. It was not ideal, but using Dropbox has saved me many hours of exporting and importing various projects, books, and changes between computers, so I consider an hour of recovery work a bargain.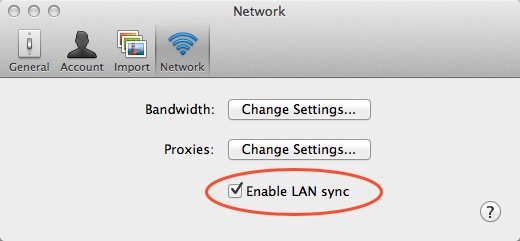 Given that I do not frequently open Aperture on my secondary computers, my risk for these mistakes is very low. This is particularly true given that my computers live on the same wireless network, using the LAN sync feature on Dropbox, which allows changes to be synced locally, many times faster than they would over broadband.
Some users have voiced a concern they may hit throughput limits on Dropbox by having it constantly syncing in the background whenever Aperture is open. I have never run into this issue. I always keep Dropbox running, and will edit my library, sometimes for hours on end. Never had an issue.
Wrapping up
One important point: for most users, you will need a paid Dropbox account to make this happen. So far, it's been worth the cost to me, especially given it also serves as a backup, but it is an expense I'm often weighing. I am also not trying to push one service over another: I'm sure many similar services would work as well, but cannot confirm it personally. That said, I've used Dropbox long enough to trust it: it's never botched my library.
What other methods are users employing to achieve the same results? Are you syncing your library some other way? Are there any readers who have experimented with other sync services (like SugarSync, or OmniPresence)? Are there any questions I didn't answer? Please let us know in the comments!
Level:

App:

Platform:

Author: