Geotagging App "GeoTagr" Updated for iOS 8; Embed GPS Without Duplicating Photo

February 2, 2015 - 12:00pm
GeoTagr has been my go-to app for geotagging non-iOS camera photos for quite a while. Until every camera has GPS built into it, this is going to continue to be a necessity for those of us that like to geotag our images. If you're new to the concept, here's basically what happens…
You start location logging in an app like GeoTagr, which records your

GPS

location every xx seconds as you go about your shooting day.
You then merge the

GPS

tracks generated on the phone with the photos generated by your camera, and automagically your photos have their precise location added to them. Cool!
Of course in practice it's a bit more involved than that, but that's the general gist of it.
With GeoTagr, you can use the app to tag photos on your computer, on a service like Dropbox, or even photos you've moved to your iOS device, which is where this update comes in. If you're using a card reader or transferring photos over wifi to your iPhone, for example, you can use the GeoTagr app to tag all those photos before you share them. In the past, due to iOS restrictions, that meant duplicating every photo on your phone or tablet. No big deal if you're tagging a few photos; a much bigger deal if you're tagging hundreds. 
What GeoTagr 4.5.1 brings
With the GeoTagr v.4.5.1 update, that's no longer the case. According to the developer…
"A GeoTagr update is available that leverages the new iOS 8 APIs to access and modify photos. It's no longer required (though still an option) for GeoTagr to create a duplicate for each geotagged photo. The original is tagged with the location without the need to touch the photo EXIF metadata. iOS stores the location info "outside" of the photo. It makes the whole geotagging process a lot smoother and faster."
This is really cool. Unfortunately though, until other apps update to utilize this new API, and (shockingly) until Apple fixes bugs (per the developer) in the Photos app itself, you can't take advantage of this new feature in most cases.
Reality is…
Once you tag your photos, the Photos app will recognize the location and show it on the map and show the location name above the photo. However, that's about where it ends. Even if you share, send, or open a photo in an Extension from Photos.app, the geodata is not present. Transfer to iCloud? Gone. Apparently the geodata lives in a "sidecar" file, which Photos.app itself reads, but then fails to embed as it moves the file along. D'oh! Until this is resolved, there's simply not much you can do with the sidecar-geotagged photo.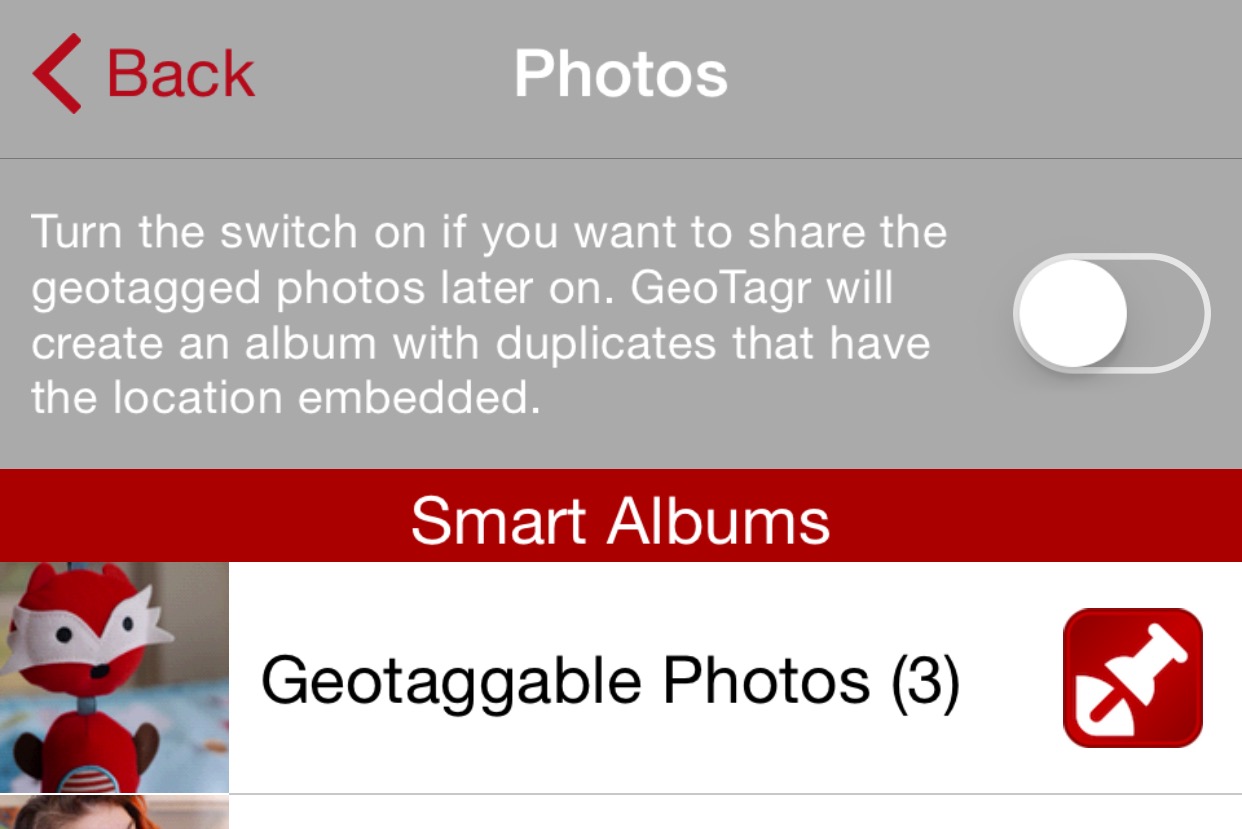 This applies to most third party apps as well. I haven't tested every app of course but I can confirm that Instagram isn't reading the sidecar data, either. Meaning, if you geotag your photos (and don't employ the workaround; see next paragraph) you won't see the correct location selection show up if you try to "Name This Location". If you upload the photo to Flickr form the iOS Flickr app, it doesn't carry the GPS data through. My favorite metadata reader Metapho shows no GPS data found. Clearly this is either very new API or no one else is paying attention to it — hopefully the former.
The author of GeoTagr has created his own metadata viewing app, PhotoMeta to address this. From there you can see the "sidecar" metadata and view the GPS info for that file, and see it on a map. So at least you know it's there.
There's another OS bug that I've been chasing, where E and W gets swapped depending on where you view the photo. This bug appears to be in both OS X and iOS. I'm compiling data and will submit to Apple, and perhaps even post here to get some more feedback, but if you open a photo you know is tagged with a US location and it shows on a map in the middle of China, that's what's happening.
The workaround
Specifically because of this iOS bug and 3rd party app delay, GeoTagr has a solution — to work as it always has, and duplicate the files. This is unfortunate as it puts as back where we started, but the difference is that at least now the geodata is there in the "sidecar" file for future use; at the moment though, it appears that GeoTagr is ahead of its time. I guess someone had to be first!
I'd actually love to see an update to PhotoMeta that combines the photo with the sidecar and sends the image to your app of choice; that'd be a fine workaround for now, and allow users to get the advantages of GeoTagr without having to duplicate every photo.
The rest of GeoTagr
I realize this sounds like a hu-hum update since you can't really utilize the tech, but it's a significant change in how photos are handled by iOS and third parties, and that makes it important. Other apps will eventually catch on, and so you'll be ahead of the game here. But don't forget that GeoTagr will add GPS data to photos on your hard drive as well. It's a pretty slick integration where you share a folder full of photos, GeoTagr sees it, and over wifi the GPS data is added. The app is definitely worth checking out if you don't already use it.
There are several apps that offer similar services. If you're geotagging your photos using an iOS app, which one did you choose, and why? Sound off in the comments below!
Level:

App:

Platform:

Author: