Share Photos to Messages from Lightroom in Just One Click

January 25, 2017 - 9:00pm
If you're a Mac user, one of the really cool features that you find throughout the operating system is the "share sheet" — a method to easily send just about anything from one app to another. But that cool macOS feature is missing in Lightroom, which means it takes several steps to, for example, send a photo via Messages to someone. 
If you're in macOS Photos, for example, all you have to do is select a photo, click on the share icon, and choose Messages. That's it. But in Lightroom, you have to export a photo, find the conversation (or start a new one) in Messages, drag that photo into that conversation, then remember to delete the exported photo lest it clutter up your hard drive. 
I noticed that in the Lightroom export dialog that the ​Post Processing option lets you open the image in an app once it's exported, and quickly realized that if you set that app to Messages, that it'd create a new message with that photo attached. So, part-way there, but this doesn't solve the problem of the leftover photo. Which led me to think about Automator. 
Use Automator to connect to Messages
With Automator, you don't even need to use the Post-Processing capability of Lightroom's export. You can create a folder with a Folder Action attached to it, and simply send your Lightroom photos there.
Here are the steps.
Launch Automator, and it will prompt you to create a new document and to choose a type. Select ​Folder Action.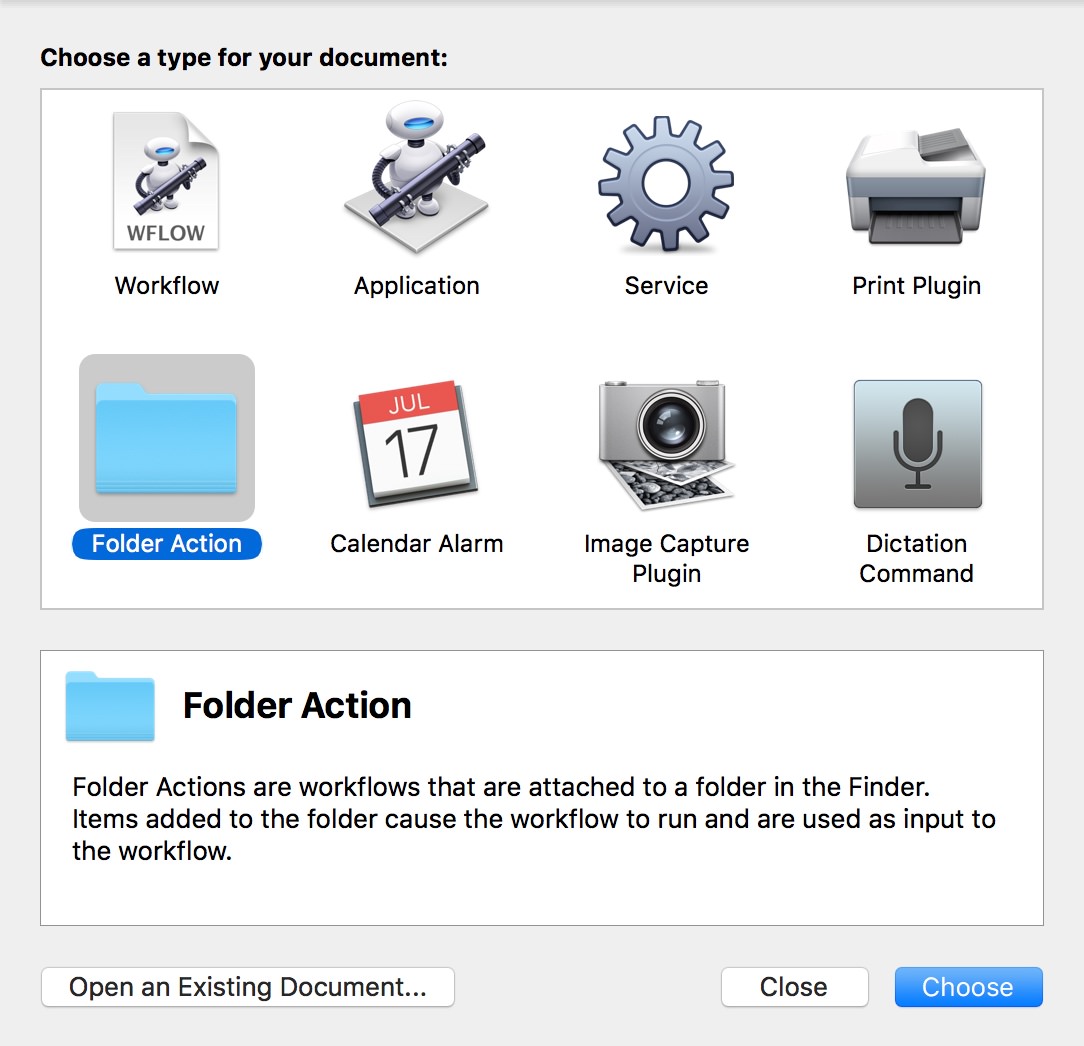 Then, create an action as follows:
Select a folder here (you'll likely be making a new folder) and call it something obvious like "Lightroom to Messages". I created mine in the ~/Documents folder. What you're doing is choosing which folder the action will be attached to.
Add the action Open Finder Items, and select to Open with the app Messages. This is the part that will create a new message with the image attached.
Add the action ​Move Finder Items to Trash. This moves the photo to the trash once it's been opened by Messages. And

FYI

even though it's in the trash, you can still send it as it's been "copied" to the Messages app.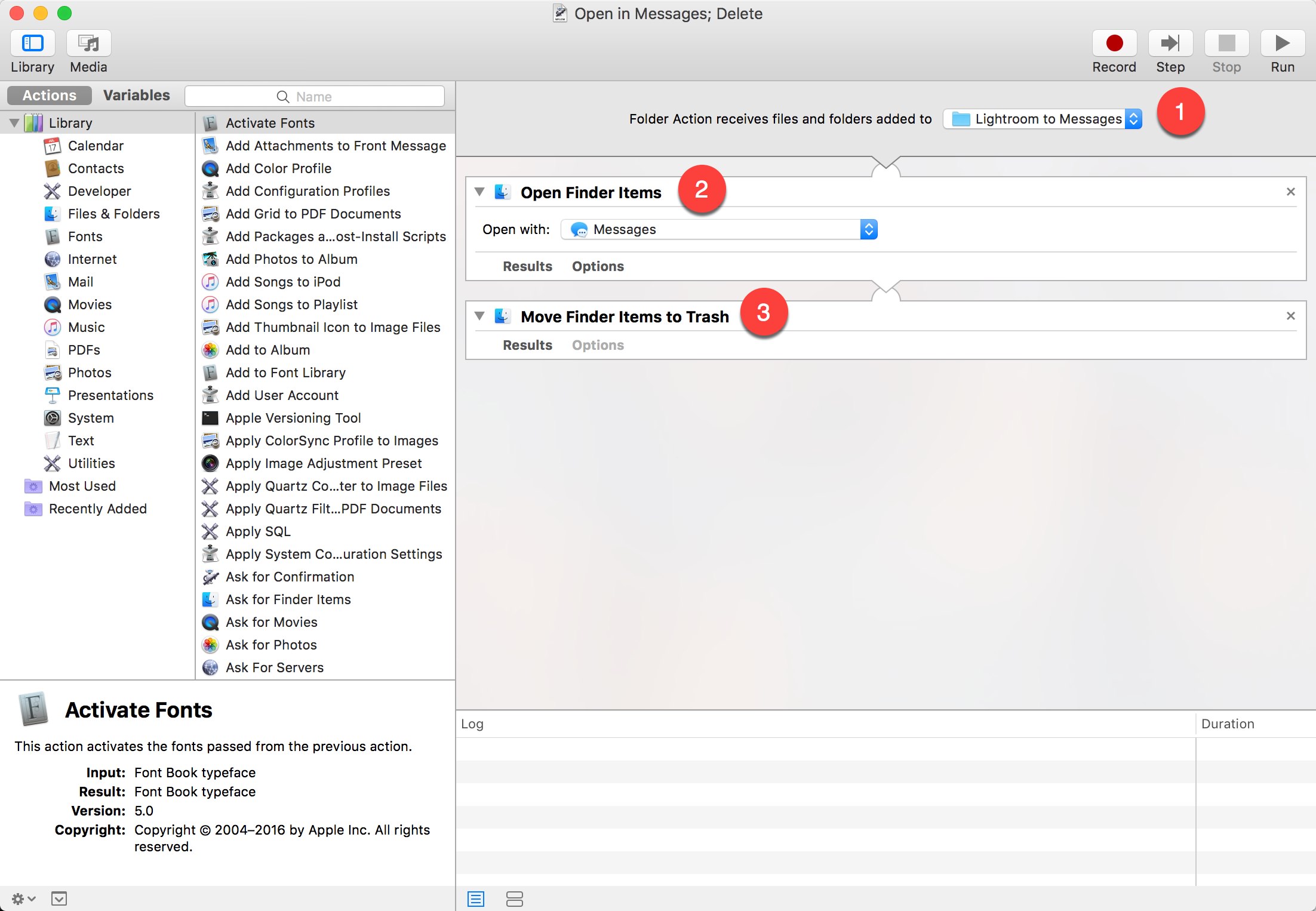 When you save the action, it will just ask you for a name and will be attached to that folder. 
Configure the Lightroom Export
Now all that's needed is to create an export preset that sends an image to that folder we just built. 
In Lightroom, go to the File > Export… menu, and…
Click Add to create a new preset and name it something like ​"Send via Messages".
Set the Export Location to the new folder you just created.
Set the File Settings to

JPEG

, and choose a Quality and Color Space. I chose 80 for the qualtiy, and a color space of sRGB is what you'll want for sharing.
Set Image Sizing however you'd like. I chose a Long Edge of 2048 because I know that iPads have a max resolution of 2048 pixels, and figure this way it'll look great on any portable screen. But you can of course choose any size you like here. 
Set Output Sharpening if you like. I set mine to Screen / Standard. 
For Post Processing, you don't have to set anything. The post-export activity is being handled by the Folder Action created earlier.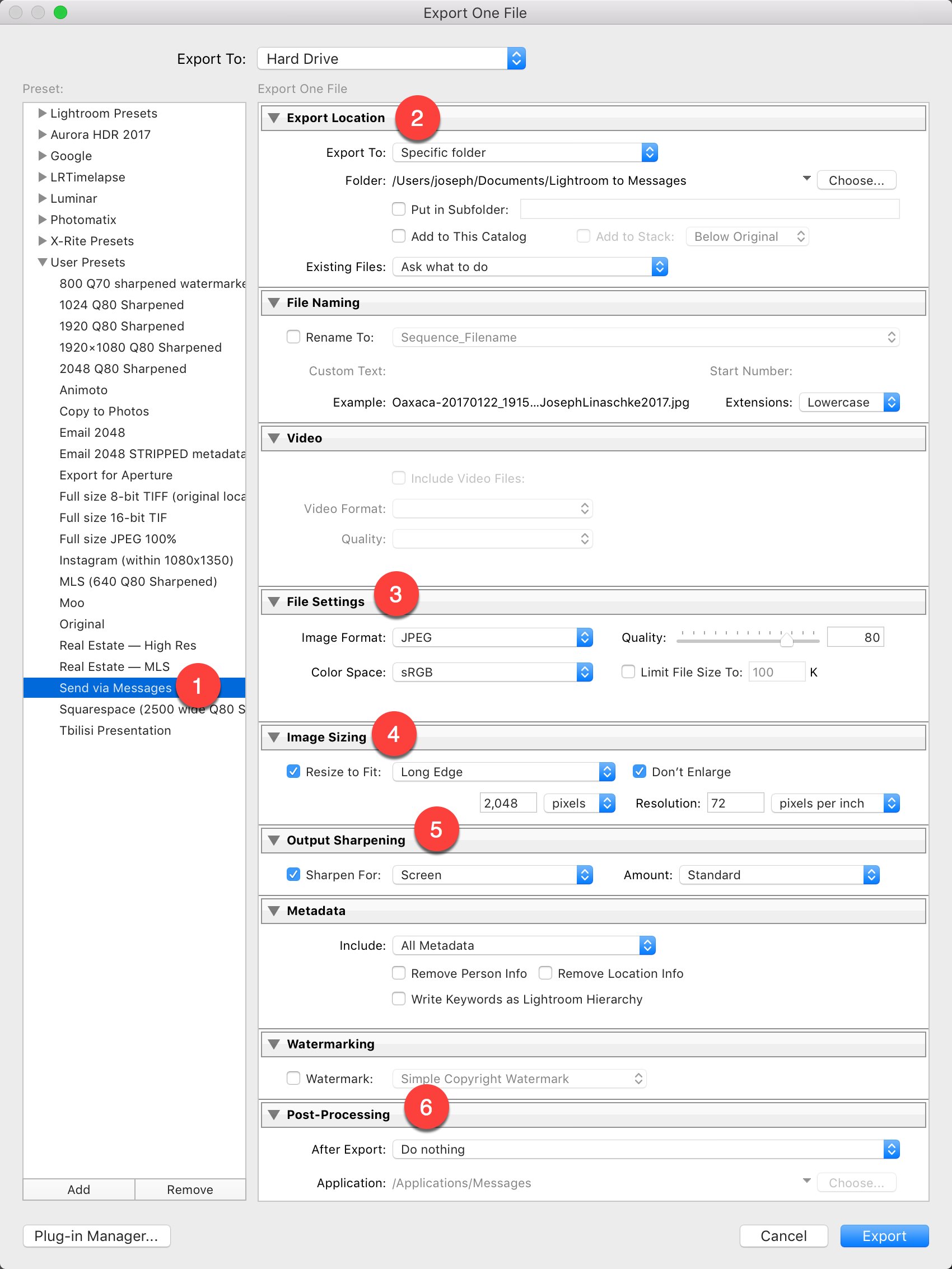 Very important step — don't forget to right-click on the preset you created, "Send via Messages", and to choose Update with Current Settings. Otherwise these changes you made won't be saved to the preset! You can Cancel out of this dialog now; the changes will be saved.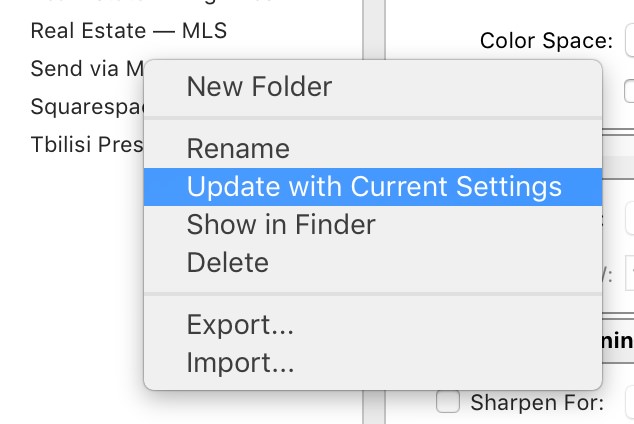 Time to share
Now, you're ready to share. Select any image (or images; this works with multiple as well), and choose File > Export > Send via Messages and within a few seconds, the Messages app will open with a new message created, and your photos attached! Just address it and go. And, the newly exported photos will already have been moved to the trash. Voilà!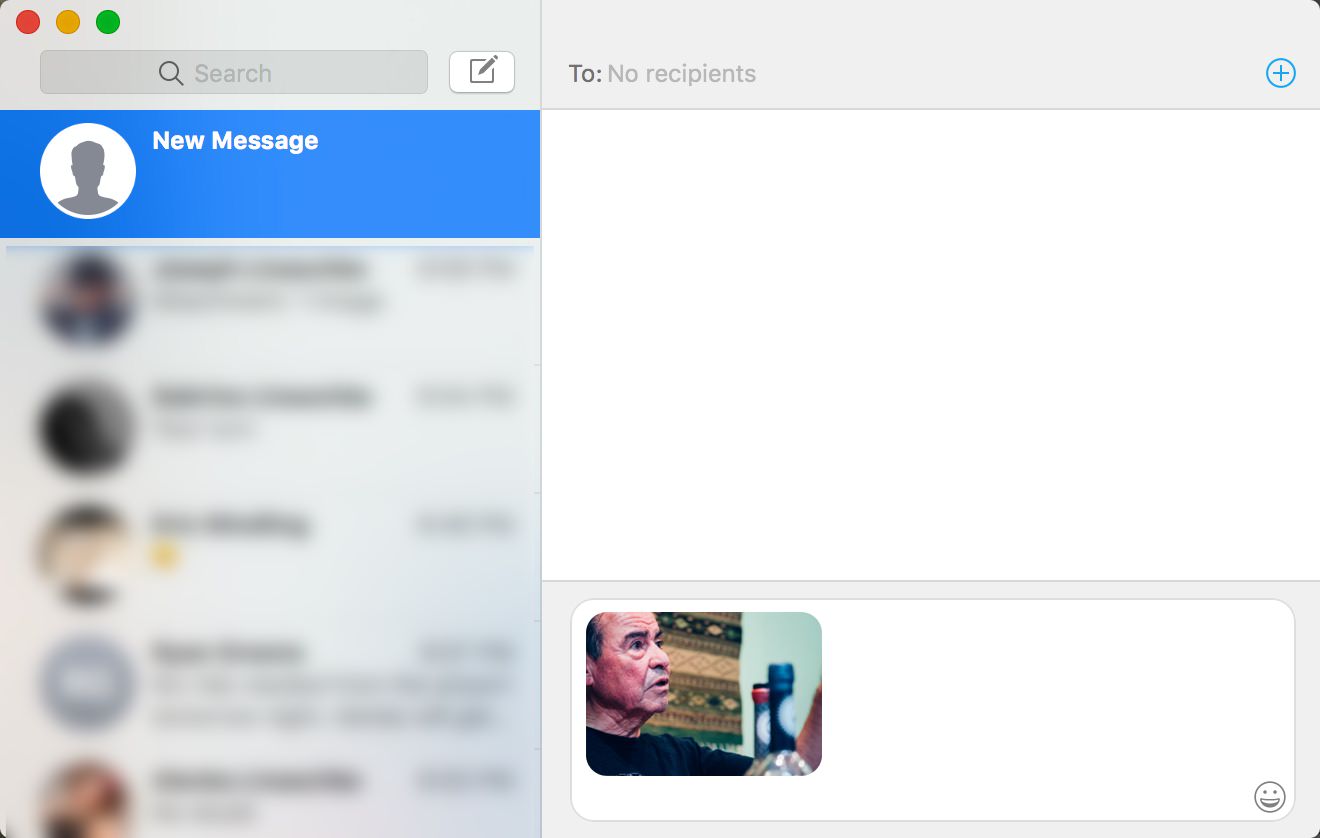 Have you come up with any other clever export presets for Lightroom?
Level:

App:

Platform:

Author: