Keeping Track of Files Emailed, Printed, Exported & More in Aperture 3
There's a clever new metadata set in Aperture 3 called Photo Usage that keeps track of files that have been emailed, exported, ordered as print, ordered via book, or printed. And where there's a metadata tag, there's the ability to search.
The new criteria appear to be not included in any of the default Metadata sets, so to view them you'll have to create a custom one. Open the Metadata tab, and from the drop-down list of metadata views, choose Edit…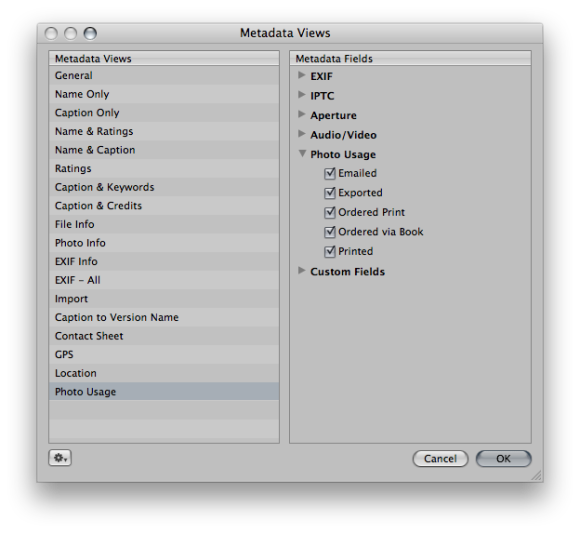 Create a new View from the gear menu, and on the right under Metadata Fields, toggle open Photo Usage. Toggle all of those on, then close the editor and select that new view in the Metadata tab.
Select an image and you'll see from here if it's been emailed, exported, ordered as a print or book, or printed by yourself. If a field is empty, i.e. "exported", just export the photo to your desktop and see the status change.
And as you might expect, if the metadata exists, then you can search by it. In fact in the search dialog, there's a matching new category, Photo Usage.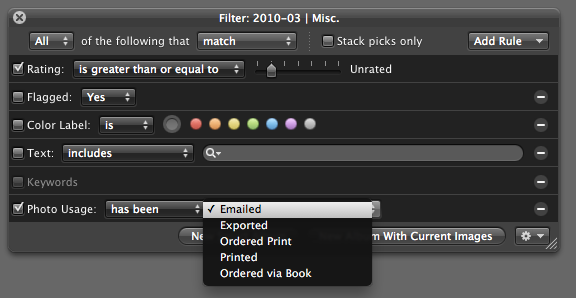 Which further means you can build Smart Albums using this criteria. Now you have an easy way in a client project to keep track of what you've emailed, exported, or printed for your client—or which images you've already built into books. 
Of course since this is a new field, anything emailed, printed, etc. in an Aperture 2 library that was upgraded to Aperture 3 won't have this info. But moving forward, Aperture will keep track, giving you one more powerful tool in your arsenal for data management.
App:

Platform:

Author: