Tethering Support in Aperture 3 Expanded in OS X 10.6.4 Update, Includes Canon EOS 1Ds Mk III and 5D Mk II (and more)

The title says it all… proper tethering support is finally here! No more Hot Folder actions, no more dropped connections (well at least that's the idea), no more rubbish Canon software, no more crashed Canon mid-shoot. It's fast and it works. I've just tested this with both the Canon EOS 1Ds Mark III and the 5D Mark II, and it's beautiful. Here we go.
Plug in That Canon!
First thing I did was launch Aperture 3 and plug in the 1Ds Mk III (with a USB cable). Previously, unless you had Canon's hideously unreliable software running, nothing much happened. I'm 99% sure that in Aperture nothing would pop open in the Import window, but I could be wrong there. Regardless, here's what you get now:
Look at that, Aperture knows what my camera is! Super sweet.
Start Tethering
Close the import window, create a new project, and fire up tethering. 

From the File menu, choose Tether > Start New Session… and that will open the Tether Settings dialog, with most of the same options you get when you import photos.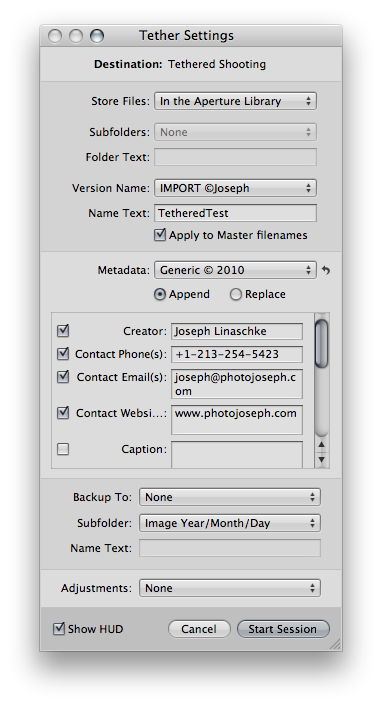 As you can see, you can choose where to store the files, renaming schemes, and metadata presets. You can even choose to backup your photos on capture to a remote location, and apply adjustments on the fly. The final option on the bottom there is Show HUD (Heads Up Display), which you'll want to leave on as that presents some nifty info about the files being captured, plus the ability to trigger the camera from the HUD (very cool in a studio product-shoot environment).
Once you click Start Session, the HUD appears.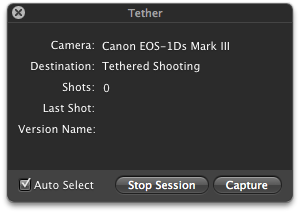 Notice on the HUD you have a single option, Auto Select. This means that as soon as the image is brought into Aperture, it will be selected in the Viewer. Fantastic option, so you can easily view your images large — or even in full screen — as they are captured. Great for client reviews, or simply for seeing your photos nice and big on your 27" iMac screen immediately after capture. Perfect for checking critical focus!
Start Shooting!
That's all there is to it. It takes longer for the camera to recognize that it's plugged into a computer and put itself in the right "mode" (the camera may be unresponsive for several seconds while it figures this out, and presumably negotiates a connection with the computer) than it does to fire up tethering and start shooting in Aperture.
Click the shutter, and within seconds, you'll see the picture loading in Aperture!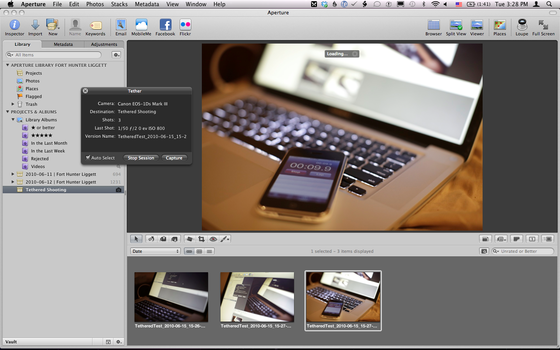 Naturally I wanted to test to see how long it is from shutter-click to viewing on screen. I plopped down the iPhone and started the stopwatch, firing a frame at 10 seconds on the clock to start my counter (looks like I jumped the gun… 09.9 seconds… d'oh!). On the first test, it took about 10 seconds. Seems long. BUT it got a lot faster. Interesting. More on that in a moment.
Testing Another Camera
The second body I have is the 5D Mk II, so I wanted to test that of course as well. Voilà, it works!

And of course, the HUD…
This is Curious…
As I plugged in the second camera (after disconnecting the first), the import window showed all the photos I'd just captured from the first camera as on the second camera!
And no, I didn't remove the CF card from the first camera and insert it into the second. In fact, at this point, the second camera (the 5D Mk II) didn't even have a CF card in it! So I inserted a card that already had some images on it, and it actually showed the photos on the card, AND the photos I'd already shot. And just for fun, I selected one of each image, and imported them… and it worked!
Very odd. No idea why Aperture thought those images were available for importing, or where it pulled them from, but it did. Anyway, it's irrelevant, as that's not part of the tethering process, but it's an interesting side effect. (Perhaps even a bug. Time will tell.)
And Then Things Got Faster
I said earlier it took about 10 seconds for the photo to be imported, and then of course a few more seconds for Aperture to process the RAW file and draw it to screen. When I switched to the 5D Mk II, that time went down dramatically… in fact it was probably around five seconds, and then it dropped to about two seconds! Considering both cameras are the same 21 Megapixel resolution, I was very surprised at the speed difference. So much so that I plugged the 1Ds Mk III back in.
And guess what… speed was improved there, too! No idea what was holding things up initially, but now I'm seeing transfer times of about 2-3 seconds. And it didn't choke up on firing a sequence of three or four shots, either. I don't know how far I can push it, but from what I saw, Aperture handled a slew of images coming in just beautifully.
Happy Days
I'm very very happy to see this addition to Aperture—and in fact, it's an addition to the OS, not Aperture, since it arrived with the 10.6.4 update—which means it could be useful in other applications as well.
No more Canon EOS Utility (ahh, I just removed it from my dock!), and no more Aperture Hot Folder (at least not for wired tethered… for wireless tethered, it'll still be needed). Happy happy days!
What About Other Cameras?
Unfortunately the OS X 10.6.4 Update page doesn't list what cameras are now supported, except to say:
Fixes and improvements for Aperture 3
adds tethered shooting support for additional digital camera models
addresses

IPTC

metadata compatibility issues
So if you have another camera that hasn't been supported in the past, check it out and let us know in the comments if yours works or not!
App:

Platform:

Author: