Aperture 3 Vaults; What's Backed Up, and What Isn't?

A user recently asked:
I am realizing that Referenced images are the way to go for my RAW wedding workflow. I don't know much about Vault. Is this something I use even if my images are Referenced or is this just for Managed images?
Great question. The Vault can be very useful, but as most users already know, if you're working referenced, then the Vault doesn't back up your photos. So what good is it?
Turns out, quite a bit.
First Thing's First… What's a Vault?
The Vault is Aperture's own built-in backup system. Once configured, it will back up your library with a single click. This can be in addition to any other backup system you may have, such as Time Machine or a cloud backup system like Backblaze. And you can have as many Vaults as you like, on as many hard drives as you like.
What Does It Back Up?
The Vault will backup everything that's in your Aperture Library—meaning literally everything in that Library package sitting in your Pictures folder (or wherever it may be). This also means that it will NOT backup anything that's NOT in this package. So if you're working Referenced, then the master files will NOT be backed up.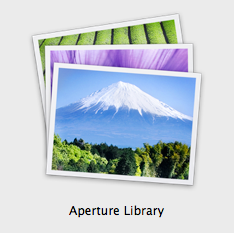 So what's left besides the Master files? Lots of things… 
Preview

JPEG

s and Thumbnails
Metadata (

IPTC

; the

EXIF

is stored in the

RAW

file, but likely also stored in the Library)
Projects, Albums, Smart Albums, etc. — i.e. your entire file organization
Books, Light Tables, Slide Shows, Web Journals and Pages — really, everything you can make in Aperture
Huh? Managed? Referenced? What?
Oh sorry… OK if you're not familiar with the difference, the easy explanation is that Managed means Aperture is literally managing your Master files for you, which means the actual files that came off of your camera are stored inside the Aperture Library package (that icon up above). Referenced means that Aperture literally references your master files, linking to them from wherever you like. Another hard drive, multiple hard drives, whatever you like.
For a seriously in-depth look at the differences and advantages of each, I encourage you to check out my eBook, "10 Tips on File Management in Aperture 3".
To Vault or Not to Vault
If you're working Managed, it's a no-brainer. Even with other backup systems in place, it's reassuring to know that quite possibly the most treasured things you have on your computer (your photos!) are backed up more than once. It's easy, so just do it. Yes you'll need an additional hard drive to store the Vault on, but that's a small price to pay for another copy of all of your photos.
Even if you're working Referenced, it's still a Good Idea™. Imagine if you lost the entire contents of your primary hard drive, but your photos were on external drives, so they're OK. Great, you still have all your photos… but years of organization, edits, and more will be gone. So unless the idea of starting over with a pile of 20,000 photos sounds like a nice way to spend your summer, go ahead and run that Vault. It could save you a headache or two down the road.
Setting Up a Vault
It's very easy to set up the Vault, but unfortunately you still have to remember to run it every once in a while. Hopefully one day we'll have an automated option, or at least a reminder "hey you haven't updated your Vault in a few days, can I do that for you? [yes] [no]" but for now you have to remember to trigger it on your own. Here's how to set it up, and run it.
In the bottom left corner of the Aperture window, you'll see it says Vault. To the right of that is a little box with a triangle in it—click that to open the Vault drawer.
From there, click on the gear menu and choose Add Vault.
This will create a new Vault for you, but before it asks where to put it, it's going to tell you what is — and more importantly, what isn't — going to be backed up.
As you can see above, for this small library, it's telling me that there are 20 managed photos that will be backed up, but also 1,925 referenced photos that will not be backed up. This is quite important; do be sure to read the fine print so you know exactly what's being backed up!
Once you hit Continue, you can choose a location for the Vault. In this demo I've left it on the Desktop, but clearly you want this to be on an external hard drive.
Now if you look at that Vault area in the bottom left corner of the Aperture window, you'll see the Vault you just created. Toggle open the expand triangle, and it shows you the location of that Vault—handy if you decide to keep multiple Vaults (see next section).

Once you've created the Vault, you are NOT yet backed up! You still need to actually run the backup, and to do that, simply click on the little red arrowed-circle (the "Vault Status Button") to kick off the first update. It'll take a while to backup the first time, but subsequent backups will be much faster.

Once the backup is complete, the Vault Status Button will go black, showing that everything is backed up.
As soon as you change anything on an image (update the metadata, rating, etc. or make and adjustment), the Vault Status Button will change to yellow, showing that you should run the backup again.
And if you're working managed and add any files to the library, it will change to red, indicating that it's really important to back up again soon!
And again, to backup the Vault, simply click the Vault Status Button again and it'll kick off a backup.
Multiple Vault Strategies
Does it make sense to have multiple Vaults? Sure thing! You can have more than one vault in multiple locations. We have a saying in this industry that if it doesn't exist in three places, it doesn't exist. You should have your original copy (of anything), a local backup, and a remote backup. So why not do the same with your Vaults?
Get two high-capacity USB hard drives (these don't have to be fast Firewire drives, you're not running anything off of these). A quick look on Amazon shows several sub-$100 1 TB USB hard drives
 — that's a small price to pay for backup! Set up a Vault on each one of these, and rotate them between your current location and an offsite location. If you're super paranoid, you'd follow a routine like this: 
Add a Vault to each drive, and run them both so both are current.
Move Drive_1 to an external location, such as a friend's house, a safety deposit box, or some other remote location. The farther the better. Consider that if your house burns down, your neighbor's house might go with it, so storing your remote backup there isn't the best idea. If you live in California and the big one hits, anywhere in this state may not be considered safe. Depending on your level of concern, you may want that offsite location to be really far offsite.
At some point in the near future (week, month, etc., depending on how much you use Aperture), run the Vault again on Drive_2, bringing it up-to-date.
Take Drive_2 to the location where Drive_1 is located, and swap them out. Bring Drive_1 back to your home/studio. Never have both backups (Drive_1 and Drive_2) in your home/studio (where the original is located) at the same time. Or that'll be when disaster strikes. That's how Murphy works.
Repeat from step 3.
Cloud backup is a whole other discussion, and can apply to Vaults if you add that drive to your cloud system. That's a great backup, but of course keeping copies that you can easily access is never a bad idea!
Level:

App:

Platform:

Author: