Traveling with Aperture 3: Managing Your Library

For those with multiple Macs, i.e. a desktop and a laptop, it's quite likely that your primary library is on the desktop, and the laptop is used while on the road and for smaller, more temporary libraries. Personally I have an iMac in the studio which is my main system, and while I do have a MacBook Air, it's getting on in years (it was never meant to be a big Aperture machine) and I've largely stopped traveling with it. Plus the iPad mini retina has become my laptop replacement for a lot of my mobile work, photo editing included. Needless to say though there are times where you need bigger hardware, and this trip was one of those. I was fortunate enough to be able to borrow a MacBook Pro Retina 15ʺ for this journey, so I enjoyed the full power of desktop processing from my Airbnb apartment in Hong Kong. Pretty sweet, I must say.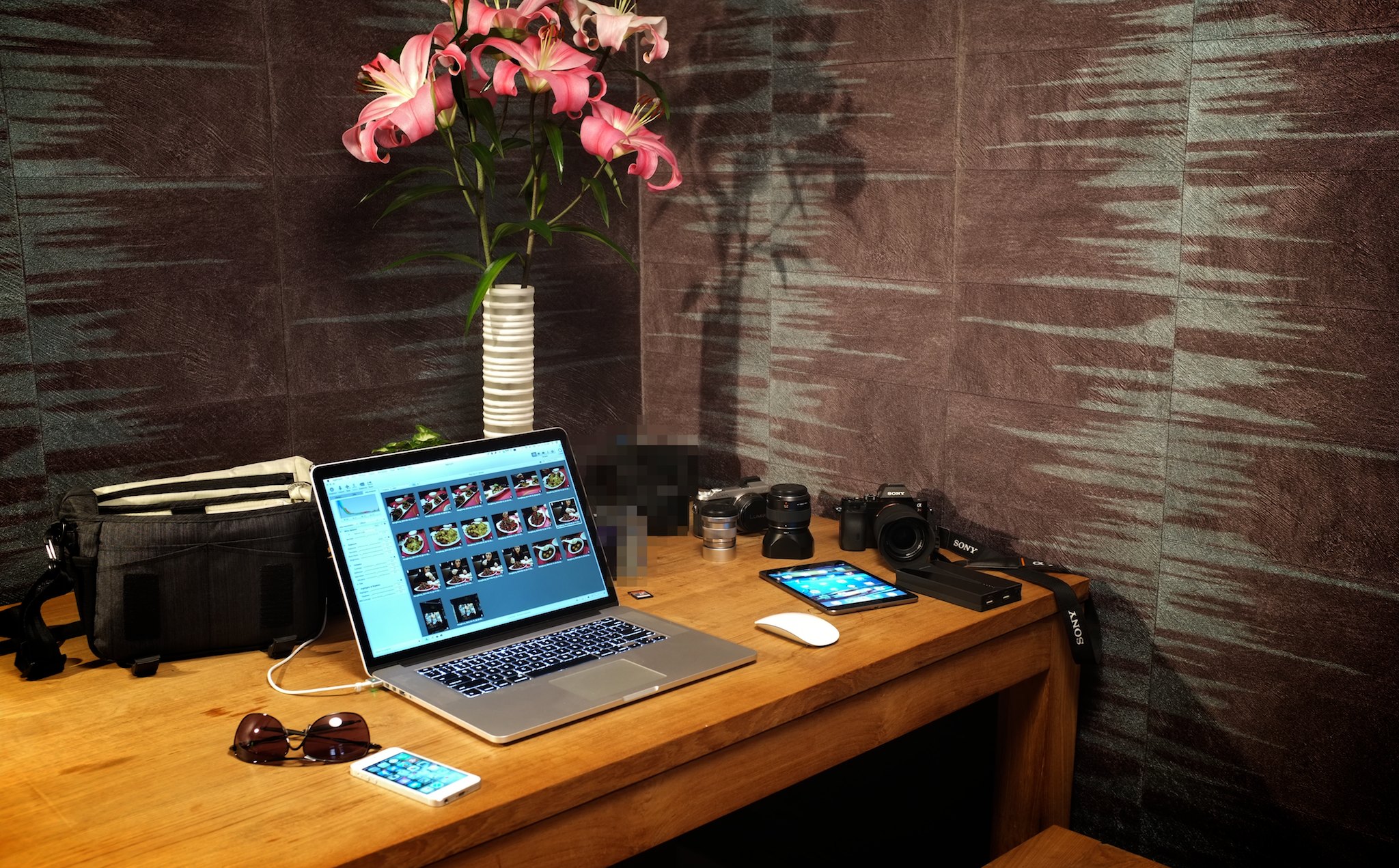 Managed vs Referenced
Of course you have two choices when working with Aperture on where your Originals (the files that come off the camera) will be stored; Managed (inside the Aperture library) or Referenced (outside of the library, usually on an external hard drive). In the studio I run referenced (with over 4TB of Originals on an external RAID), but when traveling I find it easier to run Managed. Unless I'm planning to shoot beyond the capacity of my internal drive, I'd rather stay Managed and keep it simple. If I'm going to employ an external drive in this workflow, I'd rather use it as a backup destination, so I don't have to have it connected to do any work. Plus, keeping managed makes it easier to migrate to my iMac later on.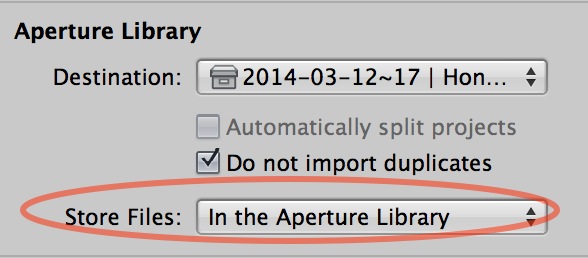 Back up to external drive on import
When importing in Aperture, one of the features you have is a backup option. You can choose to have your Originals copied from the memory card to a second destination, and you can even choose to have them organized in whatever folder structure you like, just like when importing referenced. When I use this system, I typically have them sorted into subfolders based on the Project name. That way if the worst were to happen and I lost my Aperture library, at least when I went to reimport the backed up Originals, they would already be organized into projects. For the record, I've never once needed to do this though, knock wood!
Leave the images on your memory card
I also prefer to leave my images on the memory cards while traveling, and only delete if I absolutely need to free up space. Frankly I'd rather buy more cards if it came to that. To see how I know where I left off, see the previous tip, "Traveling with Aperture 3: Importing New Images Only".
Create a Vault in a DropBox folder
Here's a great way to have a dedicated backup for your Aperture library. You may already be using Backblaze or another online backup making this is unnecessary, but I do like having Vaults for these little projects. Easy to recover if necessary. Also in my case, I was using a loaner MacBook Pro, so it wasn't on my Backblaze backup anyway.
So, I created a Vault which I updated after every import (since it's a managed library, the Vault contains all the Originals), and let that just sync over Dropbox in it's own sweet time. My connection wasn't great unfortunately, but I still was able to have my Vault synced to my Dropbox every night.
Make a new Metadata preset with location and job info
Why not duplicate your primary Metadata preset (that's the one with your copyright info in it), and add in the client, location, job #, whatever you need. That way you know every shot imported on this job will have all the relevant info!
Step by step import
OK here's a step-by-step of the import process.
You fired black frames after your last import, so now it's easy to identify where you left off.
Click on the first new image, then shift-click on the last new image, selecting all new photos.
Reverse the selection by tapping Command-R, now selecting all

OLD

images (yes you could just select the first photo on the card, and then shift-click on the last black image, but I find my way quicker). Click on the checkbox on one of the images you don't want to import, deselecting all of them.
Ensure your Metadata preset is set to your custom one for the trip. (This will be sticky and remain selected between imports).
(out of view) Select your backup destination, if you're doing that. (Also sticky)
Create an album that matches the import you're doing. As you can see below, I created an album for all of a day, then broke that into details as necessary.
Once you get this set up, the actual import kick-off takes mere seconds.
Merging the travel Library with the main Library
Finally, once home, you need to merge this travel library with your main one. Here's the steps I go through to do this as quickly as possible.
Copy the library from the MacBook Pro to the iMac over the network. You could copy it to an external hard drive, then plug that drive into the desktop as well if that's more convenient or faster.
Relocate Originals on the temporary drive into my

RAID

. I do this before the import because it has to happen eventually, and if I do it after, then I'll be copying the files more times than necessary, wasting time.
Open the main Library, and go File > Import > Library… and select my mobile library. For me this can take a very long time (too long, frankly… it's because my main library is so big, and I'm hoping this gets sped up in a future release), so I'll do it before leaving for the night.
If necessary, move the traveling Project(s) into their correct folder in my main Aperture library.
What's your routine?
That's how I work… how about you? Do you have any other steps, or shortcuts, for your mobile-to-desktop Aperture workflow? 
Level:

App:

Platform:

Author: