Aperture Has Tabs—Easily Compare Projects
September 8, 2010 - 3:29am
We're all familiar with tabs in Safari and Firefox, but did you know that Aperture has tabs, too?
You can not only have stacked tabs, but even better, open two tabs side-by-side. All it takes is an option-click.
Here's a series of commands and results:
Side by Side Tabs
Select a Project. Option-click a second project. You'll see this:
Option-Click to open two projects in two tabs side-by-side. (click to view screenshot larger)
Once those two tabs are open, you can click in either window to make that "in focus", then select any other project, and it will load into that tab. Close the tab with the (x) in the tab itself. Also notice that the two tabs can show the thumbnails in different sizes.
Stacked Tabs
Select a Project. Command-Option Click a second (and third… and fourth…) project. You'll see this:

Command-Option-click to open stacked tabs (as many as you like). (click to view screenshot larger)
Some More Tips…
Do both of the above, and get two side by side windows, each with multiple tabs in them, like this:

Multiple tabs in multiple tab-windows. (click to view screenshot larger)
And yes, you can switch to the Split View, so you're seeing both the Browser(s) and single Viewer. Whatever image(s) is/are selected in a single tab will show in the Viewer (you can't view two images from two different tabs side-by-side though).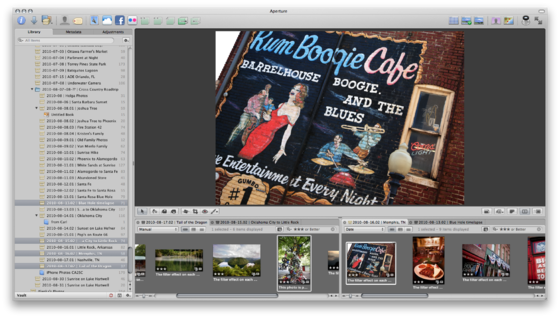 Multiple tabs and Viewer all together. (click to view screenshot larger)
In any view, if you double-click a thumbnail, it'll open to full-size Viewer, then double-click it again to return to the previous view.
You can rearrnage the tabs, too. Click and drag them around, just like in Safari.
What's the Point?
So when would you use this? Any time you want to compare projects, of course. But I've also used in the past several times is while building a smart album. Say you build a Smart Album to show only three star images with a specific keyword added, and you want to keep track of how many images get that treatment as you go (maybe you have to deliver exactly 10 images to your client and this is your process of narrowing the selection down). Open the Smart Album in one tab, and your Project in the other, and as you alter the images in the Project, the instant they match the criteria of the open Smart Album, they will appear in that tab.
How else could you see using this feature?
App:

Platform:

Author: