Don't Forget to Write IPTC Metadata to Masters

When using Aperture to manage your photos, your IPTC metadata is NOT in the master image file unless you have, at some point, told Aperture to Write IPTC Metadata to Master.
In my experience, many users are not aware of this. They have put a lot of time and energy into adding this information to images in their Aperture library and are shocked to realize it's not in the file info of their images.
Apple made the decision in early versions of Aperture to maintain a completely non-destructive workflow. This means they didn't want Aperture to alter the original camera-generated image file in any way and this included adding IPTC metadata.
However, many photographers believe in creating an archive that's as forward compatible as possible. No one knows what the future holds when it comes to digital asset management. Sometimes we just want to look at a folder full of images and see what's there without importing into Aperture. Sometimes we want to do a Spotlight search and look at images in the finder with Quick Look. Or, maybe we want to open it in an image browser and email it out without having to go to Aperture.
For me, these are rare instances, but I still want my images to contain IPTC metadata. While I appreciate the idea that master image files are best kept in their pristine condition, I think the risk is low enough and the reward high enough to proceed with adding IPTC metadata. In all my years of handling digital image files with a variety of software, I have never had IPTC metadata corrupt an image. I'm not saying it couldn't happen. I'm saying I'm willing to suffer the consequences of that happening for the trade off of having all my files contain this very valuable data.
First off, I have to say I do not like how Aperture handles this task. It's needlessly slow when a lot of files are involved. I don't like that it's something I have to do after the import and it's something I have to remember to do. I would like for it be an option on import. Granted, this would slow down the import process dramatically, it would still be something I would use for certain imports. I don't like that it doesn't do this task in the background. You can't do anything in Aperture until the task is complete.
Writing
IPTC

 Metadata to Masters is Easy to do
Select the images you want to write

IPTC

metadata to. I recommend selecting a ton of images and then starting before going to bed.
Under the Metadata top menu select "Write

IPTC

Metadata to Master…".


This is where you tell Aperture to Write IPTC Metadata to Master

If you don't want this window to appear every time, click the box

A progress bar will appear and you are now done working Aperture until it's completed.


It's slow

When it's done you may or not see an error warning. If you have video files, these will show up in the error queue. Don't worry about it. Video files handle metadata differently.

 
TIP: When it's done, there's no way to know by looking at the file in the finder that it has IPTC metadata or not. You will need to open the files up in an app like Preview, Photoshop, Bridge, Photo Mechanic or anything else that can view the IPTC. For this reason, you might think about color coding these image files so you know that they have metadata.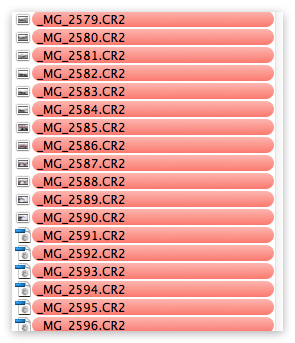 If want, you can color code the files to remind yourself they have the IPTC metadata written. You should also do something in Aperture to remind yourself.
This is your "spring cleaning" tip #11
This really should have gone in with the ten tips we recently posted on cleaning up your Aperture library. Can you think of anything else that people should do?
App:

Platform:

Author: