Cloud Backup; Backblaze in the Real World

Most of you know by now I'm a big fan of cloud backup, and specifically Backblaze — and in full disclosure I do not take any advertising or promotional revenue from them, however I do often post my affiliate link. The only bill I'm paying with that is maybe dinner once a month, so I'm not making a living suggesting you use this service. I'm suggesting it because it rocks.
That said, a lot of users say "sounds good but I don't have the bandwidth to use it for my photo files". Hogwash. And here's why, proven by simple math.
File transfer speeds
Let's say you have a pretty standard high-speed internet connection giving you 2 Mbs upload speed. That seems to be pretty common from what I've seen.
Using the Download Time Calculator, a 1 GB file will transfer at 2.048 Mbps in just over 1 hour. So let's just call it a gig per hour if you're getting full bandwidth and you're not using your connection for anything else.
Initial upload
Yes, it's true, your first upload could take weeks or even months to finish. Let's say your internal 1 TB HD is ½ full, so 500 GB. 1 GB per hour, that's 500 hours ÷ 24 hours = 20.8 days. OK so that's at full-tilt, and obviously you will be using your internet connection for other things, so let's be generous and add a 50% overhead… that's still only 30 days. One month and 500 GB is backed up.
Yeah but you have Terabytes of data! OK, fine. 2 TB of data = 2,000 GB = 2,000 hours ÷ 24 = 83 days = 2.7 months, plus 50% and we're still looking at just over four months for the initial 2 TB backup.
How long have you had your computer? How long have you been putting off backing up? More than four months? Sure you have. You could have been backed up completely by now, probably several times over.
Subsequent backups
On Monday I was on a small shoot and brought home 15 GB of data. I have a 10 Mbps upload speed (admittedly faster than many), and Backblaze reports about 8 Mbps average. Check out this screenshot: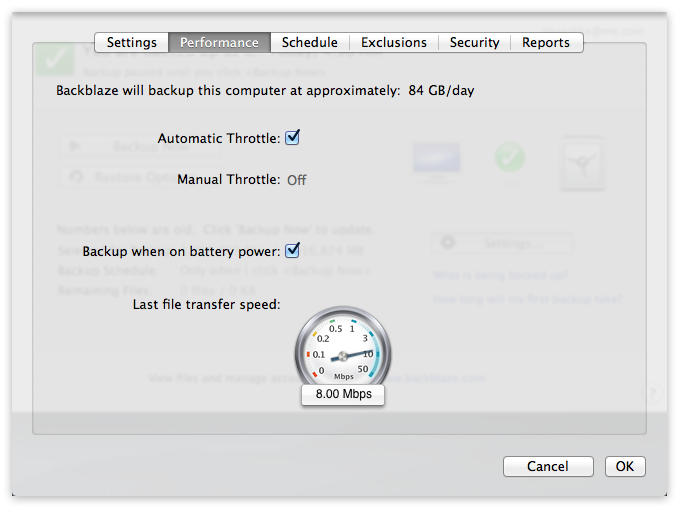 84 GB per day. That's a lot of data. So my 15 GB shoot…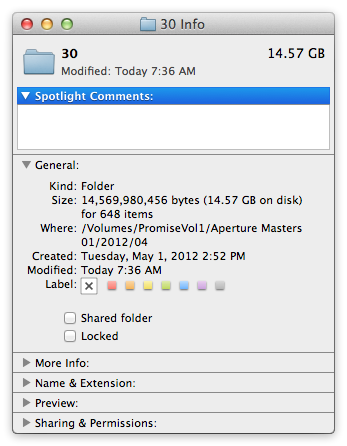 All backed up
According to my Backblaze statistics, I have over 3 TB of data on their servers. And I keep adding more.
The cost of security
Backblaze is cheap. $5 per month (per computer) if you pay monthly, or under $4 per month if you pay two years in advance. That's for unlimited storage, and they allow backing up of external drives. One caveat is that if a drive isn't plugged in once per 30 days, then the backups will be removed from the server, however for your normal every-day attached drives, then the sky is the limit. If you're going on African safari for two months you may want to leave your computer on at home or have someone boot it up every few weeks, but other than that, it's set it and forget it.
Day to day use, and a note on performance
For most users, you can set it to fully automatic, and every so often a Backblaze daemon fires up and scans your drive for new material to backup, then starts pushing new content to the servers. With the auto-throttle turned on, you are unlikely to ever notice that it's happening. If you happen to be uploading a massive file and want full bandwidth for that, you can always pause a backup that may be slowing you down.
For really intense users such as myself, it's possible that you'll find sporadic slowdowns while working (most noticeably in Aperture, unfortunately), when the Backblaze scanner kicks in. It's not the upload that slows you down, but the scanning of the hard drive, looking for new files to back up. For this reason I've switched my backup routine to only kick in when I click "Backup Now". The engineers at Backblaze recently added a "silent mode" feature where if you're in the "Only when I click <Backup Now>" mode, then the scanner does NOT run throughout the day.
If you're on a scheduled mode, either "Continuously" or "Once Per Day", the scanner will continue to run on its own schedule sporadically throughout the day. Yes it's a little less convenient to have to manually click the Backup button, however it's worth it for me to not have the occasional performance hit.
I'd suggest that you don't need to do this unless you are seeing a noticeable performance hit. It's easy to know if Backblaze is causing a slowdown; just open the Activity Monitor and search for "bzfilelist". If it's cranking away at the same time you're experience slowdowns, that's the cause. It may be time to switch to manual.
Stop procrastinating and just get it
The peace of mind of a true offsite backup can't be overstated. You should still have a local backup — after all it's better to have a local copy of your 2 TB drive to recover from than to have to download 2 TB of data in the event of — but knowing that if your house burns down, someone steals everything in your office, or an earthquake or tornado takes out your entire city (including your house and the location where you currently keep your "offsite" backup), knowing all your data is safe elsewhere is priceless.
Get started using this affiliate link, if you don't mind. You won't regret it.
Level:

App:

Platform:

Author: