Labor Day Weekend Sale & New "Nik Creative Effects" Workshop
September 2, 2012 - 3:57pm
Yes yes, I know it's a US holiday, but we can still celebrate around the world, can't we? ;-)
Labor Day Sale!
There is a nice little 20%-off Labor Day sale happening now, along with a new Super Bundle of all Live Training videos for just $40 — combine that with the sale and it's only $32 for all 22 videos! That's like getting seven for free, or $1.45 each, or… well you get the idea. Pretty unbeatable, really!
So what's the code? Well, you have to get the newsletter to know that. If you're already subscribed but haven't seen it, check your junk mail. If you haven't signed up, as soon as you do you can look up old newsletters.
(actually there's a link on the front page of this site, too…)
The Labor Day sale will go through Wednesday, for those on holiday or who get the newsletter at work and might otherwise miss it. Enjoy!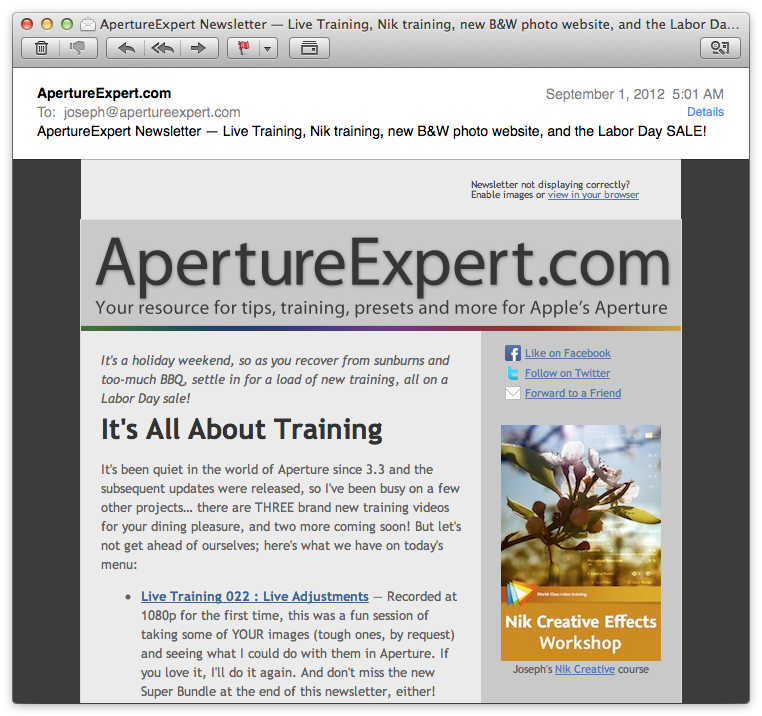 Nik Creative Effects Workshop
There's also a brand new video training workshop for my favorite plugins from Nik Software! I'm really excited about this workshop, because it's not just a "click here to do this" kind of training. It's actually a much more involved, "here's how to do this kind of effect, and how to come up with your own formulas" kind of instruction. Here's the official product description…
Nik Creative Effects Workshop
Add Complex, Unique Flavors to Your Images
Nik Software's plug-ins are loaded with powerful tools that can be combined in endless ways. In this workshop, photographic storyteller Joseph Linaschke takes a creative and personalized approach to these plug-ins, showing you how he uses them to create amazing skies, gorgeous skin, vintage film looks, perfect white backgrounds, custom recipes and so much more using Color Efex Pro, Viveza, and Silver Efex Pro. You'll also see how to use Silver Efex Pro 2 to make gorgeous B&W images and learn a unique non-HDR compositing technique for HDR Efex Pro. Along the way you'll get tips on using Nik's zone system and U-point technology and be introduced to the fun new Snapseed app for the desktop.
Be sure to check that out here, along with the other video training I've been releasing! And yes, the Labor Day Sale code works there, too ;-)
App:

Platform:

Author: