Beginner Tip Series: The Loupe

October 14, 2013 - 7:01pm
This is a series of new-to-Aperture observations and tips conceived by Stephen Guy, the new assistant here at ApertureExpert and PhotoJoseph's studio. These are things that as a Lightroom user, Stephen found particularly interesting, compelling, or otherwise noteworthy. These aren't necessarily in-depth tips, however they are designed to highlight interesting features, and encourage you to explore and learn more about them.
The loupe is a really cool feature in Aperture that will show you a 100% zoom of the whatever it's pointed at without having to zoom into the entire image and pan around to find the spot you wanted to check. Pressing the ` key (that's the ~ in the top left of your keyboard) will bring up the loupe. Drag the loupe around to move it, or drag on the textured handle to scale it. Even if you're in preview mode, you will always see the original image, rendered from the raw source, inside of the loupe.
The loupe is a great way to spot-check sharpness in a photo
There are multiple ways to use the loupe. By default, you can just drag it around the image, and whatever it's over will be zoomed in. But if you click on the size indicator and choose "Focus on Cursor", you can position the loupe wherever you like, and then whatever you point at with the mouse will be zoomed in in the loupe.
Also, try dragging the loupe around by the edge, and then by clicking on the center of it. On the latter, you can quickly drop the loupe on exactly the spot you want because the image will zoom out in the loupe, and a white outline will show you what will be zoomed in when you let go. Alternatively if you grab the edge, the loupe stays zoomed in while you drag it around.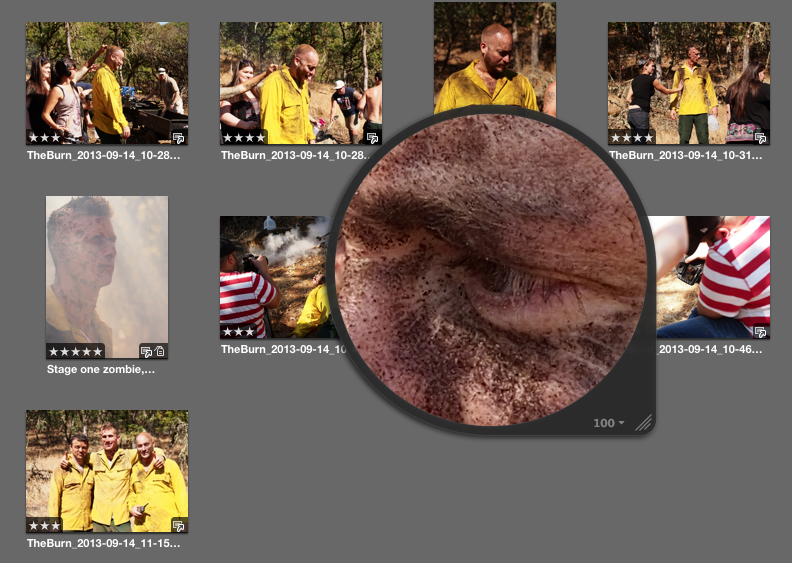 Try using the loupe on thumbnails — it works there, too!
You can also change the zoom percentage from 50% to a massive 1600% zoom, and even use the loupe on thumbnails!
App:

Platform:

Author: