Work-around for duplicate calendar bug in Aperture

For Aperture 3.5 (and maybe earlier versions) users who switch to iPhoto to create calendars, take note…
Duplicating iPhoto calendars in Aperture causes a problem which results in both calendars being 'linked'. The result is that changes to one calendar (in iPhoto) appear in the other as if they are linked somehow.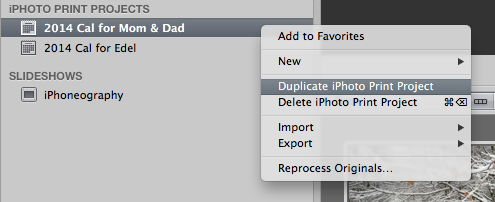 The work-around
Only duplicate calendars in iPhoto. This results in separate calendars that can be independently edited.
If you do fall victim to this bug and ruin a calendar that took hours to create, you might be able to recover the original from a backup (assuming a backup got created between the creation of the first calendar and the modification of an improperly created duplicate.) One nice feature in Aperture that does work with iPhoto calendars is that you can export a calendar as a separate library, then import it into another Aperture library. I used this method to recover the Calendar from my backup.
I've reported this problem to Apple. Hopefully they will fix this in a future release by properly creating duplicate calendars in Aperture or preventing duplication of calendars in Aperture.
Level:

App:

Platform:

Author: