AppleScript to Copy Aperture Version Name to Title Field

This a simple but very useful tip, especially if you're sharing images on Squarespace. As you may recall from Scott Davenport's great article "Set Titles and Captions in Aperture 3 Before Sharing Photos Online", different social media sites expose different metadata fields. In the case of Squarespace, the Title field is exposed — but I don't typically use that.
I was looking for a way to copy my Version Name into the Title field, and found a great AppleScript to do it. It turns out the Title is actually the IPTC field ObjectName, so that's what the script calls for.
Here's all it takes to set up.
Head over to the page "Copy the Aperture Version Name to the

IPTC

ObjectName (Title field in Aperture)" on github and copy the script to your clipboard.
Launch AppleScript Editor and create a new script (File > New).
Paste your clipboard contents into the new window, and click the Compile button to ensure it's all good. If not, just make sure you've copy and pasted all the content from the github page.
Save the AppleScript to the folder ~/Library/Scripts/Applications/Aperture (if any of those folders don't already exist, just create them). Name it something clever like "Copy Version Name to Title field".
Open the AppleScript Editor preferences and ensure that "Show Script menu in menu bar" is enabled. Without that, you won't be able to access the script from within Aperture.
Once that's in place, all that's left is to select the photo or photos that you want to alter, and select the script! And remember, you can select multiple photos to run this on as well.
As a bonus, you can set up a Metadata view that shows just the fields that will show up in Squarespace (or of course whatever social site you're using).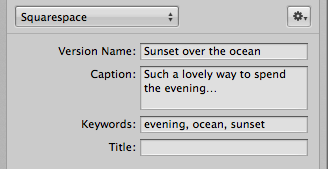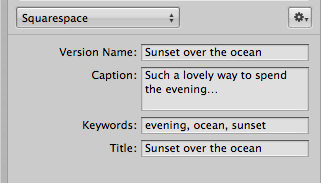 App:

Platform:

Author: