Sponsored Post[?]
Macphun Tonality as Photo Apps Extension
The ability to use third party apps from Photos as an "Extension" is something we've been waiting for for a while. Macphun was the first out of the gate with their affordable apps, including Tonality, seen here.
Getting into the apps is easy enough, but first let's answer a question about Photos itself.
How non-destructive is Photos?
Aperture users are used to two different ways of working. Either in-app, using Aperture's own, 100% non-destructive native editing tools, and then outside of the app, either in plug-ins or external editors (i.e. any app). Once you left the confines of Aperture, you were no longer in a non-destructive world. Everything you did was permanent. But fortunately, Aperture still saved the original for you. In fact, you'd even see your original (or Aperture-edited) version of the photo, and next to it, the new one that had just been edited externally.
So what do we get in Photos? Basically, the same thing, minus the side-by-side version. When you edit a photo using an Extension app, once you come back to Photos, your original is "gone", and you only see the newly edited one. This could be disconcerting coming from Aperture, but no worries. The original is still there.
You can revert
To revert the photo to the original, you must first go into the editing mode, and then choose the menu Image > Revert to Original.
If you're not in the editing mode, this menu will be greyed out, and that could freak you out. But it's there, don't worry. Just go to edit mode first.
You can duplicate… even from original 
Possibly more interesting is that you can duplicate a photo, but not just a dupe of your edited version. You can actually duplicate a photo from Original, which is quite cool. From the Image menu, you'll find the option Duplicate Photo. But to get it to turn into ​Duplicate Photo from Original, you have to hold down the Shift ⇧ and Option ⌥ keys to reveal the hidden command. The full keyboard shortcut then becomes ⌥⇧⌘D.

That will give you your two versions side by side, like you saw in Aperture. OK they aren't stacked, but at least you can see them!
Back to Tonality
So let's have a look at how these Extensions work!
First you go into editing mode, just like you usually would. Now you'll see a new widget at the bottom of the list, titled "Extensions". (If when you click on it you only see the More…, and not your apps, you can enable them from that More… button. Go here for detailed instructions.)

Select the app you want, and it'll seamlessly launch. Even though technically you're in a different app now, it appears that you're still in Photos. Full screen or windowed mode, it'll look the same, and if you look at the menu bar, you'll even still see that you're in Photos.
Tonality has a bunch of cool presets, and a good way to start is by picking a category like Dramatic, or Film Emulation.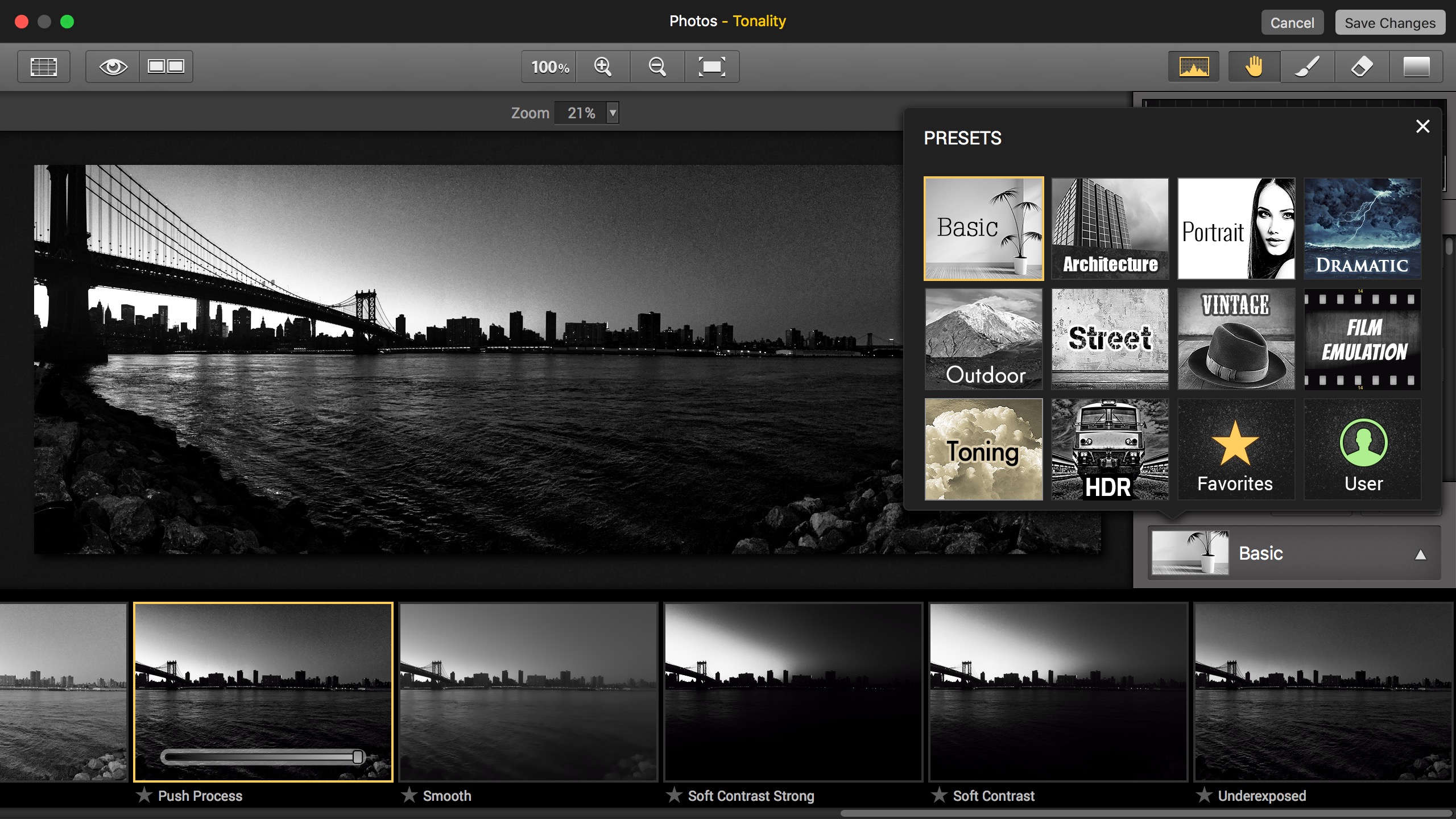 Some presets are colorful, even though this is primarily a B&W tool. Check out this cool Pinhole Color preset.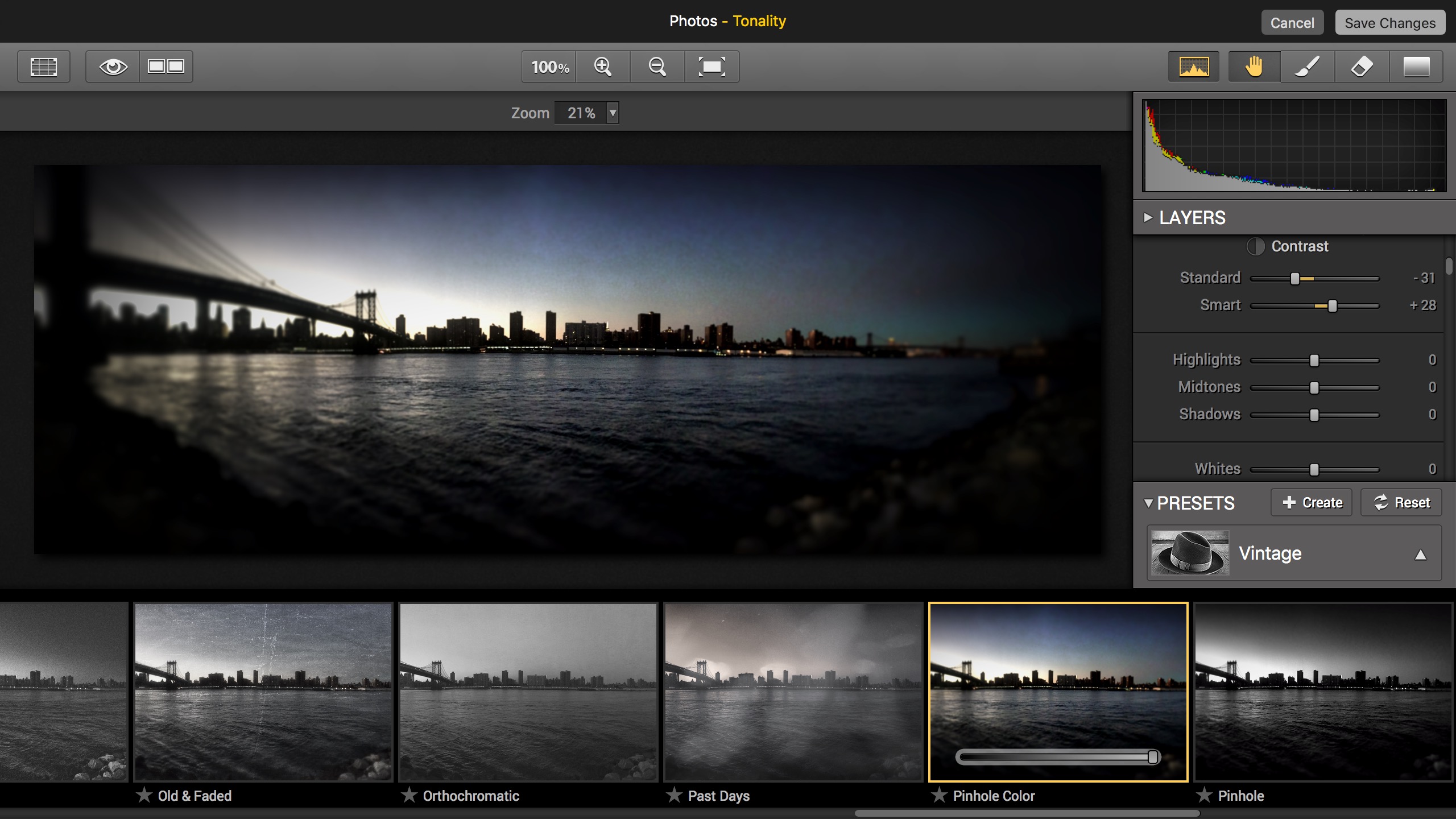 Some are particularly crunchy, like this London preset found under the Architecture category.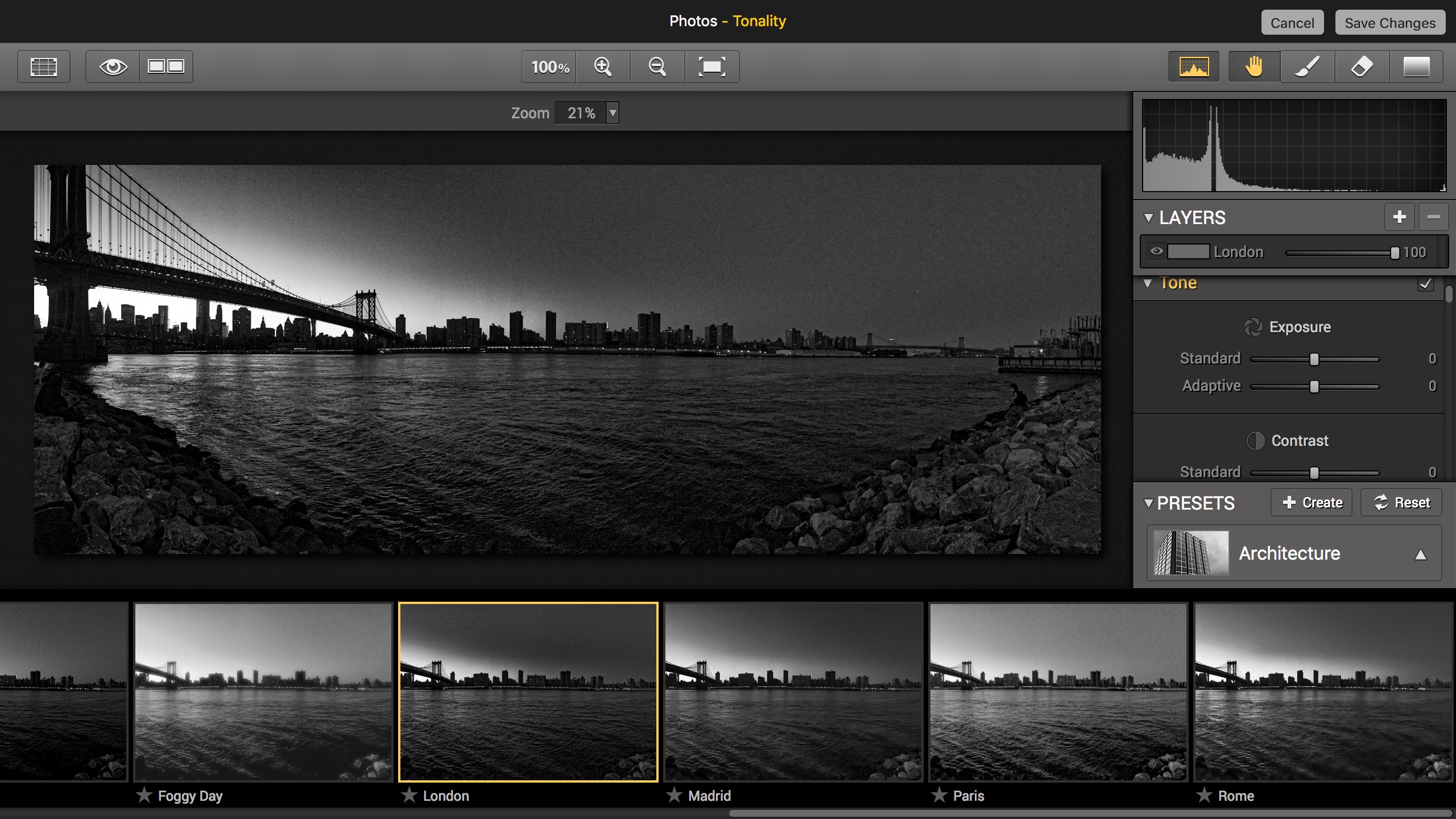 What's especially cool is that Tonality even has layers for stacking multiple effects. And not only can you fade the effect down from 100 to 0, you can even brush a mask in — or draw a gradient! In the screenshot below, you can see that to darken the right side, I lowered the exposure dramatically (to –69) in the Tone adjustment (1), then clicked the gradient tool (2), and sized and positioned the gradient how I wanted it to look (3).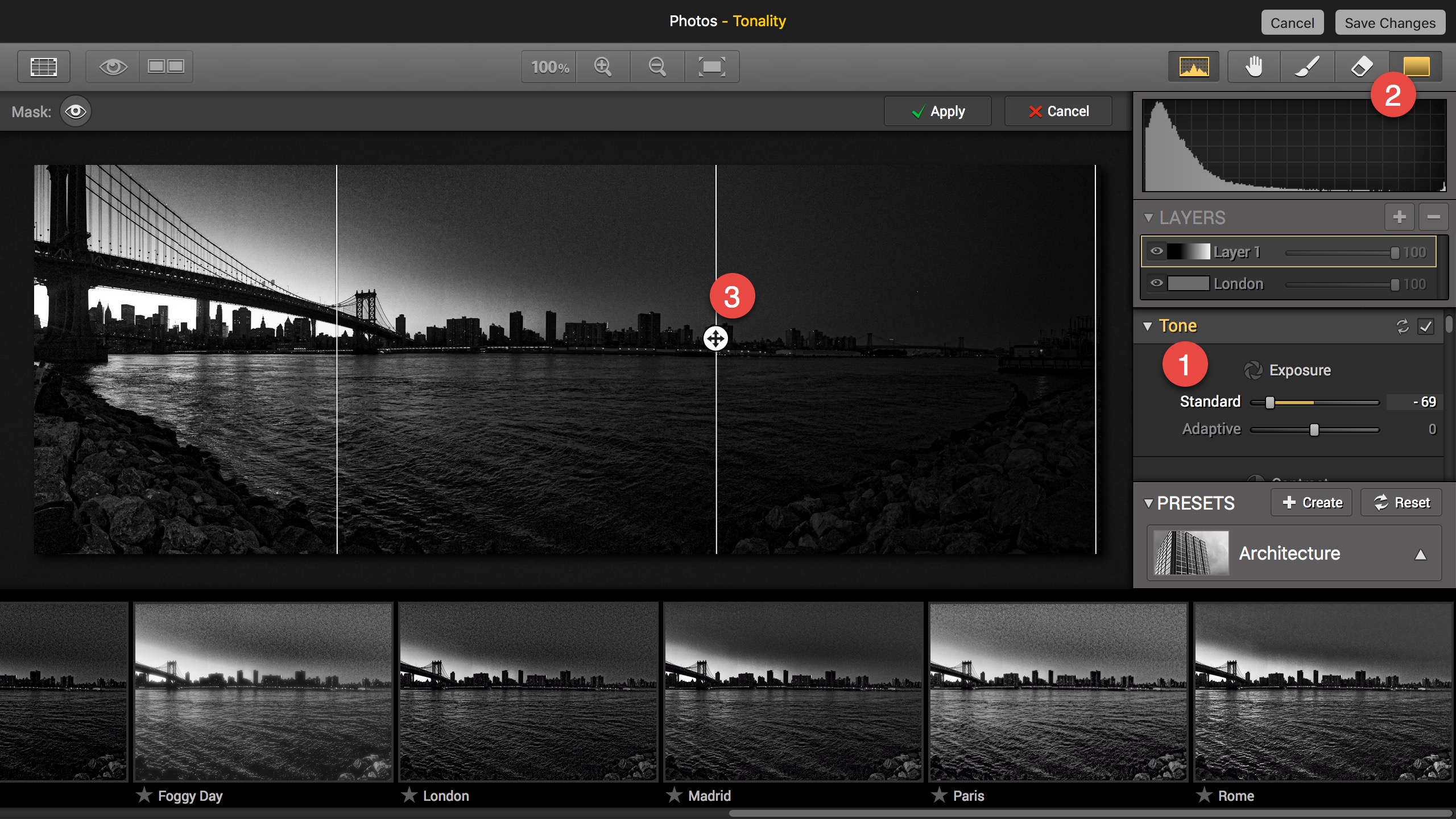 Once you click Save Changes at the top right, the file will render and you'll be back in Photos.
Remember from here, if you want to revert, scroll back to the top of this post to see how.


Got Macphun Tonality?
If you don't yet have Macphun Tonality (or any of their other apps), you have two options. You can buy this version from the Mac App Store today, or you can check out the new Macphun Creative Kit 2016. The kit is a huge bundle at a huge discount, especially if you pre-order before its release date of October 15. But if you get it, you won't have the Extensions capability right away. To read more about the choices, check out this post.
Are there any other apps yet?
Have you found any other apps that support Extensions yet?
Level:

App:

Author: